Senate committee OKs increased energy regulation
by Dave Roberts | April 14, 2015 5:00 am
A bill that ratchets up energy restrictions in California passed a Senate policy committee last week, despite concerns from business representatives and Republican legislators that it will drive up energy costs, cost jobs and place too much power in the hands of unelected bureaucrats.
Senate Bill 350[1] mandates that the state meet three clean-energy goals by 2030:
Fifty percent reduction in gasoline and diesel fuel used in vehicles.
Fifty percent of electricity generated from renewable resources (an increase from the current 33 percent mandate by 2020).
Doubling of the energy efficiency of existing buildings.
The bill does not specify how those mandates will be achieved. It leaves the details and the authority to implement and enforce them to the California Air Resources Board[2], the California Energy Commission[3] and the California Public Utilities Commission[4].
Jobs created and economy boosted?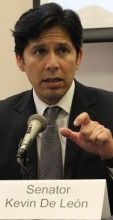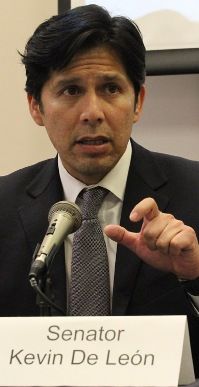 [5]The bill's author, Senate President Pro Tem Kevin de León[6], D-Los Angeles, told the Senate Energy, Utilities, and Communications Committee[7] at an April 7 hearing that the legislation will "make sure California keeps leading and building the new economy of tomorrow. SB350 puts in place standards that will spur innovation and power and a sustainable future for the Golden State.
"Clean energy jobs are growing across California. Our state leads the nation in solar employment with nearly 55,000 solar jobs and counting. The world's largest solar array is under construction right now in Antelope Valley down in Kern County. We are second only to Texas in wind energy capacity, and have the nation's largest wind energy facility at the Alta Wind Energy Center[8] at the Tehachapi Pass.
"We need to pursue policies that build on this economic growth by strengthening incentives for energy efficiency and clean energy technologies. These standards send a strong market signal to California businesses and leave no doubt the direction we are heading in. These policies will drive innovation here, bring investments here, bring jobs here and bring revenue here to this state of California."
De León said that experience with implementation of AB32, the California Global Warming Solutions Act of 2006[9], shows that increased energy regulation can help the economy.
"Skeptics said back in the day it would destroy our economy, it would slow down economic growth, that it was naïve and in fact unrealistic to set such targets," he said. "Well, yet here we are today well on our way to meeting those targets with an economy that is stronger than ever.
"In just 10 years we've increased our electricity generation from renewable sources nearly 25 percent, put almost 150,000 electric vehicles on the road and reduced the smog-forming emissions of our cars and trucks by 90 percent. This is not just sound energy and climate policy, it is a smart economic policy.  Let's continue to lead the world, colleagues. Let's continue to take the bold action, despite the fear of failure."
Steyer backs de Leon
De León was backed by Tom Steyer[10], an environmental activist who donated $2.5 million to the campaign that defeated Proposition 23[11] in 2010. That proposition sought to suspend AB32's regulations until California's unemployment rate dropped below 5.5 percent. Although the national unemployment rate has dipped to that level, California has lagged behind. The state's rate was 6.8 percent in February.
"SB350 focuses on several of the most important and fossil-fuel-intensive areas of our economy: transportation, electricity generation and energy used in buildings," Steyer told the committee. "By directly engaging with our biggest emission sources, we can get the best bang for our buck in reductions.
"For too long the oil companies that make billions in profits from California consumers have claimed that sustainability is not compatible with a strong economy. Far from being a job killer, California's climate policy has put thousands of people into good-paying jobs. According to a recent report[13] from Advanced Energy Economy[14], there were 430,000 clean energy jobs in California during 2014, a figure that's projected to increase by 17 percent this year to 500,000 clean energy jobs.
"We have led the nation in solar capacity and electric vehicle sales. We have gained billions of dollars of investment in wind and solar power and created hundreds of thousands of clean energy jobs. Energy efficiency upgrades have created hundreds of thousands more.
"We don't have to choose between our environment and our economy. California, as the seventh largest economy in the world, can be more than part of the solution – we can lead. But to do so we have to be on a completely different cost curve. One that is inevitably going down, thanks to innovation research, rather than one that is driven inevitably up due to issues of scarcity around fossil fuels. SB350 is a critical step in this direction and a clean aspect of maintaining our global leadership."
Steyer said that much of the $60 billion that Californians spent on gasoline and diesel fuel in 2014 can be replaced with low-carbon alternatives such as electricity, renewable natural gas and biofuels. Californians have purchased more than 100,000 electric vehicles, he said, and touted that 18 pumps in the Central Valley are selling renewable diesel fuel made from waste oil.
A win-win
He also discussed the requirement to double the energy efficiency of existing buildings. "The cheapest and most environmentally friendly way to cut energy costs is, of course, to use less energy," said Steyer. "Our state's commitment to energy efficiency has led to the third lowest per capita energy consumption rate in the nation. Electricity use per person in California has remained flat for 40 years, while consumption in the rest of the country has increased by 50 percent."
Steyer is confident that the clean-energy goals will be a win-win for both the state's environment and its economy.
"I have spent most of my life as an investor," he said. "And I can say for certain that investors look for consistent long-term signals to know that their capital will yield returns. SB350 demonstrates our firm commitment to clean technology, and sends a clear signal to markets that long-term investment in sustainability will be rewarded. California can unlock the potential of our businesses by committing to long-term goals and by building a market that rewards innovation.
"In conclusion, I know these goals are challenging, but we have to do it. Overcoming these kinds of challenges is what leadership is all about. California is at a crossroads yet again. We can choose to continue moving forward and leading the world on creating a cleaner, more sustainable future for our children, or we can give up our leadership role. I'm confident that we will make the right choice."
Business leaders see devastating economic impact
But business leaders are just as confident that the energy mandates will hurt the state's economy. The Western States Petroleum Association[15] is particularly concerned about the requirement to cut in half gasoline and diesel use by 2030.
"In the absence of available and affordable alternatives, we believe such a step would have a drastic and devastating impact on California's economy, businesses, and families statewide," said WSPA President Catherine Reheis-Boyd in a press release[16]. "SB 350 would give the California Air Resources Board vast new authority to develop those mandates with providing clear policy or regulatory direction."
The California Chamber of Commerce[17] has dubbed the bill a "job killer." It issued a statement[18] urging legislators to oppose the legislation, saying that it sets an "arbitrary and unrealistic reduction of petroleum use, increase in the current Renewables Portfolio Standard[19] and increase in building energy efficiency without regard to the impact on individuals, jobs and the economy.
"SB 350 provides a blank check delegation of authority to CARB, and in doing so, gives no consideration to the cost or job loss associated with this yet-to-be-determined regulation.

"Most of California's businesses and families rely on petroleum for day-to-day transportation needs. SB350 could compromise the availability of transportation fuels. The California Energy Commission reported in its 2014 Integrated Energy Policy Report[20] that 92 percent of all transportation fuels in California are made up of petroleum.

"Businesses rely on petroleum to transport goods and people, and it is unclear how the arbitrary goal in SB350 will be met. Will there be a 50 percent straight reduction in the production of petroleum in the state? Will we have to ration petroleum to achieve the 50 percent reduction? At what cost?

"In addition to the 50 percent reduction in petroleum use, SB350 seeks to increase the current Renewable Portfolio Standard from 33 percent to 50 percent as well as increase energy efficiency in buildings to 50 percent. Both these policies will significantly increase costs to ratepayers.

"California's energy price per kilowatt hour is among the highest in the nation and the state's energy efficiency standards are among the strongest. Mandating upgrades to meet increased energy efficiency standards while increasing the cost of energy will make California businesses less competitive."
Legislators voice concerns
The three Republicans on the committee voted against the bill, which passed 8-3 with all of the Democrats supporting it.
Sen. Anthony Cannella[21], R-Ceres, said he's concerned that California will actually have a surplus of energy, nearly 14,000 megawatts of over-generation, by 2024. He cited a recent op-ed[22] coauthored by CPUC President Michael Picker[23] that warned that "when there is more electricity being generated than places to store or export it, it must be turned off or it threatens reliability of the grid."
Cannella, who said his district has a very high poverty rate, is also skeptical that the promise of electric vehicles will be fulfilled.
"Look, I would like to drive an electric car," he said. "I can't afford it; most of the people in my district can't afford it. But regardless of that, I'm concerned about the ag industry, the trucking industry and rural communities that have to drive. And, really, I just don't think electric vehicles will be sufficient for tractors or trucks. And so, setting a 50 percent reduction without excluding those industries, I think you're going to create a lot of problems."
Sen. Mike Morrell[24], R-Inland Empire, questioned Steyer's optimism about the economic benefits of increased energy regulation.
[25]"You made positive comments about creating jobs in the future," said Morrell. "But we have the Chamber of Commerce, the Manufacturers Association, the National Federation of Independent Business, among many others who have had decades of a proven track record of creating jobs, millions of jobs. These organizations with millions employed under them, with proven decades of a track record, say this is a job killer."
Green jobs vs. oil and gas jobs
Steyer responded that the clean-energy sector of the California economy is "growing at a very large clip… . This kind of policy is the kind of thing that will make that growth much faster and more important. We'll be the first down the cost curve in this industry worldwide. And the rest of the world has to follow us. We will build gigantic business out of this. So I strongly believe this is good for California employment."
Sen. Jean Fuller[26], R-Bakersfield, isn't buying that argument. She said that one of the counties in her district produces most of the gas, oil, solar and wind energy in the state. "It's been very hard for us to put ourselves in that position," she said. "As you can imagine, that's not an easy marriage among all of those groups. But we are very pleased with that.
[27]"But the worry that I have is that as we ramp up one – the solar and wind – we gain a few jobs, but it's mostly like one person per solar field. And you know how large solar fields are. And usually it's a very low-level job; it really doesn't require a lot of expertise. The oil and gas industry is very, very much more labor intensive. There's a lot more jobs. They are much higher expertise. Most of our small families have been there for many, many years.
"And when we ramp down that industry, you really hurt our county. You really displace workers. And you really don't leave us a way to replace that kind of infrastructure. So the inland area, who have willingly served as the energy production for the rest of the state, will be hurt massively. And I doubt that we will ever recover."
Helping or hurting minorities?
One Democrat on the committee, Sen. Ricardo Lara[28], D-Bell Gardens, also expressed concern that the state's poorest residents, particularly Hispanics, are not enjoying the benefits of the clean-energy economy.
"Because what we see, and what we have continued to see, is that the people that are making themselves rich out of these technologies don't look like you and I," Lara said to de León. "And don't come from the economic experiences and backgrounds that we share. And so, if we want to make this as successful as possible, we have to ensure that everybody reaps the benefits. Not only in terms of job creation. Because you know us people of color, all we want is a job.
"But now it's time for us to ensure that if we're going to create this and mainstream this, that we not only get a job out of this, that we also get economic prosperity. And that the folks are going to be able to make money off this, it's diversified and enjoyed throughout the entire economic strata of our state. And that we don't continue to widen the gap between the rich and the poor."
De León responded that minorities – or as he termed them, "individuals who look like California" – will be prime beneficiaries of the building retrofit jobs spawned by his bill. "I appreciate and understand your concerns," he said. "I know as a person, as a legislator who represents the 24th Senate District and as a pro tem and as a person of color, I know that I'm doing my part to proactively make sure that this is an inclusive economy."
De León applauded the bill's approval in a press release[29]: "The committee was presented with a clear choice: help usher California into a new era of cleaner air and a cleaner economy or stay stuck in a poisonous fossil fuel economy. I'm grateful the committee made the right choice."
SB350 will next be heard by the Senate Environmental Quality Committee[30] later this month.
Endnotes:
Senate Bill 350: http://www.leginfo.ca.gov/pub/15-16/bill/sen/sb_0301-0350/sb_350_bill_20150224_introduced.htm
California Air Resources Board: http://www.arb.ca.gov/homepage.htm
California Energy Commission: http://www.energy.ca.gov/
California Public Utilities Commission: http://www.cpuc.ca.gov/puc/
[Image]: http://calwatchdog.com/wp-content/uploads/2014/06/kevin.de_.leon_.jpg
Senate President Pro Tem Kevin de León: http://sd24.senate.ca.gov/
Senate Energy, Utilities, and Communications Committee: http://seuc.senate.ca.gov/
Alta Wind Energy Center: http://www.energy.ca.gov/tour/alta/
California Global Warming Solutions Act of 2006: http://www.arb.ca.gov/cc/ab32/ab32.htm
Tom Steyer: http://en.wikipedia.org/wiki/Tom_Steyer
Proposition 23: http://en.wikipedia.org/wiki/California_Proposition_23_(2010)
[Image]: http://calwatchdog.com/wp-content/uploads/2015/04/Tom-Steyer.jpeg
report: https://www.aee.net/articles/california-has-largest-advanced-energy-industry-in-u-s-with-over-430-000-workers-according-to-first-ever-state-employment-survey
Advanced Energy Economy: https://www.aee.net/
Western States Petroleum Association: https://www.wspa.org/
press release: https://www.wspa.org/blog/post/wspa-president-weighs-sb-350-hearing-senate-energy-committee
California Chamber of Commerce: http://www.calchamber.com/pages/default.aspx
statement: http://www.calchamber.com/Headlines/Pages/04072015-Senate-Policy-Committee-to-Hear-Job-Killer-Bill-Today-Increases-Business-Costs-Creates-New-Regulatory-Burdens.aspx?sp_rid=Y2FscmV2aWV3LWVkaXRvckB5YWhvby5jb20S1&sp_mid=48392218&spMailingID=48392218&spUserID
Renewables Portfolio Standard: http://www.cpuc.ca.gov/PUC/energy/Renewables/
2014 Integrated Energy Policy Report: http://www.energy.ca.gov/2014publications/CEC-100-2014-001/CEC-100-2014-001-CMF.pdf
Sen. Anthony Cannella: http://district12.cssrc.us/
recent op-ed: http://www.sacbee.com/opinion/op-ed/soapbox/article13939937.html
CPUC President Michael Picker: http://www.cpuc.ca.gov/PUC/aboutus/Commissioners/Picker/index.htm
Sen. Mike Morrell: http://district23.cssrc.us/
[Image]: http://calwatchdog.com/wp-content/uploads/2015/04/job-killer-bills.png
Sen. Jean Fuller: http://district18.cssrc.us/
[Image]: http://calwatchdog.com/wp-content/uploads/2015/04/solar-energy.jpg
Sen. Ricardo Lara: http://sd33.senate.ca.gov/
press release: http://sd24.senate.ca.gov/news/2015-04-07-video-release-energy-committee-passes-pro-tem%20percentE2%20percent80%20percent99s-golden-state-standards-bill-landmark
Senate Environmental Quality Committee: http://senv.senate.ca.gov/
Source URL: https://calwatchdog.com/2015/04/14/senate-committee-oks-increased-energy-regulation/
---