Hertzberg proposes plan to reduce traffic penalties, restore suspended licenses
by John | May 6, 2015 5:00 am
Drivers who've had their licenses suspended could soon get a reprieve.
State Sen. Bob Hertzberg, D-Van Nuys, has introduced legislation that would reduce outstanding penalties and fines for drivers with a suspended license. In addition to reducing penalties, Senate Bill 405[1] would provide a method for drivers with a suspended license from a nonviolent offense to regain their driving privileges.
Hertzberg says that legislation is needed to help low-income residents who are caught in a Catch-22: They can't pay their fines because they are unable to find or keep a job without a driver's license.
"We are criminalizing the poor and dramatically impacting their lives with punishments that far exceed their crimes by slamming them with excessive fines," Hertzberg said in a recent press release[2]. "Then we take away their ability to get to work."
Exponential growth of traffic fines
In recent years, state and local governments have added supplemental charges and raised fines for traffic offenses.
"What used to be a $100 violation now costs nearly $500, and jumps to over $800 if a person misses the initial deadline to pay," the Lawyers' Committee for Civil Rights of the San Francisco Bay Area[3], which is co-sponsoring Hertzberg's legislation, noted in a recent report. "As the fees have gone up, and with the economic crisis, fewer people can afford to pay their tickets."
Those higher fees have corresponded with an increase in the number of drivers with suspended licenses due to non-payment of penalties. The civil rights group estimates that 4.2 million Californians have had their licenses revoked because of non-payment of fines since 2006.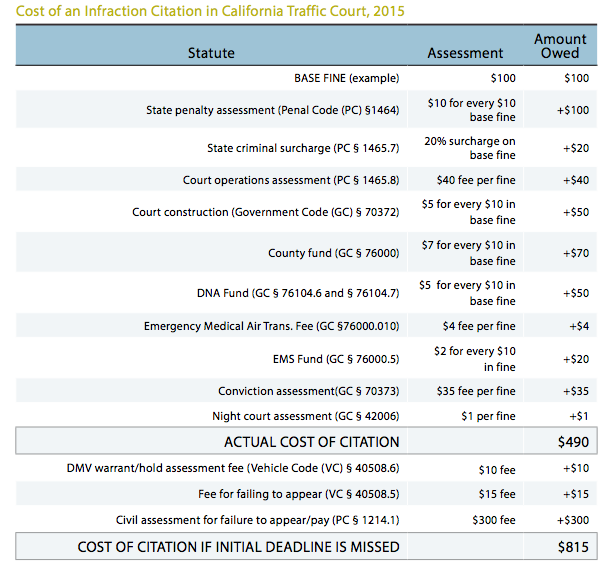 Even responsible drivers, who coordinate a payment plan with the court, are unable to regain their license "until every cent of a fee is paid," according to the Lawyers' Committee for Civil Rights[4].
Hertzberg's office argues that some fines are compounded by simple mistakes, such as address changes. In one case, "a $25 ticket for failing to notify the DMV of an address change ended up owning $2,900 to the state," according to CBS Los Angeles[5].
Governor's Traffic Amnesty program
Hertzberg's proposal would work in conjunction with Gov. Jerry Brown's plan for a Traffic Amnesty program in the 2015-16 state budget. Currently, the state has $10 billion in uncollected court-ordered debts.
Advocates for poor and working class Californians say that an amnesty program is helpful, but only part of the solution. After all, it's usually necessary to have a license in order to hold a job. One study in New Jersey found that 42 percent of drivers lost their jobs once their license was suspended.
"Suspended licenses can trap working poor in an impossible situation: unable to reinstate their licenses without gainful employment and unable to access employment without a license, keeping people in cycles of poverty that are difficult to overcome," a State Senate committee analysis[6] explains of the bill. "Employers are affected by having to internalize the cost to replace workers and face the challenge of finding qualified workers with valid driver licenses."
Under SB 405[7], drivers with licenses suspended before January 1, 2013, would be allowed to participate in the governor's amnesty program. Drivers would also see their fines lowered based on a sliding scale based on income levels. The new fees would be based as follows:
20 percent of fine or bail for people with an income that is less than 150 percent of the federal poverty level
50 percent of fine or bail for people with an income that is between 150 and 200 percent of the federal poverty level
80 percent of fine or bail for people with an income that is greater than 200 percent of the federal poverty level
Broad base of support
The measure has a broad base of support, including the the Association of Deputy District Attorneys, Drug Policy Alliance, Personal Insurance Federation of California and Legal Services for Prisoners with Children.
"The state needs to tread cautiously in this field lest it remove any incentive for offenders to pay their fine, or, even worse, follow traffic laws in the first place,  the Sacramento Bee wrote in its editorial supporting the bill[8]. "But the kind of measured response Hertzberg is proposing in Senate Bill 405 seems to strike the right balance between expecting personal responsibility while still exercising some compassion and common sense. If this results in more drivers having a license and more fines being paid to local governments, the law would be a victory for motorists and taxpayers alike."
Last week, the Senate Public Safety Committee agreed, passing SB 405 on to the Committee on Appropriations[9].
"This is a limited amnesty," State Senator Joel Anderson[10], R-Alpine, said in support of the bill during the hearing. "Why do we have to be such money-grubbing legislators?"
Anderson urged Hertzberg to further and focus on more people because "many of these folks are just one step out of poverty."
Graphic: A Journey through Traffic Court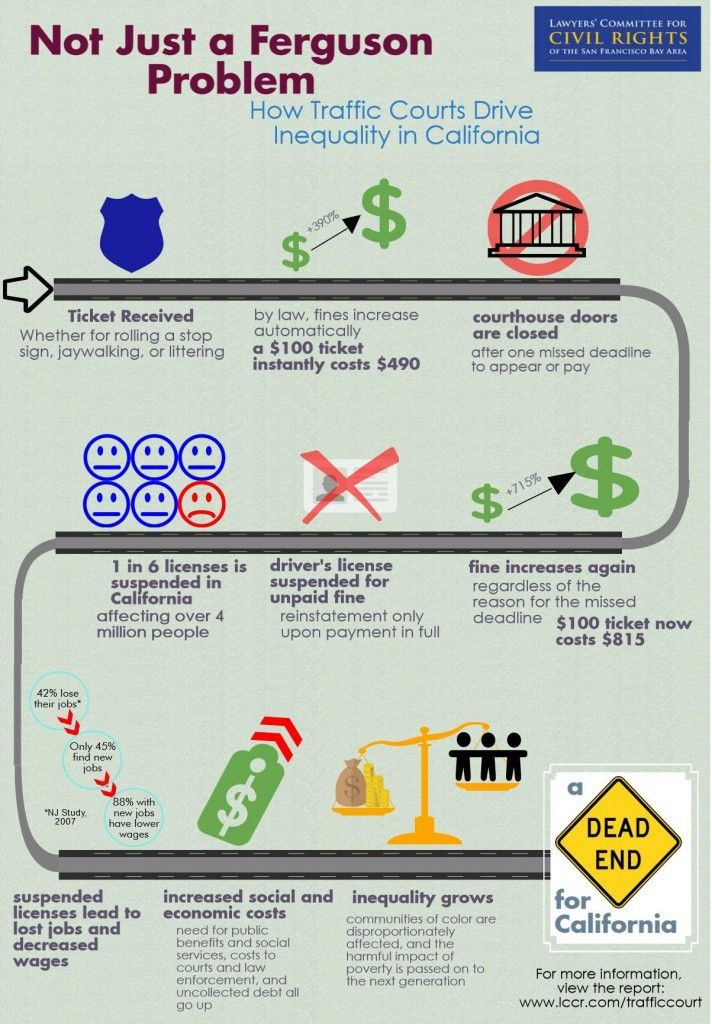 Endnotes:
Senate Bill 405: http://www.leginfo.ca.gov/pub/15-16/bill/sen/sb_0401-0450/sb_405_bill_20150406_amended_sen_v98.htm
recent press release: http://sd18.senate.ca.gov/news/4282015-measure-reduce-traffic-fines-passes-first-policy-review-senate-public-safety-panel
Lawyers' Committee for Civil Rights of the San Francisco Bay Area: http://www.lccr.com/wp-content/uploads/Not-Just-a-Ferguson-Problem-How-Traffic-Courts-Drive-Inequality-in-California-4.8.15.pdf
Lawyers' Committee for Civil Rights: http://www.lccr.com/wp-content/uploads/Not-Just-a-Ferguson-Problem-How-Traffic-Courts-Drive-Inequality-in-California-4.8.15.pdf
according to CBS Los Angeles: http://losangeles.cbslocal.com/2015/04/09/lawmaker-wants-to-end-drivers-license-suspensions-for-unpaid-traffic-tickets/
committee analysis: http://www.leginfo.ca.gov/pub/15-16/bill/sen/sb_0401-0450/sb_405_cfa_20150427_112722_sen_comm.html
SB 405: http://sd18.senate.ca.gov/sites/sd18.senate.ca.gov/files/SB%20405%20%28Hertzberg%29%20Reducing%20Suspended%20Licenses%20-%20Fact%20Sheet%20-%2004242015.pdf
editorial supporting the bill: http://www.sacbee.com/opinion/editorials/article19432503.html
Committee on Appropriations: http://www.leginfo.ca.gov/pub/15-16/bill/sen/sb_0401-0450/sb_405_vote_20150428_000001_sen_comm.html
 State Senator Joel Anderson: https://www.youtube.com/watch?v=2RhYGV8MMM8
Source URL: https://calwatchdog.com/2015/05/06/hertzberg-proposes-plan-reduce-traffic-penalties-restore-suspended-licenses/
---