State Controller Betty Yee to audit City of Industry
by John | May 8, 2015 4:00 am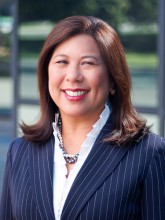 First, it was widespread corruption at the city of Bell[1]. Next, came an even bigger embezzlement scandal in Pasadena. Now, it's $326 million in cronyism at the City of Industry[2].
This week, State Controller Betty T. Yee announced that her office would investigate the financial practices of the 12-square mile municipality, which has come under fire for awarding $326 million in taxpayer-funded contracts to businesses owned by a former mayor and his family.
"Our initial review shows significant discrepancies between the financial transaction reports submitted to my office and the city's audited financial statements," Controller Yee said in a press release. "As the state's chief fiscal officer, I have the duty to bring my office's expertise to bear to identify potential misuse of taxpayer dollars."
The audit will begin with a review of local, state and federal programs administered by the city dating back to 2012. Yee's office alerted city officials that it reserves the right to broaden its investigation at a later date.
$326 million paid to former mayor's businesses
[3]Earlier this year, an outside, limited-scope audit conducted by KPMG found that, over the past two decades, the city had awarded $326 million in government contracts to former mayor David Perez and his family. The city, which has just 99 registered voters, generates $140 million in annual revenue. Much of the city's revenue comes from taxes paid by roughly two thousand businesses that have set up shop in Industry to avoid the high taxes and regulatory burdens of surrounding cities. 
According to the San Gabriel Valley Tribune[4], which first obtained a copy of the KPMG audit, the City of Industry paid one company $133,000 a month for street sweeping and parking lot maintenance — a rate that is six times higher than the city's current contract. In one case, the company, which is partially owned by the former mayor, billed taxpayers "the equivalent to six street sweepers running for a total of 216 hours in one week."
In addition to outrageous billing, the audit revealed that the city paid out $7 million arising from a sexual harassment lawsuit and water fine by Zerep Management Corporation, the company owned by the former mayor and his family members.
"This is crony capitalism at its worst," Douglas Johnson of the Rose Institute of State and Local Government, told the San Gabriel Valley Tribune[5]. "This isn't why cities exist. They exist to provide service and structure, not for the benefit of one family conglomerate."
City of Industry's checkered past
Corruption at the City of Industry has been an open secret for years. In 2009, the Los Angeles Times detailed[6] the by then self-dealing Mayor Perez.
"Everyone who does business in the city of Industry is required to sign up with Mayor David Perez's company," read the opening sentence of a 2009 investigation by Los Angeles Times reporter Rich Connell. "For years, a firm partly owned by the mayor has held an exclusive, multimillion-dollar franchise to pick up trash from the warehouses, manufacturing plants and other commercial enterprises packed into this oddly configured, avidly pro-business San Gabriel Valley city." 
Perez and his family have maintained control over the city, which rarely holds elections and instead hands off City Council seats to one of the 400 residents. The city currently has just 99 registered voters. In previous years, residents have claimed "to live in churches, houses that can't be found."
"If this were the old Soviet Union we were talking about – or current-day Russia, for that matter – we would understand that we're not really dealing with a democracy here," the local newspaper editorialized in 2012[7]. "It's an oligarchy, a clique of family and friends with enormous sums of money at stake."
In 2009, the Los Angeles District Attorney's Office opened an investigation into claims that elected city officials had filed fraudulent voter registration forms and were residing outside of the city. However, that investigation concluded without charges being filed. 
"I can't say that we absolutely were sure that all the city officials really lived where they said they lived, but I know we didn't seek criminal charges," Dave Demerjian, the then-head of the D.A.'s Public Integrity Division, told the San Gabriel Valley Tribune's[8] Ben Baeder.
Antonovich, Solis demand answers
This time, the scandal appears to have reached a critical mass of support to finally force the City of Industry to clean up its act. On Tuesday, the Los Angeles County Board of Supervisors, led by Supervisors Hilda Solis and Michael Antonovich, stepped into the fray by demanding a grand jury investigation.
"The recent audit of expenditures by the City of Industry revealed millions of dollars in questionable payments to the former mayor and his family members," the L.A. County Board of Supervisors stated[9] in its draft motion. "Given the magnitude of the audit findings, a Grand Jury investigation into possible corruption and back-room deals is warranted."
The Los Angeles County District Attorney's Office launched an investigation into the matter last Friday, according to the Pasadena Star-News[10].
The scandal in Industry is only the latest in a long line of Southern California municipal corruption cases. In 2010, the tiny city of Bell was caught paying city employees excessive salaries. Earlier this year, a former employee at the city of Pasadena was arrested as part of a 60-count indictment for embezzling $6 million in taxpayer funds[11].
Endnotes:
city of Bell: http://en.wikipedia.org/wiki/City_of_Bell_scandal
City of Industry: http://en.wikipedia.org/wiki/Industry,_California
[Image]: http://calwatchdog.com/wp-content/uploads/2015/05/City-of-Industry_logo.png
San Gabriel Valley Tribune: http://www.sgvtribune.com/government-and-politics/20150425/city-of-industry-pays-former-mayor-326-million-in-contracts-over-decades
told the San Gabriel Valley Tribune: http://www.sgvtribune.com/government-and-politics/20150425/city-of-industry-pays-former-mayor-326-million-in-contracts-over-decades
Los Angeles Times detailed: http://articles.latimes.com/2009/oct/20/local/me-city-of-industry20
editorialized in 2012: http://www.sgvtribune.com/20120924/our-view-strange-deals-and-the-city-of-industry
told the San Gabriel Valley Tribune's: http://www.sgvtribune.com/general-news/20120917/investigations-into-industry-come-up-empty
L.A. County Board of Supervisors stated: http://file.lacounty.gov/bos/supdocs/93440.pdf
according to the Pasadena Star-News: http://www.pasadenastarnews.com/government-and-politics/20150505/city-of-industry-to-get-state-controller-probe-official-says
$6 million in taxpayer funds: http://www.mercurynews.com/california/ci_27266938/pasadena-city-hall-6m-embezzlement-scandal-larger-than
Source URL: https://calwatchdog.com/2015/05/08/state-controller-betty-yee-audit-city-industry/
---