Conflict of interest for CTA rep on state board?
by Chris Reed | May 10, 2015 12:57 pm
The California Public Utilities Commission has faced months of headlines over conflict-of-interest scandals involving former longtime PUC President Michael Peevey, who on several occasions sought favors from the utilities he regulated while interceding on their behalf out of the public's sight.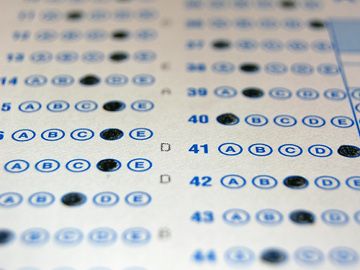 But at another powerful state agency, what appears to be an open conflict of interest is playing out without objection from its leaders. A CTA lobbyist who sits on the State Board of Education wants the board's test-giving contractor to pay the teachers it hires to grade the tests more than the contractor thinks is necessary.
John Fensterwald mentions this in a post[1] on EdSource on the board's decision to award a three-year, $240 million contract to the Educational Testing Service to administer standardized tests required by state law:
ETS will continue to handle the administration and scoring of the new online tests, including the Smarter Balanced English language arts and math tests in the Common Core State Standards, which debuted this spring, and the yet-to-be developed Next Generation Science Standards. … 
In its revised bid, ETS said it will hold summer institutes and weekend trainings for teachers and would pay California certificated teachers $20 per hour to be trained in and score the tests. Ashley acknowledged that's less than teachers earn per hour, but the primary benefit, he said, would be the knowledge that teachers would gain in both the end-of-the-year tests and the interim assessments that teachers would give during the year.
However, board member Patricia Rucker, who works as a lobbyist for the California Teachers Association, called $20 per hour "insufficient" and predicted that fewer than half of the scorers will end up being teachers. Teachers "carry the greatest burden to see that students are prepared and have the greatest stake" in the test results, and yet still will not be the primary focus of the recruitment strategy for scorers, she said.
Gov. Jerry Brown wouldn't have appointed Rucker to the state school board without the general expectation that she would take the same positions as the CTA. However, a union official openly using her role as a state board member to push a contractor to help her union members get more money is unusual.
Two state laws spell out conflicts
On city councils, members routinely recuse themselves when contracts come before them in which they have some financial connection. They are heeding Government Code 1090:
Members of the Legislature, state, county, district, judicial district, and city officers or employees shall not be financially interested in any contract made by them in their official capacity, or by any body or board of which they are members.
Government Code 87100 offers a similar injunction:
No public official at any level of state or local government shall make, participate in making or in any way attempt to use his official position to influence a governmental decision in which he knows or has reason to know he has a financial interest.
In California, union members and officials are often on governing boards, where they participate broadly in setting policies that affect unions.
But that doesn't usually apply to matters directly involving pay. For example, in Ontario, a police officer and a senior fire department official served on the City Council in the 1990s. They abstained from contract negotiations or other matters involving compensation and the city agencies that provided their full-time jobs.
Endnotes:
post: http://edsource.org/2015/state-board-awards-disputed-test-contract-to-ets-as-planned/79279#.VU5gsJI4nTY
Source URL: https://calwatchdog.com/2015/05/10/conflict-interest-cta-rep-state-board/
---