Budget reflects truce in Brown-Napolitano fight over UC
by Chris Reed | May 16, 2015 3:33 pm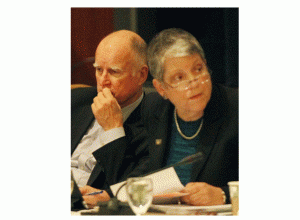 For eight months, the most high-profile political fight in Sacramento has been between Gov. Jerry Brown and University of California President Janet Napolitano, triggered by Napolitano's attempts to pressure Brown and the Legislature to increase funding for the UC system.
Napolitano orchestrated the UC Regents' approval last fall of a five-year, 28 percent tuition hike — conditioned on whether UC got more money in the 2015-16 budget. She also took steps toward limiting enrollment at all but two UC campuses.
In response, Brown, Assembly Speaker Toni Atkins, D-San Diego, and several lawmakers said UC should get its house in order before it demands more money. They cited the sharp growth in administrators on the UC payroll and UC's resistance to a state law meant to force the public university system to more specifically explain its spending practices.
Conclusions of 'committee of two' not disclosed
This blowback led Napolitano to form a "committee of two" with the governor to review UC's books. Napolitano and Brown never reported back to regents or the media with their findings. But in the revised budget released last week, the UC president appeared to get much of what she sought after agreeing to suspend tuition hikes for at least two years.
This is from the San Francisco Chronicle's coverage:
To win the tuition freezes, Brown agreed to contribute to UC's pension obligations, paying out $436 million over the next three years. The money would come from the voter-approved Proposition 2, the rainy-day fund, and could be used only for the pension debt. UC has been asking the state for years to help, as it does for California State University.
"This is not free money. They are paying down debt which will put them in a stronger position," Brown said. "It's not available for adding new professors or raising salaries or anything they want to do. It's to stabilize their finances going forward." …
Under the agreement, the state would increase UC's approximately $3 billion state allocation by 4 percent each year, starting at $119.5 million in the fall … .
UC would receive an additional $507.3 million to its base budget through 2018-19, with the potential of the state Legislature increasing that in the coming weeks.
UC's known concessions to governor
Napolitano only made two concessions to Brown besides the tuition freeze, based on what's now known, at least.
She agreed to add more online classes to make it easier for students to complete required courses and graduate within four years.
And, as the Chronicle reported, she agreed to a new pension scale for new hires:
Brown's administration said UC also agreed to give new employees hired after July 2016 a choice of a defined benefit plan pension capped at $117,000 a year or a defined contribution plan. The defined benefit plan cap is the same as currently imposed by the state for employees hired after 2013. UC currently has a much higher cap of $265,000.
The low-key denouement to the fight wasn't what many in Sacramento had expected earlier this year, when a showdown over not just UC's budget, but its culture, seemed likely.
In a February op-ed, Atkins and Assembly Minority Leader Kristin Olsen, R-Modesto, expressed strong interest[1] in bringing "zero-based budgeting" to UC. That reflected the widespread belief within the Capitol that the sort of extensive belt-tightening seen in much of state government during the 2007-2012 revenue crunch never happened in a university system that resisted transparency.
Endnotes:
strong interest: http://www.sacbee.com/opinion/op-ed/soapbox/article9912773.html
Source URL: https://calwatchdog.com/2015/05/16/budget-reflects-truce-brown-napolitano-fight-uc/
---