Brown adds $2 billion to program that worries LAO
by Chris Reed | May 19, 2015 5:21 am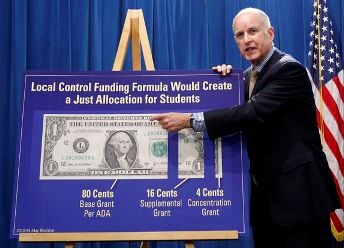 Gov. Jerry Brown's revised 2015-16 state budget boosts from $4 billion to $6.1 billion the funding being given to the Local Control Funding Formula for public schools. That's the program established by Brown via a 2013 state law to specifically target struggling and English-learner students with additional resources, reflecting Brown's contention that improving the education of such students is crucial to California's economic future.
However, there are concerns that the funds are being diverted either to broad programs that don't specifically benefit these struggling students or to teacher compensation.
In January, the Legislative Analyst's Office released a study[1] that found none of the 50 school districts it surveyed, including the state's 11 largest, had adequate safeguards in place for LCFF dollars. Two of its main findings:
Districts Rarely Differentiate Between New and Ongoing Actions. In most LCAPs, we found that districts are not distinguishing between actions that are a continuation of efforts from the prior year and those that are new for the upcoming school year. Without such differentiation, we could not determine whether districts were using the new funding generated under LCFF to pursue new actions to improve performance or to continue or expand prior activities.
Districts Often Fail To Provide Sufficient Information on EL/LI Student Services. Often, districts' descriptions of services for EL/LI students consist only of recapping the actions they will pursue on behalf of all students and indicating those actions also will benefit EL/LI students. In addition, few districts provide clear or compelling rationales for using their supplemental and concentration funds on a districtwide and schoolwide basis.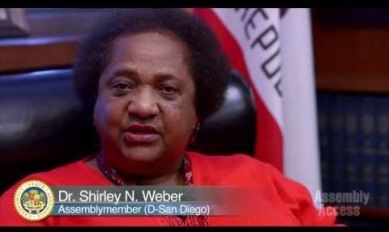 That same month, the California Legislative Black Caucus presented testimony[2] to the State Board of Education on rules governing how the funds were spent. Assemblywoman Shirley Weber, D-San Diego, expressed concern that vague guidelines would make it easy to divert the money meant expressly for struggling students. Her key point:
Any authority for the use of supplemental or concentration grants to schoolwide and districtwide expenditures must clearly link the services to demonstrated effectiveness in increasing student achievement and closing achievement gaps, and demonstrate that the expenditures are proven effective for "concentrations" of unduplicated children in schools in the district where concentrations exist.
Weber, a former San Diego school board president and San Diego State University professor, has already taken on the California Teachers Association and the education establishment this year over tenure reform. Her proposal was rejected by the Assembly Education Committee last month, but only after she had stern words[3] for defenders of the tenure status quo.
Endnotes:
study: http://www.lao.ca.gov/reports/2015/edu/LCAP/2014-15-LCAP-012015.pdf
testimony: http://calwatchdog.com/2015/03/18/black-caucus-brings-its-clout-to-ca-school-funding-fight/
stern words: http://calwatchdog.com/2015/05/06/dem-lawmaker-breaks-party-teacher-tenure/
Source URL: https://calwatchdog.com/2015/05/19/brown-adds-2-billion-program-worries-lao/
---