CA Dems move to remake state voting
by James Poulos | June 16, 2015 7:43 am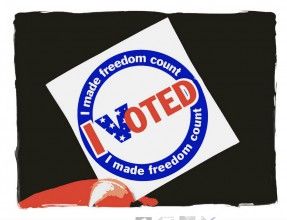 [1]Pursuing a long-held dream of maximizing voter turnout, California Democrats have coalesced around legislation that would fundamentally transform the experience — and inconvenience — of casting ballots.
"California elections would be radically retooled, with neighborhood polling places replaced by 'voting centers' serving much larger swaths and a vast expansion of early voting," reported[2] the San Jose Mercury News.
Big changes
Spearheaded by Secretary of State Alex Padilla, the overhaul took shape in a bill advanced by two influential lawmakers from the Los Angeles area — state Sens. Ben Allen, D-Santa Monica, and Bob Hertzberg, D-Van Nuys. As the Sacramento Bee explained[3], "Senate Bill 450 would have county election officials mail ballots to every registered voter. Voters could then mail them in or drop them off at new kiosks that Padilla said would ideally be open beginning 10 days before elections, eight hours a day."
"The new legislation incorporates ideas previously included in other bills," as the Los Angeles Times noted[4]. "A pending bill by Allen also calls for voting centers to be open before Election Day. A measure by Sen. Fran Pavley, D-Agoura Hills, would create secure drop-off sites where ballots could be left before Election Day."
Another effort to increase vote totals also recently gained traction in Sacramento. "Padilla has sponsored another bill that would register to vote everyone who gets a driver's license in California, unless they opt out," the Times reported.
Principles and ideology
The push for reform owed its energy to two complementary, yet competing, factors. On the one hand, voter turnout in California has hit extreme lows in recent election cycles, prompting a general outcry about the importance of broad-based civic participation to the government's legitimacy. On the other, Democrats have made no apologies for their partisan interest in making ballots as easy as possible to cast. Historically, voters who supported Republican candidates tended to turn out more reliably than those who would be more likely to pull the lever for the other party.
Given their dominance, state Democrats had little to worry in rolling out the new proposal. Purple states often experience razor-thin electoral margins that would make even a small shift in turnout potentially significant. In the absence of that pressure, the bill's sponsors have been able to play up the value of easy voting. "We'll probably never see another election in California where more voters go to the polls than vote by mail," said Allen, according to the Bee. "This is about expanding options and convenience for voters."
Nevertheless, Republicans have been quick to emphasize the bill's partisan upshot. Former state party chairman Ron Nehring, now vice chairman of San Diego County's GOP, said state Democrats "have a turnout problem," U-T San Diego noted[5]. "Republican voter turnout rates are already high," he said, suggesting that "more competitive elections" could better mobilize voters than fresh legislation.
Other critics have pointed[6] to studies that suggest expanded early voting programs may fail to increase participation, or actually lead to a decrease. Additionally, the prospect of increased costs may strengthen[7] some resistance to Padilla's plans.
Early results
SB450 drew its inspiration from a new scheme rolled out in Colorado, where Democrats do not enjoy the advantage they do in California. Padilla himself swung through to confirm the state's measurable growth in turnout. "In the first year Colorado increased voting options, the state saw 319,225 more ballots cast in 2013 compared with 2011," according[8] to the San Francisco Chronicle, "despite both elections lacking a presidential, gubernatorial or congressional race to drive people to the polls."
Last year, the Chronicle noted, Colorado cracked the top three of states in voter turnout, while California hit all-time lows during its most recent general and primary elections. Oregon and Washington have also boosted turnout with similar schemes of their own.
Endnotes:
[Image]: http://calwatchdog.com/wp-content/uploads/2015/03/voting-flickr.jpg
reported: http://www.mercurynews.com/politics-government/ci_28308982/political-blotter-new-bill-would-change-how-california
explained: http://www.sacbee.com/news/politics-government/capitol-alert/article23671420.html
noted: http://www.latimes.com/local/political/la-me-pc-california-elections-chief-proposes-making-voting-easier-20150609-story.html
noted: http://www.utsandiego.com/news/2015/jun/10/sacramento-elections-vote-alex-padilla-california/
pointed: http://www.breitbart.com/california/2015/06/12/california-pushes-plans-for-voting-by-mail/
strengthen: http://www.huffingtonpost.com/2015/06/11/california-elections_n_7561770.html
according: http://www.sfgate.com/politics/article/California-lawmakers-call-for-major-changes-to-6319636.php
Source URL: https://calwatchdog.com/2015/06/16/ca-dems-move-remake-voting/
---