Elon Musk's Hyperloop project races ahead
by James Poulos | August 31, 2015 7:13 am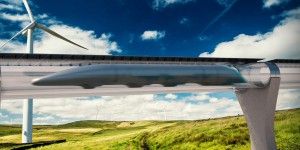 [1]Elon Musk's most quixotic project just raced closer to reality.
As the latest model of Musk's Tesla automobile scored the highest-ever rating given by Consumer Reports (99 out of 100) his even more revolutionary Hyperloop concept gained new respect, with one firm closing key deals that could bring established global expertise to bear on the Hyperloop's demanding requirements.
Construction heavyweights
The Los Angeles-based Hyperloop Transportation Technologies, or HTT, recently announced a significant new agreement with Oerlikon Leybold Vacuum and with engineering goliath Aecom. The three companies agreed "to begin construction on a full-scale Hyperloop prototype running alongside Interstate 5 through five miles of Quay Valley in the San Joaquin Valley of California," as the International Business Times reported[2]. Despite stubborn skepticism around the ultimate feasibility of Musk's Hyperloop concept, "HTT's new partnership with Oerlikon and Aecom (which is involved with the rail tunnel being constructed beneath the streets of London), publicly traded companies with a responsibility to shareholders, is validation that Musk's blueprints could eventually pay off," IBT noted.
Adding to Aecom's expertise with massive construction projects, the Oerlikon partnership sent a strong signal that investors and tech watchers ought to take Hyperloop much more seriously. "Oerlikon has been in the vacuum business for more than a century, and has worked on projects like the large hadron collider at CERN," Wired observed[3].
Although energy and cost were substantial hurdles to success, according to Oerlikon business development chief Carl Brockmeyer, the most surreal aspect of Hyperloop — the sheer creation of a vaccuum-sealed shuttle track hundreds of miles long — ranked relatively low on the list of challenges. "I don't think the construction hurdles are significant compared to other technologies that are already out there," he told Wired. "From a technical point of view, it's not a challenge. We are used to much higher and harsher applications."
Still, said Brockmeyer, "you will be surprised" by how low the energy requirements could be, relatively speaking. "In fact, he says the energy could be generated by the solar panels and wind turbines" that HTT chief Dirk Ahlborn has decided to set up in Quay Valley — the planned community paralleling California's Interstate 5 highway, alongside which a closely-watched Hyperloop test track will be constructed.
The race for design
Hyperloop still has not settled on a specific design for the "pods" that will carry passengers inside the vacuum train. But with a Musk-sponsored contest around the bend, researchers — especially in academia — are gearing up to the task. Universities including Purdue and Texas A&M were set to introduce courses on Hyperloop design and engineering, with the University of Illinois and other schools assembling teams to vie for victory in Elon Musk's SpaceX Hyperloop Pod Competition, according[4] to Gizmodo.
"The competition, which is slated for June 2016, is aimed at university students and will enable selected applicants to try out their pod design on a one-mile Hyperloop test track that will be built adjacent to the SpaceX headquarters in Hawthorne, California," Business Insider reported[5] when Musk announced the event this June. Finalists will be selected by committee and announced at the start of next year, at the so-called Design Weekend hosted by Texas A&M itself.
According to the detailed rules laid down by SpaceX, pods must weigh in under 11,000 pounds and measure under 14 feet long, Popular Science reported[6]. "Among the other requirements, they also have to have brakes, communications, telemetry, and it is recommended that the pods levitate." the SpaceX rules state that, while any "mechanism(s) for levitation is up to the entrant and is not actually required," vehicles with wheels "(e.g. an 'electric car in a vacuum') can compete, but are unlikely to win prizes."
Endnotes:
[Image]: http://calwatchdog.com/wp-content/uploads/2015/06/Hyperloop-mockup.jpg
reported: http://www.ibtimes.com/elon-musks-hyperloop-idea-moves-forward-test-track-construction-dont-book-your-2063880
observed: http://"I%20don't%20think%20the%20construction%20hurdles%20are%20significant%20compared%20to%20other%20technologies%20that%20are%20already%20out%20there,"%20says%20Carl%20Brockmeyer,%20Oerlikon's%20head%20of%20business%20development.%20"From%20a%20technical%20point%20of%20view,%20it's%20not%20a%20challenge.%20We%20are%20used%20to%20much%20higher%20and%20harsher%20applications."
according: http://gizmodo.com/you-can-take-a-class-in-hyperloop-design-this-fall-at-p-1726808007
reported: http://www.businessinsider.com/elon-musks-hyperloop-pod-competition-has-more-than-700-applicants-2015-6
reported: http://www.popsci.com/first-stage-hyperloop-contest-will-be-texas
Source URL: https://calwatchdog.com/2015/08/31/elon-musks-hyperloop-project-races-ahead/
---