Sen. Feinstein remarks on Iran deal, CA drought
by Joel Fox | September 5, 2015 5:38 am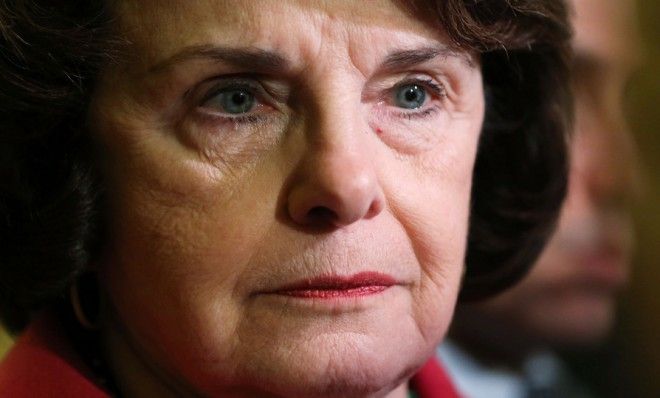 [1]Anyone wonder if U.S. Senator Dianne Feinstein has the same feeling expressed by Gov. Jerry Brown about a presidential run — if she were a decade or so younger would she consider running for president? I pondered this when in introducing Feinstein to a joint session of the World Affairs Council and Town Hall Los Angeles Wednesday night, billionaire Eli Broad listed many firsts Feinstein accomplished in her long political career and then suggested she should be the first woman president.
The oldest serving United States Senator waved off the suggestion.
Feinstein spent time discussing her support for the Iran deal on nuclear power forged by the Obama administration. She argued that there was no better deal to be had, that it was this deal or nothing. If no deal were confirmed, the senator suggested, in as little as three months there would likely be a military conflict.
Feinstein argued that the United States, which led other world powers in the negotiations, would suffer its leadership position if Congress rejects the deal. Other nations involved in the deal would drop sanctions on Iran forcing the U.S. into the difficult position of deciding to sanction allies, Feinstein said.
Feinstein spoke on the day that news broke that enough senators have now agreed to support President Obama in any veto override attempt.
The senator was clearly basing her vote on the hope that Iran will change its official policies and attitude over the course of the agreement. "Fifteen years will tell if Iran is capable of change or not," she said.
On California's devastating drought, Sen. Feinstein touted a proposal she put together with California's junior senator, Barbara Boxer. She praised the Los Angeles area Metropolitan Water District for having good water storage and reservoirs, which she said the rest of the state doesn't have.
Pointing out that the infrastructure for water supplies was built for a population of 16 million people instead of the current 38 million, Feinstein argued for new infrastructure. She said her plan contains a dozen desalination plants and 105 water-recycling projects among other proposals.
Before offering her philosophy on the best way to run local government, Feinstein relived the day that would lead to her becoming San Francisco's chief executive — the assassinations[2] of Mayor George Moscone and Supervisor Harvey Milk by former Supervisor Dan White.
She saw White in the hallway and called to him but he rebuffed her by asking for a moment. Feinstein then heard shots and discovered Milk's body.
Ascending to the mayor's office a week later, Feinstein ran the city for 10 years. She said cities best run from the center, stressing practicality, not ideology. She said most people could agree on the need for improvements and infrastructure.
Indeed, in his introduction, Eli Broad remarked that the senator had an ability to find the political center during her entire career.
Endnotes:
[Image]: http://calwatchdog.com/wp-content/uploads/2015/09/Dianne-Feinstein.jpg
the assassinations: https://en.wikipedia.org/wiki/Moscone%E2%80%93Milk_assassinations
Source URL: https://calwatchdog.com/2015/09/05/sen-feinstein-remarks-on-iran-deal-ca-drought/
---