McCarthy poised for House Speakership
by James Poulos | September 29, 2015 5:34 am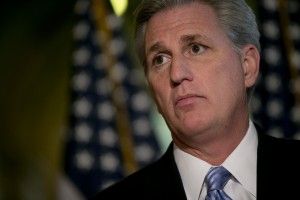 [1]
In a twist as sudden as it was unlikely, Republicans appear poised to make Rep. Kevin McCarthy, R-Calif., the next Speaker of the House of Representatives.
Though he could face opposition from the House's conservative caucus, McCarthy's reputation — and solid positioning in the party ranks — have worked in his favor. As Bloomberg reported[2], some members have already publicly stated that McCarthy, the second-ranking Republican in the House, was likely to prevail. Their ranks included Rep. Mick Mulvaney, R-S.C., who has been critical of the sometimes calculating, sometimes conciliatory approach of outgoing Speaker John Boehner, R-Oh., who will leave Congress altogether by next month's end. "The important question is, will things change? Will they change for the better or we simply replace Mr. Boehner with somebody else who do the same thing?" Mulvaney asked.
Courting conservatives
In an email to colleagues announcing his formal candidacy, McCarthy sought to signal his awareness of the skepticism that has grown up around many House conservatives. "We can't ignore the differences that exist, but we can and must heal the divisions in our conference with work, time and trust," he wrote, according[3] to NBC News. "If elected Speaker, I promise you that we will have the courage to lead the fight for our conservative principles and make our case to the American people. But we will also have the wisdom to listen to our constituents and each other so that we always move forward together."
McCarthy has the benefit of some political innocence. Well before Boehner's announcement, conservatives had begun to discuss the prospect of voting him out of the Speakership — plans that McCarthy played no role in. That helped endear him to some dissatisfied with Boehner. As one member of the so-called Freedom Caucus told[4] the Hill, "I don't think he's plotting. I don't think he's trying to aid and abet. I just think he is trying to figure out where everyone is. I volunteered to him that, under the right circumstances, I could vote for him for Speaker."
A historic shakeup
McCarthy's run for the spot has triggered a scramble for advantage as top jobs in the GOP chain of command opened up. In addition to a challenge to McCarthy fielded by Rep. Daniel Webster, R-Fla., the race for Majority Leader has "already turned into at least a three-way contest," Yahoo News reported[5], "with the No. 3 and No. 4 House Republicans, Steve Scalise of Louisiana and Cathy McMorris Rodgers of Washington, aggressively pursuing the job, along with the Budget Committee chairman, Tom Price of Georgia." Although the House's tea party members have not put forward a candidate of their own, they do not see McCarthy as a choice that will lead to much change in how the party's legislative strategy moves forward, Yahoo added.
McCarthy, a relatively low-profile member of the party leadership hailing from a state with few other nationally-known Republicans, has been seen as experiencing something of a political windfall. But if he is elected Speaker, he will have his patience and diligence on the Hill to thank. "McCarthy has tended to this flock of House Republicans more than any GOP leader of the past five years," the Washington Post observed[6]. "He recruited many of the members to run in the 2010 elections that delivered the majority, he has been their adviser and confidant, he works out with them in the House gym and keeps tabs on family members." Still, if elected, his rise will have been the fastest comparable since the 1800s. "A Speaker McCarthy would represent a sharp shift in the historical trends of the last 125 years. In that time," the Post noted, "it took an average of almost 23 years in the House to be elevated to speaker, according to a Congressional Research Service report."
Endnotes:
[Image]: http://calwatchdog.com/wp-content/uploads/2015/09/Kevin-McCarthy.jpg
reported: http://www.bloomberg.com/news/articles/2015-09-27/california-s-mccarthy-to-be-next-house-speaker-republicans-say
according: http://www.nbcnews.com/politics/congress/kevin-mccarthy-announces-run-speaker-house-n435096
told: http://thehill.com/homenews/house/253744-house-conservatives-warm-to-mccarthy-as-speaker
reported: http://news.yahoo.com/boehner-slams-gop-hard-liners-false-prophets-073921283--politics.html
observed: http://www.washingtonpost.com/politics/lucky-kevin-mccarthy-is-the-odds-on-favorite-to-be-the-next-speaker-hell-need-it/2015/09/26/27f693f6-6466-11e5-8e9e-dce8a2a2a679_story.html
Source URL: https://calwatchdog.com/2015/09/29/mccarthy-poised-house-speakership/
---