U.S. Senate 2016: GOP lawmaker Rocky Chavez discusses campaign and policy stances
by John | November 3, 2015 5:41 am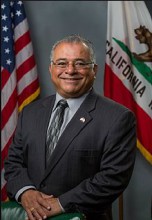 He's a Republican in a solidly Democratic state. He's raised less than six-figures for a campaign that will cost tens of millions. It's little wonder why two out of three Californians[1] have no idea who "he" is.
Yet, Republican Assemblyman Rocky Chavez isn't pessimistic about his chances of becoming the next U.S. Senator from California.
"Republicans need to have a positive message," the former Marine colonel tells CalWatchdog.com, saying his campaign is focused on jobs and education. "You get a job through education… . Education is an investment society makes in people."
In place of a big-budget campaign, Chavez has been meeting with editorial boards to share his message focused on opportunity, investment in infrastructure and making the world safer.
Sacramento: Challenging Assembly Republican Caucus
Chavez contends that his success as a state lawmaker, nearly three decades in the military and experience founding a charter school make him the strongest Republican candidate to challenge Attorney General Kamala Harris next fall.
"As far as Republicans, I'm the only one that's been elected or run campaigns," Chavez said. "People are concerned about jobs."
In only his second term in the state Assembly, Chavez boasts that he's had success passing legislation through the Democratic-controlled Legislature.
"I think I'm number three for getting the most bills passed (for a Republican)," he said. Among Chavez-authored bills that have become law is Assembly Bill 13, which requires state colleges to update their admission policies to guarantee GI benefits[2].
Chavez's legislative victories have included defeating bills that would provide more rights to illegal immigrants. In 2013, Chavez departed with his Republican colleagues by acting as a vocal critic of Assembly Bill 1401, which would have allowed illegal immigrants to serve on juries.
"The (GOP) caucus recommended we not jump on it," Chavez said, referring to AB1401[3]. "I fought that issue and won it."
Sided with Unions on Property Rights Fight
Although Chavez has an "A" rating from the Howard Jarvis Taxpayers Association, his record in Sacramento is far from conservative. Chavez differentiates himself from traditional neoconservative Republicans by describing President George W. Bush's decision to invade Iraq in 2003 as a "bad decision and mistake."
This year, Chavez also joined with a majority of lawmakers to defeat legislation that would have strengthened property rights in California[4].
Senate Bill 443, authored by Senator Holly Mitchell, D-Los Angeles, would have blocked government agencies from confiscating private property in California – without a criminal conviction. The bill also would have banned law enforcement agencies in California from using federal agencies as a middleman for circumventing state law.
A bipartisan coalition of property rights groups and state lawmakers argued that the current system is nothing more than a government revenue grab that violates the fundamental principles of the American justice system.
"In California in the last 20 years, tens of thousands of people have had property taken and that property has not been returned – even though those individuals have neither been charged with a crime nor convicted of a crime," said Assemblyman David Hadley, R-Torrance, who carried the bill in the lower house.
After an intense lobbying effort by public safety unions, a majority of lawmakers, including Chavez, defeated the bill on a 24-44 vote[5].
"In Sacramento, people make these emotional arguments with no basis in fact," Chavez said, dismissing substantial evidence and independent studies that document the number of innocent victims of government property confiscation. "I don't drive around with $100,000 in my car. Law enforcement agencies use this to hit them (drug cartels) where it hurts."
Property rights advocates dispute Chavez's claim that only the guilty suffer under California's asset forfeiture system.
"When one's government can forcibly seize private property without the benefit of proving guilt, most victims would be fearful or never consider appealing to the very politicians who champion a broken forfeiture system," said Marko Mlikotin, the executive director of the California Alliance to Protect Private Property Rights. "Sadly, California's judicial system is no longer based on the notion that one is innocent until proven guilty."
Chavez's $12,552 Junket to Chile
Chavez's legislative success has endeared him to Sacramento's power brokers and lobbyists, who invited Chavez on an all-expense paid trip to Chile. The trip, which cost $12,552, according to Chavez's annual disclosure report, was paid for by the California Foundation on the Environment and the Economy[6], a group that accepts contributions from unions and corporations that routinely lobby the Legislature.
Critics of such junkets argue that it gives lobbyists and special interest groups unfettered access to policymakers. Chavez says that criticism is "uninformed." He stresses that the trips are essential for "Republicans to be informed."
"The reality is there were no deals made," Chavez tells CalWatchdog.com. "It's important that policymakers raise their heads above the dust." He says that he learned more about energy policy, immigration and city design as a result of the "educational" trip.
Endnotes:
two out of three Californians: http://www.field.com/fieldpollonline/subscribers/Rls2515.pdf
guarantee GI benefits: https://ad76.asmrc.org/press-release/5135
referring to AB1401: http://ww2.kqed.org/news/2013/10/07/114088/
strengthened property rights in California: http://calwatchdog.com/2015/09/11/lawmakers-bow-pressure-abandon-effort-fix-property-confiscation-laws/
defeated the bill on a 24-44 vote: http://www.leginfo.ca.gov/pub/15-16/bill/sen/sb_0401-0450/sb_443_vote_20150910_0418PM_asm_floor.html
paid for by the California Foundation on the Environment and the Economy: http://www.voiceofsandiego.org/topics/government/sacramento-report-san-diego-lawmakers-accepted-84k-in-gifts/
Source URL: https://calwatchdog.com/2015/11/03/u-s-senate-2016-gop-lawmaker-rocky-chavez-discusses-campaign-policy-stances/
---