Tesla gets shadowy CA competitor
by James Poulos | November 12, 2015 9:09 am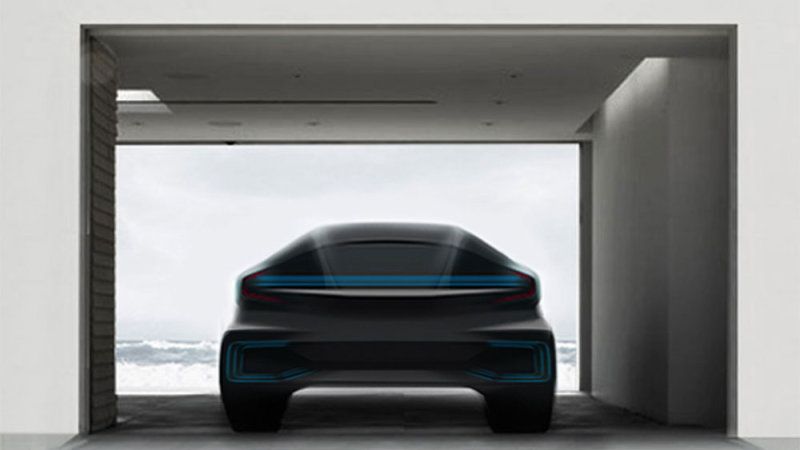 [1]Tesla, Elon Musk's famed electric car company, just lost a slice of the Golden State limelight.
Speculation has swirled around the debut of another entrant into California's crowded, cutting-edge automotive industry. The company, known as Faraday Future, "has been hunting for a place to build what it says will be a $1 billion manufacturing plant for a new line of cars," reported[2] the San Francisco Chronicle. "Four states are contenders and the company says to expect an announcement within weeks."
Contenders for the site included not only California but Georgia, Nevada and Louisiana, Faraday Future Product Development Chief Nick Sampson said, according[3] to the Wall Street Journal. "Mr. Sampson is one of a team of former Tesla executives now leading Faraday Future. Like Tesla, Faraday Future is named after an inventor from the 19th century."
High hopes, low profile
The company has responded to the media spotlight by cultivating an air of mystery from its Gardena headquarters south of Los Angeles — the former home to Nissan's sales HQ, noted the Journal. Reporters have had to wade through obscure documents to collect details about Faraday's origins. "Though it won't confirm the source of its funds, documents filed in California point to a parent company run by a Chinese billionaire who styles himself after Apple's late Steve Jobs," the Chronicle observed.
That billionaire has been identified as Jia Yueting, the chairman of Chinese tech company LeTV, short for Leshi Internet Information & Television — one of the largest online video companies in China. "He recently launched a line of smartphones and acquired a 70 percent stake in Yidao Yongche, an Uber-like car service in China," reported[4] the Los Angeles Times.
In a press conference late last year, Leshi spokesperson Jiang Dongge said the company has "already organized a research and development team based in Silicon Valley about a year ago, with experts poached from traditional car companies including Tesla Motors, Mercedes-Benz and Ford Motor Company working on the forthcoming model. Leshi is also in touch with Google as well as other technology firms based in Silicon Valley," he claimed, according[5] to Forbes Asia.
Close competition
Although some Californians may bristle at the thought of a Chinese company pouring billions into competition with homegrown Silicon Valley products, analysts have linked up Faraday's relative secrecy to its interest in foreign, not American, markets. "A lot of the evidence to support Faraday Future's backing from the Chinese tech conglomerate is of public record. So why all the dodging from Faraday? It may have something to do with the way the company plans to market its vehicles," Techcrunch speculated[6]. "According to a source familiar with the matter, Faraday Future needs to be seen as a U.S.-based Tesla rival. 'Chinese people don't want to buy Chinese products,'" said the source.
But the dizzying costs of launching a high-end electric car company have ensured that any additional player in the marketplace will squeeze relatively more established firms. And Faraday has already been preceded in California by another Chinese concern. "Karma Automotive, formerly Fisker Automotive, which is based in Southern California, has revived its hopes after China's Wanxiang Group Corp. bought the failed hybrid-electric supercar maker out of bankruptcy in 2014," the Journal reported. "The company has secured a manufacturing facility in Southern California and is planning to sell a new car in 2016."
Cross-border competition
For their part, California officials faced a fresh possibility of losing out to neighboring Nevada on big-ticket electric car construction. "If North Las Vegas lands the factory," Bloomberg noted[7] of Faraday's future plant, "it would be the second major coup for Nevada as it attempts to diversify its economy and promote itself as a center of electric-car manufacturing. Tesla is building the world's largest lithium-ion battery factory east of Reno after Gov. Brian Sandoval last year signed off on tax breaks worth as much as $1.3 billion for a plant on which Tesla expects to spend $10 billion over 15 years."
Endnotes:
[Image]: http://calwatchdog.com/wp-content/uploads/2015/11/Faraday-Future.jpg
reported: http://www.sfgate.com/news/science/article/Mysterious-electric-car-startup-looking-to-build-6618317.php
according: http://www.wsj.com/articles/faraday-future-aims-to-take-on-tesla-motors-with-1-billion-investment-1446719581?alg=y
reported: http://www.latimes.com/business/autos/la-fi-hy-faraday-auto-factory-plan-20151105-story.html
according: http://www.forbes.com/sites/ywang/2014/12/10/chinas-leshi-bets-big-on-electric-car/
speculated: http://techcrunch.com/2015/11/09/mysterious-tesla-rival-faraday-future-backed-by-netflix-of-china-letv/
noted: http://www.autonews.com/article/20151105/OEM05/151109894/chinese-backed-startup-targets-tesla-with-$1-billion-u.s.-plant
Source URL: https://calwatchdog.com/2015/11/12/tesla-gets-shadowy-ca-competitor/
---