Coal and California: State not as green as it may seem
by Chris Reed | November 17, 2015 5:09 am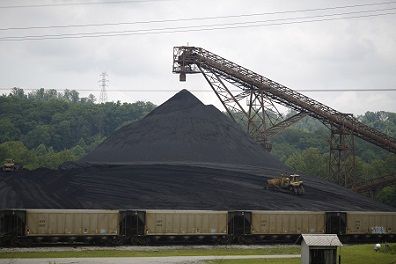 California regularly wins national acclaim for AB32 and other state laws pushing the Golden State toward the use of cleaner renewable power. A recent New York Times editorial page blog post was typical[1].
But on niche websites devoted to energy production and energy markets, the picture of how California is responding to its mandates is more muddled. A recent free report [2]from SNL, the McGraw-Hill financial publication that typically charges for the proprietary information it provides to shareholders and potential investors, puts California's progress in a different light:
Carbon laws are choking demand for coal-fired power in California, but the state still imports a large amount of coal-based power and is one of the nation's top industrial users of coal, providing a needed market for Western producers facing dimming prospects elsewhere.

California's carbon law AB32, which requires the state's greenhouse gas emissions to return to 1990 levels by 2020, sets in-state plant performance standards that are too stringent for conventional coal units. But California is still importing coal-based power from neighboring states until current power purchase and plant ownership contracts expire.

In 2014, less than 5 percent of California's total energy demand was served by coal and petroleum coke-fired plants, nearly all of it from plants outside the state, according to an Oct. 12 report from the California Energy Commission. By 2026, California will end virtually all its reliance on coal.

But at times, as much as 50 percent of Southern California's electricity still comes from coal-fired plants, Steve Homer, director of project management for the Southern California Public Power Authority, or SCPPA, told SNL Energy.

The three main out-of-state coal plants serving California — the Intermountain[3] Power Project in Utah, the San Juan[4] plant in New Mexico and the Navajo[5] plant in Arizona — together received 10.1 million tons of coal in the first seven months of 2015, according to U.S. Energy Information Administration data. …

California is also one of the country's biggest industrial users of coal, although consumption for that sector is relatively small. In 2013, the latest year for state-level EIA data on industrial coal consumption, California was the eighth-biggest industrial coal user, burning 1.4 million tons.
How states game energy reports
The report is another interesting example of how states play games with energy exports and imports to make themselves look greener than they are. In 2010, Orange County lawmaker turned Austin policy wonk Chuck DeVore laid out[6] how California and British Columbia benefit from this maneuvering:
California has become America's largest electricity importer. With 37 million people producing about 13 percent of the U.S. gross domestic product, California imports about 23 percent of its electricity.  …

Complicating matters are a trio of California energy policy laws passed in 2006: AB32, SB1368 and SB107. AB32 mandates a 30 percent reduction in California's greenhouse gas emissions by 2020 … . SB1368 outlaws the renewal of coal-fired electricity contracts — imported coal energy powered about 16 percent of California's grid in 2008. While SB107 accelerated the requirement that California derive 20 percent of its electricity from renewable sources [in 2010], renewable being defined as small hydro, geothermal, wind, solar and biomass (we missed the target, meaning utilities, read ratepayers, get dinged).

Enter government-owned BC Hydro and its Powerex subsidiary. With abundant hydro power potential, British Columbia is seeking to become the Saudi Arabia of "green" energy.  … [But] in fact, BC Hydro has imported more energy than it has exported in 10 out of 11 years.
What's going on here? British Columbia sells its clean hydropower to neighboring governments which need to meet renewable energy mandates. But then it doesn't have enough power for its growing economy, so it imports power from coal and gas-fired power plants in Washington state and Alberta.
A California compromise — or a loophole?
A 2014 Los Angeles Times story [7]raised similar questions about the gaming of the intention of the state's landmark climate change laws. Its key conclusion:
California regulators say they have taken steps to prevent utility company executives from outwitting them and insist state rules will lead to real reductions in carbon dioxide, the main gas scientists blame for global warming. But officials concede their efforts have run up against the limits of California's ability to control what takes place outside its borders, a point the utilities also emphasize. …

Originally, California's climate-change policies included a provision that would have demanded utility executives swear under penalty of perjury that the actions they took to reduce emissions would not result in a spike in greenhouse gases someplace else.

But federal officials warned Gov. Jerry Brown that too aggressive an effort to control emissions across state lines would risk disrupting the complex interstate electricity system.

In the end, the California Air Resources Board — which oversees the state's 2006 climate-change law — allowed utilities a dozen "safe harbor" conditions under which electricity companies would be permitted to shift emissions to nearby states.

Critics called the conditions loopholes. …

The exemptions are so broad, the board's own advisory committee cautioned, that all the reductions in greenhouse gas emissions made by electricity companies could end up existing only on paper.
Endnotes:
typical: http://takingnote.blogs.nytimes.com/2015/10/14/california-leads-the-way-on-climate-change/?_r=0
report : https://www.snl.com/InteractiveX/Article.aspx?cdid=A-34113318-14128
Intermountain: https://www.snl.com/InteractiveX/redirector.aspx?ID=483&OID=3885
San Juan: https://www.snl.com/InteractiveX/redirector.aspx?ID=483&OID=6111
Navajo: https://www.snl.com/InteractiveX/redirector.aspx?ID=483&OID=5006
laid out: http://www.breitbart.com/big-government/2010/08/17/california-and-the-international-green-energy-racket/
story : http://www.latimes.com/science/la-me-climate-shell-game-20141026-story.html#page=1
Source URL: https://calwatchdog.com/2015/11/17/coal-california-state-not-green-may-seem/
---