CSU faculty looks unwilling to compromise on pay
by Chris Reed | November 22, 2015 5:18 am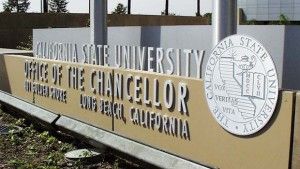 A strike by California State University professors, lecturers, librarians, counselors and coaches looks increasingly likely in coming months unless CSU leaders and Gov. Jerry Brown are more generous with pay raises.
More than 90 percent of the 23,000 workers at 23 CSU campuses represented by the California Faculty Association campuses have voted in favor of striking unless they receive three years of annual pay raises of 5 percent, not the 2 percent annual raises offered by the state. A rally [1]last week in Long Beach called by the CFA was attended by more than 1,000 people, Reuters reported. The wire service's story illustrated a seemingly united CSU faculty:
"People are suffering and hurting financially," said Theresa Montaño, a vice president of the California Teachers Association. "Faculty members can't pay off their debt, raise a family or buy a home."

During the march, many protesters said that if faculty members don't get the salary increase, they are ready to walk off the job. …

Jennifer Eagan, a president for CFA, said it's "unfair to ask professors keep sacrificing year after year without a significant pay increase."
Faculty seek help from union-friendly state agency
The CFA further escalated its fight with the state government on Thursday by filing an unfair labor practices allegation with the state Public Employment Relations Board. This description is from the CFA's website:
The charge is based on language in HEERA [the Higher Education Employer-Employee Relations Act] which requires that the CSU and CFA reach an agreement on salary before the university sends a budget request to the Legislature and governor.

In fact, in both 2015-16 and 2016-17 the CSU made Support Budget requests that included their plan to implement a 2 percent faculty salary increase for each year. By making a budget request prior to reaching agreement with CFA on what would be needed to offer an adequate salary pool and by arguing that they have "allocated $65.5 million for a 2 percent compensation pool for all employees," and limiting discussion of salary to that predetermined pool, the CSU has "violated its duty to meet and confer with CFA in good faith."

In his remarks to the Board of Trustees on Wednesday November 18 Kevin Wehr highlighted the problem. "What you fail to understand is that deciding what you think is fair compensation for your employees before the bargaining process even begins is not bargaining in good faith," Wehr said. "Indeed Section 3572b HEERA of recognizes that fact and says that once we reach an agreement 'an appropriate request for financing or budgetary funding for all state-funded employees … shall be forwarded … to the Legislature and the Governor.' You have put the cart before the horse."
PERB [2]has consistently ruled in favor of local government unions challenging "bad faith" decisions by governments on changes in compensation. This time, however, the ultimate target isn't the cities of San Jose[3] or San Diego[4] or the Los Angeles Unified School District[5] — it's Gov. Jerry Brown, who cleaned house at PERB in 2011 and removed leaders chosen by Gov. Arnold Schwarzenegger, who had fought[6] with the California Nurses Association for years.
Endnotes:
rally : http://www.reuters.com/article/2015/11/18/us-california-csu-idUSKCN0T709220151118
PERB : http://www.perb.ca.gov/
San Jose: http://www.cpf.org/go/cpf/?LinkServID=6017405E-1CC4-C201-3E419CD2B6DA67D1
San Diego: http://www.cpf.org/go/cpf/?LinkServID=6017D461-1CC4-C201-3ED03629FBD2E693
Los Angeles Unified School District: http://www.perb.ca.gov/decisionbank/pdfs/2326E.pdf
fought: http://www.caperb.com/2010/10/10/court-of-appeal-denies-cnas-challenge-to-strike-award/
Source URL: https://calwatchdog.com/2015/11/22/csu-faculty-looks-unwilling-compromise-pay/
---