Massive transportation bill has no $ for CA bullet train
by Chris Reed | December 8, 2015 5:50 am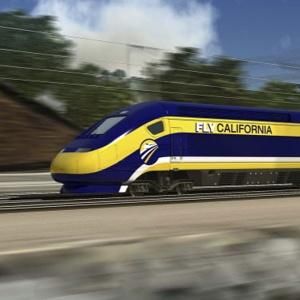 California's controversy-plagued[1] bullet train project got a major boost from the Obama administration and Congress in 2009 when more than $3 billion in federal stimulus funding was sent to the state government to buttress the $9.9 billion in bond seed money that state voters had allocated to high-speed rail in 2008 by passing Proposition 1A.
Since then, the California High-Speed Rail Authority has been unable to attract outside investors and doesn't have even 40 percent of the money it needs to complete the initial 300-mile, $31 billion segment — much less the $68 billion needed to build a rail line linking San Francisco and downtown Los Angeles. This has led bullet-train advocates, starting with Robert Cruickshank of the California High Speed Rail Blog[2], to repeatedly urge Congress and the Obama administration to provide more federal dollars. In planning documents from three years ago, state officials said they were hoping on $42 billion in federal help.
But Republicans took control of the House in the November 2010 election, and they have repeatedly denounced the state's project, led by Rep. Jeff Denham of Turlock. And the office of House Majority Leader Kevin McCarthy, R-Bakersfield, has confirmed there's not a dime for the state's bullet train in the gigantic, five-year, $305 billion transportation bill that Congress approved [3]last week in an overwhelming bipartisan vote.
CA Democrats fought for bullet train funds in 2012
In 2012, during negotiations on a similar omnibus transportation measure, California's House Democrats were strongly critical[4] of the bill for, among other things, blocking new federal funding for the Golden State high-speed rail project. But Nexis and Google News searches show no similar pointed criticism of the new transportation bill. This 2013 analysis [5]by Governing magazine shows why enthusiasm has waned among federal lawmakers:
In California … if the feds were to pony up the rest of the $42 billion the state is expecting, it would be more than the federal government spends nationwide on grants for new subway, light-rail and bus rapid transit lines combined. … At a time when Congress has canceled White House tours in order to reduce spending, it's hard to envision Washington lawmakers making that sort of long-term commitment anytime soon. …

In a budget deal struck with Republicans in April 2011, the administration lost funding for its [high-speed rail] program, and it hasn't come back since. … Meanwhile, despite all his calls for high-speed rail spending, Obama hasn't developed a concrete proposal on how to provide an ongoing, dedicated revenue stream for those projects, which advocates say is key. Even the nonpartisan GAO warns that counting on future federal funding for projects like the one in California is highly speculative. Joshua Schank, head of the Eno Center for Transportation, says it's unlikely at this point that the administration will continue to throw its full weight behind high-speed rail because so far the program "hasn't yielded much dividend politically. Nor," he adds, "has it yielded much in terms of high-speed rail."
Cruickshank, however, thinks there's a maniacal quality to GOP opposition. "To Republicans, of course, the risk to the taxpayer isn't based in fact but in ideology. They believe nobody rides passenger trains in America, so any such attempt to fund one is doomed from the start. They mention that government might have to subsidize its operating costs and even though the global experience suggests they don't, they're ignoring the fact that government massively subsidizes roads without any expectation that they'll cover their costs," he wrote [6]in 2013.
Nevertheless, aides to President Obama say he will sign the transportation bill, perhaps this week.
Endnotes:
controversy-plagued: http://www.fresnobee.com/news/local/high-speed-rail/article23918377.html
California High Speed Rail Blog: http://www.cahsrblog.com/
approved : http://www.usatoday.com/story/news/2015/12/03/highway-bill-house-senate-305-billion/76720814/
strongly critical: http://latimesblogs.latimes.com/nationnow/2012/02/as-congress-gears-up-for-an-unusual-fight-over-a-new-transportation-bill-californias-democratic-delegation-has-come-out-a.html
analysis : http://www.governing.com/topics/finance/gov-has-high-speed-rail-been-derailed.html
wrote : http://www.cahsrblog.com/2013/03/congressional-republicans-try-to-block-federal-loan-for-vegas-hsr/
Source URL: https://calwatchdog.com/2015/12/08/massive-transportation-bill-has-no-for-ca-bullet-train/
---