State, prison guard union on collision course again
by Chris Reed | December 23, 2015 8:59 am
The state is heading for a showdown with the prison guards union over allegations of extreme guard misconduct[1] at the remote High Desert State Prison in Susanville, 150 miles northeast [2]of Sacramento. A harrowing state inspector general's report depicts an out-of-control prison culture, with overt racism and cruel practices routinely tolerated.
But instead of taking a muted approach in response — or attempting to work out some reforms behind the scenes — the California Correctional Peace Officers Association is gearing up for war, admitting nothing and saying the improprieties were on the part of investigators, not guards.
This is from Associated Press:
Inspector General Robert Barton said the California Correctional Peace Officers Association advised members not to cooperate and filed a lawsuit and collective bargaining grievance in a bid to hinder the investigation.

The union sent a letter last month to Gov. Jerry Brown and every state lawmaker in what Barton called "the latest strong-arm tactic" to obstruct the investigation and discredit the inspector general before the report was released.

Union President Chuck Alexander's letter to Brown accuses Barton of taking a prosecutorial "burn a cop a week" approach to overseeing the corrections department. Union spokeswoman Nichol Gomez-Pryde said the union's only interest is in protecting its members' legal rights.

The report came more than a decade after the Department of Corrections and Rehabilitation tried to stamp out a culture in which prison guards protect one another when they witness wrongdoing.
CCPOA's hardball tactics reminiscent of Gray Davis era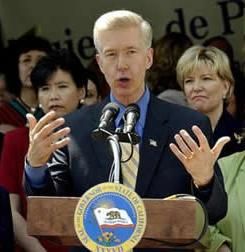 The stance taken by the CCPOA was remindful of its tactics and attitude during Gray Davis' nearly five-year run as governor. The prison guards union won a 2002 contract that not only provided big raises — 37 percent over five years for many union members — it also gave union officials a say in management. At a remarkable July 2003 Sacramento hearing, lawmakers heard testimony about how this made it difficult to prevent, much less punish, outrageous guard behavior similar to what's being alleged at the High Desert prison. The San Francisco Chronicle reported at the time[3]:
On Thursday, eight witnesses shared their versions of a controversy that began at the California Institution for Men in Chino (San Bernardino County) on May 9, 2002. In an alleged incident that included as many as 20 guards, some participating and some watching, five prisoners whose hands and feet were bound were slammed to the ground, beaten and kicked.

Internal affairs agents for the corrections system launched a criminal investigation, according to Special Agent Richard Feaster. A recording of an informant provided especially damning evidence, agents said Thursday. … But the probe quickly ran into trouble.

Using a clause in their contract with the state, the California Correctional Peace Officers Association began demanding that agents share the evidence being amassed against guards. Agents were concerned that the case would be compromised if union officials learned who key witnesses were.

The contract the CCPOA signed with Davis …  includes many … provisions, including allowing guards to obtain information being collected against them.
Schwarzenegger demanded, won concessions
Gov. Arnold Schwarzenegger, who succeeded Davis in the fall 2003 recall, fought the CCPOA tooth and nail and won back some of the concessions that Davis had made. This led the union to consider mounting a recall attempt[4] against Schwarzenegger in 2007, but it eventually gave up.
In 2010, the CCPOA endorsed Jerry Brown for governor and was rewarded with a 2011 contract that prompted complaints from a Long Beach Press-Telegram editorial[5]:
Brown's deal reverses some reforms that were made under Gov. Arnold Schwarzenegger, such as the requirement that guards meet physical fitness standards and that allows managers to take action against sick time abuse. To top it off, the deal includes a pay increase.
The recent state inspector general's report came shortly after Jeffrey Beard announced [6]he was resigning Jan. 1 as secretary of the Department of Corrections and Rehabilitation. The former Pennsylvania prison official was brought in by Brown three years ago to shake up a dysfunctional culture, and he got high marks from the governor.
But Beard's departure won't be tidy, coming against a backdrop of the ugly fight playing out at the High Desert prison. Brown — like Davis, his former chief of staff — and his next prison boss will have to figure out how to treat a union that resists boundaries on its behavior.
Endnotes:
extreme guard misconduct: http://bigstory.ap.org/article/f2cdbf51b9a741e2a8050f10a62369fe/report-alarming-abuses-seen-remote-california-prison
northeast : https://www.google.com/maps/place/High+Desert+State+Prison/@40.4088696,-121.6367485,8z/data=!4m2!3m1!1s0x809dc07793d39a7b:0xaf43bcd071738fc7
reported at the time: http://www.sfgate.com/politics/article/Senators-vow-shakeup-in-state-prisons-System-2603899.php
recall attempt: http://usatoday30.usatoday.com/news/nation/2008-09-08-schwarzenegger-recall_N.htm
Long Beach Press-Telegram editorial: http://www.presstelegram.com/article/ZZ/20110424/NEWS/110429003
announced : http://www.sacbee.com/news/politics-government/capitol-alert/article47839745.html
Source URL: https://calwatchdog.com/2015/12/23/state-prison-guard-union-collision-course/
---