Hyperloop soon to break ground
by James Poulos | January 28, 2016 2:47 pm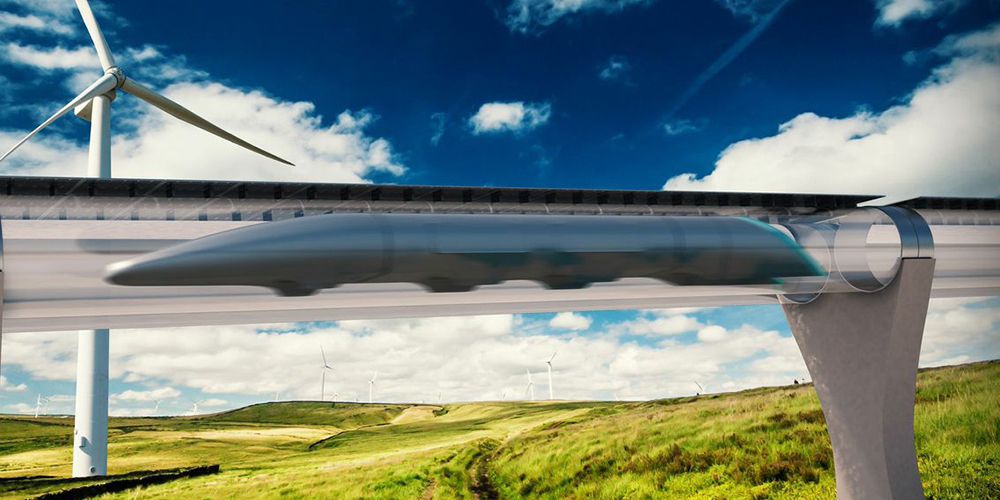 Despite a consistent chorus of criticism from naysayers, the Hyperloop ultra-fast rail project has broken new ground, with a rapid timetable in place for its California debut.
Hyperloop Transportation Technologies, one of the leading companies dedicated to taking SpaceX CEO Elon Musk's revolutionary brainchild off the drawing board and into reality, went public with news of its plans to break ground this year. "Construction is set to begin in the second quarter of 2016," Entrepreneur noted[1].
In an interview with CNBC, HTT COO Bibop Gresta framed the details in ambitious new terms. "We are announcing the filing of the first building permit to Kings County to the building of the first full-scale hyperloop, not a test track," he said[2]. "In 36 months we will have the first passenger in the first full-scale hyperloop."
Ben Cooke, a spokesman for the company, supplied some additional details separately. HTT, he indicated, "hopes to do geological surveys and map out the track in the next six months, then start building. The plan is to use a hyperloop to whisk residents around a proposed development called Quay Valley, south of Kettleman City. Preliminary estimates based on construction bids are that the hyperloop's cost will be between $100 million and $170 million," noted[3] Southern California Public Radio.
Rival locations
Gresta made clear, however, that Californians won't be able to cue up for travel up and down the state quite so soon, CNBC reported, noting that the completed track HTT plans to build won't stretch between cities. "Gresta said that a full-scale city to city hyperloop could be a reality within five years, but said it will most likely not be in the U.S.," the network added.
In an interview with a separate network, Gresta raised more eyebrows by suggesting that Russia could be among the first countries to bankroll a hyperloop that does reach from city to city. "Hyperloop Technologies is in talks with a Russian investor to finance the possible building of a new kind of transport, the company's COO told RT at the World Economic Forum in Davos," RT reported[4]. "It is likely the government will also be keen on the idea, he believes."
Speaking about HTT's current negotiations, Gresta told RT, "We're talking with a Russian private investor to basically have the first route in Russia, and we're analyzing different possible solutions between different cities. You can connect Moscow and St. Petersburg in 35 minutes."
Three ways forward
But HTT, which isn't alone in the race to develop the hyperloop, made waves at Davos while another company rolled out development news of its own. According to SpaceX itself, Aecom, a global infrastructure firm, will construct "a one-mile track at SpaceX headquarters near Los Angeles International Airport," as SCPR reported[5]. "If all goes well, by summer's end, the track will host prototype capsules that emerge from a design competition this weekend at Texas A&M University. The prototype pods would be half the size of the system that Musk envisioned and would not carry people."
Michael Burke, Aecom chairman and CEO, released a statement portraying the company's foray into hyperloop construction as a natural next step. Aecom, he said[6], "has designed and built some of the world's most impressive transportation systems, so we appreciate how the development of a functioning Hyperloop with SpaceX can dramatically expand the ways people move across cities, countries and continents."
A third firm has already forged ahead with a similar test track across the California border in North Las Vegas, "Hyperloop Technologies Inc. says that track will be used to develop ways to propel capsules," SCPR observed. "The company plans to build a second, full-scale loop to test a prototype, spokeswoman Meredith Kendall said."
Endnotes:
noted: http://www.entrepreneur.com/article/269896?utm_source=feedburner&utm_medium=twitter&utm_campaign=Feed%3A+entrepreneur%2Flatest+%28Entrepreneur%29
said: http://www.cnbc.com/2016/01/21/you-could-travel-on-hyperloop-by-2018-builds-track.html
noted: http://www.scpr.org/news/2016/01/26/57061/3-tracks-planned-to-test-hyperloop-transportation/
reported: https://www.rt.com/news/329963-russia-hyperloop-investor-talks/
reported: http://www.scpr.org/news/2016/01/26/57061/3-tracks-planned-to-test-hyperloop-transportation/
said: http://www.ibtimes.com/elon-musks-hyperloop-spacex-ropes-la-construction-firm-aecom-build-california-test-2281693
Source URL: https://calwatchdog.com/2016/01/28/hyperloop-soon-break-ground/
---