Google driverless car hits bus, stokes controversy
by James Poulos | March 4, 2016 5:11 am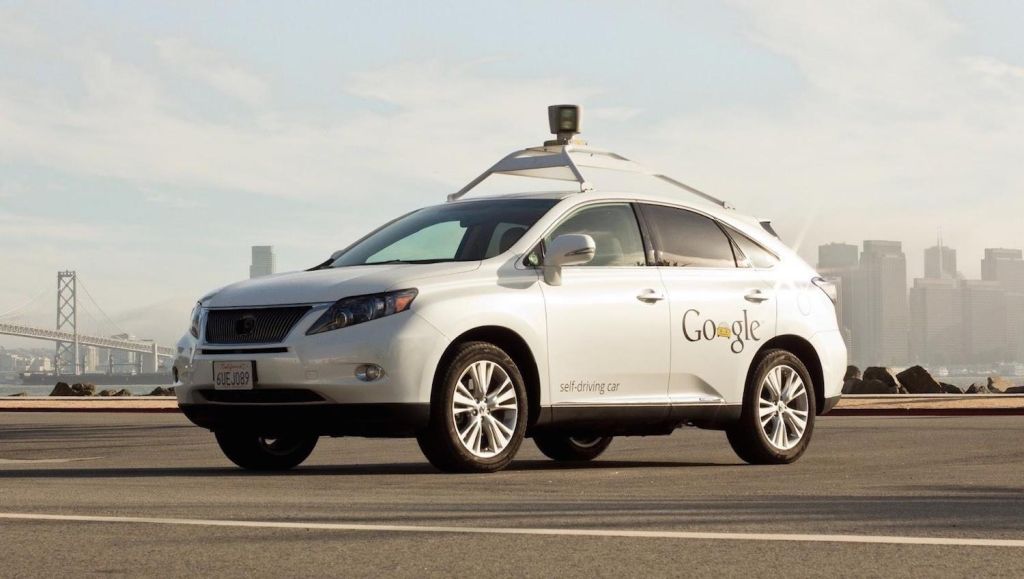 The controversy over driverless cars shifted into high gear as an automated vehicle built by Google hit a passenger bus.
"The crash may be the first case of one of its autonomous cars hitting another vehicle and the fault of the self-driving car," Reuters reported[1]. "The Mountain View, California-based Internet search leader said it made changes to its software after the crash to avoid future incidents."
The collision resulted from a confluence of atypical but not unusual circumstances on a roadway in Mountain View. Because of a sandbagged manhole, the car had to make a wider right turn at an intersection than it had originally planned to do. In the flow of traffic, the bus approached from behind. "We can imagine the bus driver assumed we were going to stay put. Unfortunately, all these assumptions led us to the same spot in the lane at the same time. This type of misunderstanding happens between human drivers on the road every day," Google concluded[2] in its monthly report for February.
"This is a classic example of the negotiation that's a normal part of driving — we're all trying to predict each other's movements," the report suggested. "In this case, we clearly bear some responsibility, because if our car hadn't moved there wouldn't have been a collision. That said, our test driver believed the bus was going to slow or stop to allow us to merge into the traffic, and that there would be sufficient space to do that."
Market moves
Despite the reassuring tone of the summary, Google-watchers noted that an important threshold had been crossed. "Google has prided itself on the fact that its self-driving car fleet has never been responsible for any of its crashes — they've always been caused by another (decidedly more human) force," The Verge observed[3]. But business analysts have not been too hard on the company; "in fairness, unless every single car on the road is autonomous, Google is right: there is some degree of negotiation involved, and false assumptions in those negotiations are where the crashes can happen," The Verge added.
Other companies in the automated car business have been pushing hard to compete. Apple recently (and quietly) acquired the old Pepsi bottling plant in Sunnyvale, a 96,000-square-foot acquisition that quickly sparked speculation around its expanded electric vehicle program, the Silicon Valley Business Journal noted[4].
Fantasies and fears
Civic leaders, at least in California, have also tilted in favor of a future full of automated cars. In a crowded metropolis — especially one with lots of roads and little public transit — robocars could make a potentially massive difference in emissions and congestion. At a recent appearance with Los Angeles Mayor Eric Garcetti and others for the Times-hosted California Conversation series, Google's robocar chief had played up the vehicles' intelligent safety measures. "Chris Urmson, head of Google's self driving car project, offered a presentation showing how its autonomous cars learned to avoid even the most anomalous hazards — such as a duck in the road being chased by a person in a wheelchair," the Times recalled[5]. "Urmson said 94 percent of accidents are caused by human error and argued that self-driving cars would save lives."
Consumers, by contrast, have shown signs of being more skittish. According to a new AAA survey reported[6] by CNN, "75 percent of drivers say they wouldn't feel safe in such a vehicle," even though "60 percent drivers would like to get some kind of self-driving feature, such as automatic braking or self-parking, the next time they buy a new car." The legal issues surrounding insurance liability in automated crashes have also raised questions. USA Today columnist John Shinal wondered who would be held liable "if a hypothetical-and-conscientious Uber driver of the future overrides the control" of a robocar "to avoid an old lady walking her dog — but instead hits and kills an Amazon grocery deliveryman[.]"
Endnotes:
reported: http://www.reuters.com/article/us-google-selfdrivingcar-idUSKCN0W22DG
concluded: http://www.latimes.com/local/lanow/la-me-ln-google-self-driving-car-bus-collision-20160229-story.html
observed: http://www.theverge.com/2016/2/29/11134344/google-self-driving-car-crash-report
noted: http://www.bizjournals.com/sanjose/news/2016/03/01/apple-leases-old-pepsi-bottling-plant-in-sunnyvale.html?ana=twt
recalled: http://www.latimes.com/local/lanow/la-me-ln-transit-panel-20160229-story.html
reported: http://fox2now.com/2016/03/01/aaa-says-75-of-drivers-are-scared-of-self-driving-cars/
Source URL: https://calwatchdog.com/2016/03/04/google-car-hits-bus-stokes-controversy-2/
---