El Nino provides little relief outside of Northern California
by Chris Reed | April 4, 2016 11:15 am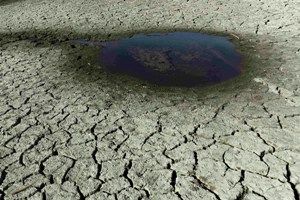 Once-high hopes that a winter 2015-16 El Nino would lift California out of its 5-year-old drought have given way to a complex picture. Heavy winter snow and rains in the northern Sierras and the Sacramento Valley are providing widespread relief in Northern California. But farmers in the San Joaquin Valley and farmers and residents of the Los Angeles metropolitan area have to deal with a grimmer picture: El Nino was a flop in the rest of the Golden State.
These contrasting results were underlined Friday by officials with the federal Central Valley Project — the U.S. government's elaborate system of moving water around Northern California and in the Central Valley using dams, pumps and canals. Normally, farms get at least three-quarters of this federal water, though not in times of drought, when cities are favored. As the San Jose Mercury-News reports[1], the feds' interpretation of its own rules leads it to widely different conclusions about how much water goes where:
South [Bay Area] cities will receive 55 percent of their contracted water amounts this summer — up from 25 percent last year — from the Central Valley Project, California's largest water delivery system.

Heavy rains in March boosted the amount of water in Northern California's large reservoirs such as Shasta and Folsom, allowing farmers in the Sacramento Valley and wildlife refuges to receive 100 percent of their contracted amounts, while the Contra Costa Water District also will receive 100 percent, up from 25 percent a year ago.
Water allocations: Some farmers more equal than others
But the news was brutal elsewhere. In the San Joaquin Valley, federal regulators announced that only 5 percent of normally supplied water would be available. In interviews with the Sacramento Bee, farmers and their allies said the drought essentially had never left[2]:
While a 5 percent supply is better than the zero allocation they received in each of the past two years, those farmers will again have to scramble to buy water from growers with stronger water rights – assuming the officials who monitor endangered fish in the Delta even allow for the extra water to be pumped south. The limited water shipments will put continued pressure on the valley's groundwater basins, which in many areas have been pumped to record low levels in the drought.

The huge disparities in water allocations reflect California's hodgepodge water rights system, which generally favors farmers north of the Delta. … On top of that, concerns over critically endangered fish have prompted federal and state officials to limit pumping to the south state even though Delta flows surged dramatically after March storms. The pumping restrictions drew complaints from south-of-Delta advocates who argue that stormwater flowing out to sea is being "wasted."

[Federal reports] said that, in total, the federally operated reservoirs hold 86 percent of their average water for this time of year, but the south-of-Delta facilities are comparatively empty. New Melones Reservoir, which dams the Stanislaus River and is the state's fourth-largest reservoir, is just 26 percent full – a figure so low that the Central San Joaquin Water Conservation District and Stockton East Water District will receive no water from the CVP this year.
Most, but not all, of SoCal struggling with supplies
In Southern California, meanwhile, the raw numbers illustrate the drought's continued hold on the region:
The water level of Lake Mead, the reservoir behind Hoover Dam that stores Southern California's Colorado River supply, stood last week at 1,081.32 feet above sea level — a recovery of about 6 feet since it reached a recent low point in June. But that's still the lake's lowest level in any March since 1937, when it was still filling for the first time. Mead is currently at about 39 percent of capacity. …

Reservoirs in Central and Southern California remain well below their averages, with Don Pedro Reservoir in the Sierra foothills at 82 percent of its average and 60 percent of capacity, and Perris Lake in Riverside County at 43 percent of its average and 36 percent of capacity. While the snowpack is calculated at 87 percent of normal overall, its depth varies widely across the state — rising over recent months to roughly 100 percent of the average in the far north of the state, but reaching only about 75 percent of the average toward the south. The U.S. Drought Monitor still shows much of Southern and Central California to be facing long-term "exceptional drought."
That's from an L.A. Times' analysis [3]calling for a "statewide approach" to address California's continuing water crisis.
Only San Diego County is doing well in the state's southern realms. The county water authority's 25-year-old emphasis on seeking new sources of water independent of the Metropolitan Water District of Southern California has paid off so well that two months ago, its reservoirs brimming, it had to dump[4] some 500 million gallons of treated drinking water.
Endnotes:
reports: http://www.mercurynews.com/news/ci_29714209/california-drought:-water-allocation-has-winners-losers
never left: http://www.sacbee.com/news/state/california/water-and-drought/article69451732.html
analysis : http://www.latimes.com/business/hiltzik/la-fi-hiltzik-20160401-column.html
had to dump: http://www.voiceofsandiego.org/topics/government/san-diegos-oversupply-of-water-reaches-a-new-absurd-level/
Source URL: https://calwatchdog.com/2016/04/04/el-nino-provides-little-relief-outside-northern-california/
---