Sanders pins delegate hopes on CA
by James Poulos | April 28, 2016 5:15 am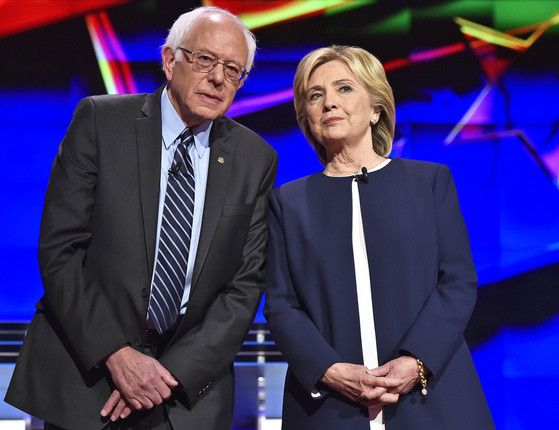 Hoping to end Bernie Sanders' surprisingly effective insurgent campaign, Hillary Clinton has shifted her own to California, on the heels of a strong Tuesday performance making her a virtual lock for the Democrats' nomination for president. Clinton edges Sanders by six points in a new poll sizing up public opinion ahead of the June 7 primary. "The survey from the nonpartisan research firm Gravis Marketing finds Clinton with 47 percent, and the Vermont lawmaker with 41 percent," Newsmax noted[1], with 12 percent of respondents still unsure which way they'd vote. With the share of undecideds still larger than the spread, both campaigns have zeroed in on California as a must-win.
A flawed frontrunner
But Clinton's confidence has now edged well ahead of Sanders'. Other California polls have given her a bigger lead. A recent CBS News/YouGov poll put Clinton ahead by 12 — although, as Sanders supporters might note, that result actually pegged Clinton lower than a KABC/SurveyUSA poll conducted on April 4; as Inquisitr observed, that survey showed Sanders trailing by a daunting 14 points. Adding to Sanders' woes, his recent losing streak has continued, almost unbroken, right up to California.
In the wake of his big losses Tuesday, Sanders conceded that he'd now have to focus on merely influencing the party's agenda. "The people in every state in this country should have the right to determine who they want as president and what the agenda of the Democratic Party should be," he said[2], according to the Los Angeles Times. "That's why we are in this race until the last vote is cast."
But despite Clinton's clear edge, her campaign has been dogged by stubborn disadvantages it has shown little sign of being able to overcome. In addition to difficulties on likability and trust, Clinton has been beaten repeatedly by Sanders among younger voters — a coveted demographic headed into the general election. As the Times suggested[3], "perhaps the most persistent aspect of the Democratic presidential contest" has been "most younger voters going to Sanders, in large part because they are drawn to his uncompromisingly liberal ideology, and most older voters going to Clinton because of her determination and deep experience in politics." Even so, it is Sanders who Clinton has portrayed as too far to the right, especially on guns, casting his calls for a left-wing political revolution as merely impractical, not ideologically extreme. For his part, Sanders has depicted Clinton as too corrupt to exercise sound judgment, rather than too centrist to suffice.
Looking for champions
Meanwhile, Sanders' longstanding gripe against the Democrats' nominating process, which built in so-called superdelegates to hedge against the prospect of an unelectable insurgent candidate, also began to give way under the pressure of unfavorable delegate math. As Slate recently reported[4], Sanders' campaign manager struggled to tout possible wins in California and Pennsylvania without appearing to need them, pivoting instead, in an MSNBC interview, to talk of battling for superdelegates.
"It's hard to tell whether all this bluster from the Sanders campaign about fighting to flip superdelegates through the convention is serious, or just a way to motivate supporters to keep the faith," the site surmised. "'At this point, yes, absolutely,' the Sanders campaign plans to take it to the convention. Maybe at a later point — say, once primary season is wrapped up on June 7 — the campaign will have changed its mind." Now, with the nomination all but out of reach, swinging superdelegates would offer Sanders the prospect of more leverage over the party platform. "For Sanders backers, the overwhelming support for Clinton among party leaders is just another sign of how worried the Democratic elite is about the surprisingly strong response voters — especially young voters — have had to the 74-year-old Vermont senator's call for a revolution that will profoundly change the country's political and economic systems," the San Francisco Chronicle noted[5].
Endnotes:
noted: http://www.newsmax.com/Politics/hillary-clinton-bernie-sanders-california-primary/2016/04/20/id/724931/#ixzz46Os4kOpn
said: http://www.latimes.com/politics/la-na-mid-atlantic-democratic-primaries-20160426-story.html
suggested: http://www.latimes.com/politics/la-na-clinton-sanders-age-20160419-story.html
reported: http://www.slate.com/blogs/the_slatest/2016/04/19/bernie_sanders_campaign_manager_lays_out_path_to_the_nomination.html
noted: http://www.sfchronicle.com/politics/article/State-s-Democratic-superdelegates-feel-heat-7348068.php
Source URL: https://calwatchdog.com/2016/04/28/sanders-pins-delegate-hopes-ca/
---