Obama draws CA ire on Armenian genocide
by James Poulos | April 29, 2016 4:57 am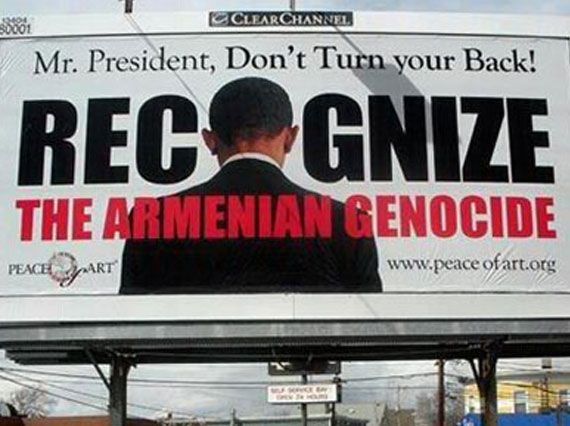 In an attempted act of political finesse, president Obama declined to call the mass slaughter of Armenians, carried out by the Turks 100 years ago, a genocide.
"Armenian-American leaders have urged Mr. Obama each year to keep a pledge he made as a presidential candidate in 2008, when he said the United States government had a responsibility to recognize the attacks as genocide and vowed to do so if elected," the New York Times reported[1]. "Mr. Obama's failure to fulfill that pledge in his final annual statement on the massacre infuriated advocates and lawmakers who accused the president of outsourcing America's moral voice to Turkey, which staunchly opposes the genocide label." As McClatchy observed[2], president Obama has dodged the term eight years in a row. 
Unusual criticism
In California, where Armenian-Americans have a substantial presence in metropolitan areas like Los Angeles, Obama's unwillingness to follow through on the issue provoked unusually sharp criticism from within his own party. Rep. Adam Schiff, D-Burbank — Ranking Member on the House Permanent Select Committee on Intelligence — said he was "gravely disappointed" in a statement directly admonishing president Obama. "For a president who knows the history so well, who spoke so passionately about the genocide as a senator and presidential candidate, and who has always championed human rights, the choice of silence and complicity is all the more painfully inexplicable," he said[3], according to the Los Angeles Times. 
Officials worked to limit the damage. "The president has consistently stated his view of what occurred in 1915, and his views have not changed," a senior administration official said[4], according to the Wall Street Journal. "The president and other senior administration officials have acknowledged as historical fact and mourned the deaths of 1.5 million Armenians who were massacred or marched to their deaths in the final days of the Ottoman Empire. They have stated that a full, frank, and just acknowledgement of the facts is in our all interests, including Turkey's, Armenia's, and America's."
Mideast fault lines
Critics have portrayed the president's choice as, at best, a misguided attempt at playing geopolitics in the fraught region encompassing Turkey and Armenia, which recently rekindled a longstanding military confrontation with neighboring Azerbaijan. ("Remaining silent in an effort to curry favor with Turkey is as morally indefensible as it will be ineffectual," Schiff said.) But the Turks found fault even with Obama's carefully couched remarks, with the Ministry of Foreign Affairs calling them a "one-sided interpretation of history," according[5] to the Anadolou news agency. 
"Turkey has shown the will to build a joint future with peace based on the shared living experience for centuries between Turkish and Armenian nations," the Ministry added, appealing to "a fair memory" in evaluating the historical record. "It is sad that friend and ally countries encourage the circle that [aim] to deepen the conflict instead of answering [Turkey's] call. It is obvious that the efforts to politicize the pain suffered in history do not do any good to anyone so far."
Some California Democrats, though disappointed with the president's choice of words, seemed to concede the point that the stakes are too high — with Turkey a NATO ally increasingly trapped between greater authoritarianism and greater Islamism — to risk a breach over the matter. "This president, the last administration and the previous one before that have been concerned about our relations with Turkey, and they haven't wanted to offend the Turkish government," said Rep. Jim Costa, D-Fresno, McClatchy noted. "Costa is one of 66 members of the House of Representatives, including 23 from California, who are co-sponsoring a resolution that calls for 'Turkey's full acknowledgment of the facts and ongoing consequences of the Armenian Genocide.'"
Endnotes:
reported: http://www.nytimes.com/2016/04/23/world/europe/despite-campaign-vow-obama-declines-to-call-massacre-of-armenians-genocide.html?_r=0
observed: http://www.fresnobee.com/news/politics-government/article73184937.html
said: http://www.latimes.com/politics/la-pol-sac-essential-poli-california-congressman-gravely-disappointed-pres-1461341696-htmlstory.html
said: http://blogs.wsj.com/washwire/2016/04/22/obama-avoids-genocide-in-commemorating-armenian-deaths/
according: http://aa.com.tr/en/turkey/turkey-slams-obama-s-1915-comment-/559850
Source URL: https://calwatchdog.com/2016/04/29/obama-draws-ca-ire-armenian-genocide/
---