High speed rail pushed back 4 more years
by James Poulos | May 26, 2016 5:54 am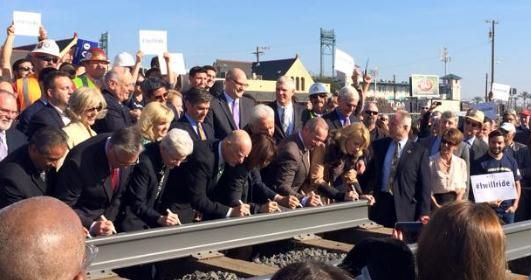 Falling short even of some critics' expectations, California's beleaguered high-speed rail was dealt another blow to its credibility as the state's biggest and most ambitious infrastructure project, with news emerging that the federal government signed off on a massive reschedule that would push back construction by four additional years. 
"The first segment of California's first-in-the-nation bullet-train project, currently scheduled for completion in 2018, will not be done until the end of 2022, according to a contract revision the Obama administration quietly approved," Politico reported[1]. "That initial 119-mile segment through the relatively flat and empty Central Valley was considered the easiest-to-build stretch of a planned $64 billion line, which is eventually supposed to zip passengers between San Francisco and Los Angeles in under three hours. So the four-year delay is sure to spark new doubts about whether the state's — and perhaps the nation's — most controversial and expensive infrastructure project will ever reach its destination."
Positive spin
But the bullet train's stalwart supporters had reason to spin the stretched-out timetable as an act of clemency and commitment by the federal government. "The extension came through modification of a $2.5-billion grant that originally required completion of a segment of rail structures from Madera to Shafter by 2017," according[2] to the Los Angeles Times.
"The changes also allow the Department of Transportation to extend a cash advance to the state, which potentially means the California High-Speed Rail Authority can continue spending long after the original deadline that was set in 2009 under the American Recovery and Reinvestment Act."
Lisa Marie Alley waving away entirely claims that the new schedule ought to be seen as a setback. "The misconception that this amendment somehow delays California's high-speed rail project is completely false," she said. 
Mounting criticism
In addition to vested local and statewide interests saddled with the burdens imposed by train construction, the train's national critics have lined up against the project for political and economic reasons. "Everyone is intrigued by new technology, and certainly we should do all we can to encourage the capital formation that breeds innovation," wrote[3] National Review's John Fund. "But building high-speed rail may be all about fighting the last war, given that the first Shinkansen was launched more than 50 years ago in Japan and is clearly not a technology of the future."
A successful new test by a team working on Elon Musk's Hyperloop vacuum-train concept has fueled concerns that California's rail could be obsolescent before it is even finished. Hyperloop One Chief Executive Rob Lloyd has suggested "the most likely scenario to bring a hyperloop to California would be one that ships goods from the docks in Long Beach and San Pedro to warehouses in the Inland Empire," the Los Angeles Times reported[4] separately. "Almost any other major California project would require overcoming mountainous terrain and securing expensive real estate along farmlands and urban corridors. Both issues have slowed the state's high-speed rail effort."
Pointing the finger
Well aware of the adverse reaction awaiting the news, transportation bureaucrats tried to get out ahead of the backlash by fingering rail critics themselves. "State and federal officials downplayed the shift in the timetable, saying it partly reflected more ambitious plans for the Central Valley work, and in any case merely ratified construction realities on the ground," as Politico noted. "Federal Railroad Administration officials assigned much of the blame for the lags to the project's vociferous critics, who have tied it up with a tangle of lawsuits, administrative challenges, and other red tape."
"They complained that the opponents, especially Central Valley farmers and other not-in-my-back-yard landowners, have gotten far more traction against the railway than they would have against a highway, reflecting a cultural and political bias in favor of traditional asphalt infrastructure."
Endnotes:
reported: http://www.politico.com/agenda/story/2016/05/high-speed-rail-gets-a-four-year-delay-000123
according: http://www.latimes.com/local/california/la-me-bullet-train-warning-20160518-snap-story.html
wrote: http://www.nationalreview.com/article/435703/high-speed-rail-california-boondoggle
reported: http://www.latimes.com/business/technology/la-fi-tn-hyperloop-test-20160511-snap-story.html
Source URL: https://calwatchdog.com/2016/05/26/high-speed-rail-pushed-back-4-years/
---