Trump's Mexico-baiting roils CA, GOP
by James Poulos | June 11, 2016 11:08 am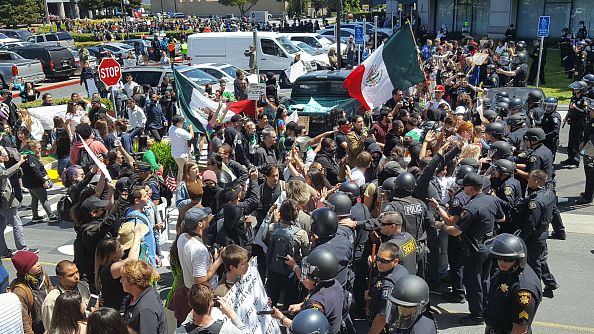 Donald Trump's primary victory in California came along with a big cost to his campaign, as the presumptive Republican nominee's sustained attacks and insinuations against Mexicans and Mexican-Americans roiled the Golden State and slowed the party's move to consolidate around him.
Although Trump has long put his plans for a border wall at the center of his campaign, he recently drew a fresh chorus of criticism for his invective against the judge involved in the highest-profile lawsuit against him. "Trump implied in interviews last week that U.S. district judge Gonzalo Curiel, who was born in Indiana to Mexican immigrant parents, is unfit to hear a case involving the candidate's disgraced Trump University because 'he's Mexican' and thus has a conflict of interest due to Trump's comments about Mexicans during the presidential campaign," as Vice News recalled[1].
Drawing fire
In a shift that had even some Trump supporters concerned, the national news media pounced on the Curiel story, aggressively fact-checking Trump's vague but pointed charges. "Trump said Curiel belonged to a group that is very strongly pro-Mexican. The California La Raza Lawyers Association does advance the interests of the Latino legal community and works on issues that matter in Latino communities more broadly. However, it has stayed on the sidelines in the immigration debate," PolitiFact noted[2]. "Trump's statement is accurate only in the sense that the association's mission aims to support Latinos, but even that is flawed because he said the group was pro-Mexican and the Latino designation reaches a wider set of people. The claim ignores critical facts that would give a very different impression."
Trump's charges, which many leading Republicans have decried as race-baiting or worse, also offered California Democrats a cudgel with which to beat their in-state opponents. "Democrats seeking to unseat several Republican members of Congress from California linked the incumbents to Donald Trump," the Associated Press observed[3], "hoping to tap discontent with the presumptive GOP presidential nominee in districts with large numbers of Democrats and Latinos." Although several GOP incumbents survived handily, the state GOP's nerves frayed further over fears that massive anti-Trump turnout will sink their failing fortunes come November.
Violence from the left
But Trump's adversaries confronted a public relations mess of their own in his wake, as protests that spiraled into violence fed perceptions among pro-Trump voters that even peaceful rallies will meet with intimidation and physical retaliation. "Donald Trump supporters leaving the presumptive GOP nominee's rally in San Jose […] were pounced by protesters, some of whom threw punches and eggs," according[4] to NBC Los Angeles. "The protesters chased and taunted Trump's supporters outside the San Jose Convention Center. They surrounded one woman and threw eggs and bottles at her."
Those attacks have now resulted in arrests. Three juvenile males "were accused of taking part in a number of skirmishes between Trump supporters and anti-Trump demonstrators […] outside the San Jose Convention Center," where Trump was holding one of his trademark rallies, Reuters reported[5]. "Two of the teenagers, aged 16 and 17, face charges of felony assault with a deadly weapon. The third, also 16, faces a misdemeanor battery charge, the San Jose Police Department said in a statement."
"Four others were arrested during the protests last week. Two 19-year-olds and an 18-year-old face charges of felony assault with a deadly weapon, while another 19-year-old faces a misdemeanor charge of refusal to disperse. It is unclear whether the seven charged were Trump supporters or among the hundreds of protesters who were seen on news clips waving Mexican flags, chanting anti-Trump slogans, and burning Trump hats and at least one U.S. flag."
Costly California
Nevertheless, with Hillary Clinton opening a bigger lead over Trump in the polls now that she has all but dispatched Bernie Sanders, analysts doubt that Trump can put California electorally in play. Despite his apparent claim to the contrary, as Slate observed[6], California's high campaign cost seems prohibitive barring a dramatic change in his fortunes.
Endnotes:
recalled: https://news.vice.com/article/donald-trump-and-latinos-in-california-primary
noted: http://www.politifact.com/truth-o-meter/statements/2016/jun/07/donald-trump/trump-wrongly-casts-california-lawyers-group-stron/
observed: http://sacramento.cbslocal.com/2016/06/08/california-democrats-using-donald-trump-to-help-unseat-republicans/
according: http://www.nbclosangeles.com/news/politics/Donald-Trump-Rally-in-San-Jose-Draws-Protesters-381728251.html
reported: http://www.reuters.com/article/us-usa-election-arrests-idUSKCN0YV0E2
observed: http://www.slate.com/blogs/the_slatest/2016/06/09/donald_trump_is_going_to_blow_all_of_the_gop_s_money.html
Source URL: https://calwatchdog.com/2016/06/11/trumps-mexico-baiting-roils-ca-gop/
---