Why does Hugh Hefner keep contributing to this Senate candidate?
by Matt Fleming | June 29, 2016 4:38 am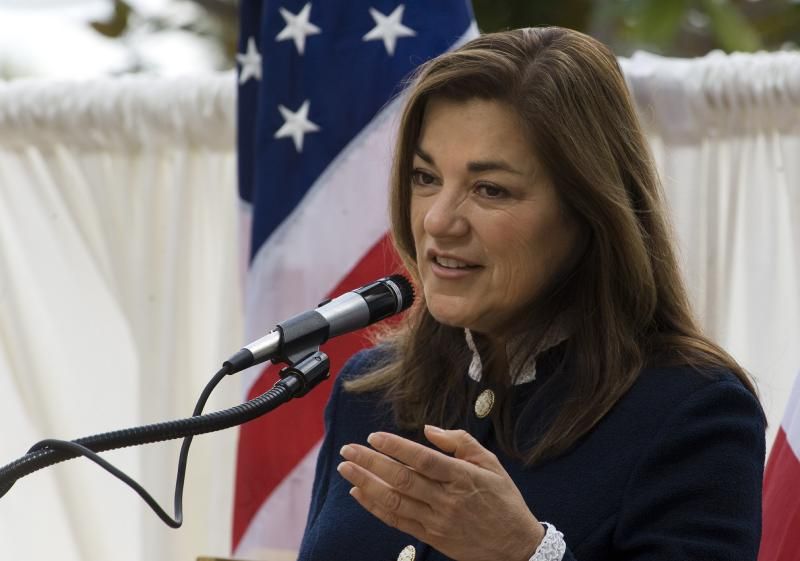 Sure as the sun rises every morning, every election cycle Playboy legend Hugh Hefner gives to Loretta Sanchez's congressional races.
In fact, Playboy's editor in chief is one of the Orange County Democrat's top donors this cycle, having given $10,400 through the primary, as Sanchez tries to jump from one side of the Capitol rotunda to the other — from the House of Representatives, where she's been for almost 20 years, to the U.S. Senate seat being vacated by Barbara Boxer. 
By now, everyone in Orange County and Washington knows the story: Hefner gives to Sanchez and occasionally it gets her in trouble. In 2000, Sanchez almost held a fundraiser[1] at the Playboy Mansion, angering Democratic presidential candidate Al Gore, which got Sanchez booted from a prime speaking slot at the upcoming nominating convention. 
But Hefner doesn't appear to have a connection with Sanchez's congressional district, and she's known mostly for her policy expertise in military and national security issues, so answering "why" is challenging.
What's the deal?
Sanchez's campaign wasn't sure why. Other in-the-know Southern California Democrats were in the dark as well. And Playboy's spokesperson didn't provide many specifics.
"Throughout the years, Mr. Hefner has enthusiastically contributed to many political candidates and causes that share his progressive views," said Teri Thomerson, publicity director for Playboy Enterprises, Inc.
If that's true then Sanchez is the only individual member of Congress who shares his progressive views, which would be strange since Sanchez — one of the few remaining members of the fiscally conservative and slightly center-left Blue Dog Caucus — is rarely, if ever, accused of being a progressive. 
Since 1996, when Sanchez first won a seat in Congress, Hefner has contributed $111,800 in total, $50,600 of which went to Sanchez, according to FEC records.
Except for a few stray losing Congressional challengers, Sanchez's re-elections were the only congressional races Hefner contributed to. The rest of his contributions went to the Democratic party and some went to the presidential campaigns of Democrats Barack Obama, Hillary Clinton and Al Gore.
What about Bob?
Why is most likely answered with who Sanchez unseated to get to Washington: "B-1" Bob Dornan.
By most accounts, B-1 Bob had a less-than-stellar reputation. Assigned the "firebrand" cliché, some of his highlights include[2]: Outing a fellow Republican congressman for being gay, referring to a Soviet propagandist as "a betraying little Jew," and claiming "every lesbian spear-chucker in this country is hoping I get defeated" in reference to a former female opponent.
Playboy
In 1982, while running for Senate, Dornan accused two of his opponents[3] of attending an event at the Playboy mansion in Los Angeles, where, he claimed, weekly orgies were held that included bestiality. 
His source was reportedly famed porn actress Linda Lovelace, star of the movie "Deep Throat," who (again, reportedly) did not implicate Dornan's challengers. However, the incident surely irritated Hefner.  
No one is clean, right?
Luis Vizcaino, a Sanchez spokesman, said Hefner is a "long-time" supporter, and noted that presumptive Republican presidential nominee Donald Trump, the reality T.V. star and real estate tycoon, has been a "long-time" supporter of Sanchez's Senate opponent, Democratic Attorney General Kamala Harris.
Long-time is a stretch, but Trump did contribute[4] $6,000 to Harris over two prior attorney general campaigns.  
Hefner's daughter, Christie, who lives in Chicago and was at one time the chairwoman and CEO of Playboy Enterprises, has given $140,673.25 over the years, but to a much more diverse group of candidates — one that more accurately reflects your average active Democratic donor. Only $500 was given to Sanchez. 
Is taking Playboy money wrong? It's up to voters to decide, but so far it hasn't seemed to slow her down in the House, and it's unlikely to make or break her Senate campaign. 
"I don't think taking a contribution from Playboy is any worse than taking one from the Koch Brothers," Mark Petracca, chair of the Department of Political Science at UC Irvine, said in general sense of the mega Republican donors. 
Endnotes:
almost held a fundraiser: http://abcnews.go.com/Politics/story?id=123162&page=1
highlights include: http://www.nytimes.com/1995/06/27/us/appearing-nightly-robert-dornan-master-of-the-put-down.html?pagewanted=all
Dornan accused two of his opponents: http://www.upi.com/Archives/1982/04/28/Dornan-attacks-Goldwater/1495388814400/
Trump did contribute: http://www.politifact.com/california/statements/2016/may/03/ted-cruz/yep-donald-trump-gave-12k-jerry-brown-gavin-newsom/
Source URL: https://calwatchdog.com/2016/06/29/sanchez-hefner/
---