Women poised for modest gains in legislative races
by Matt Fleming | July 26, 2016 5:30 am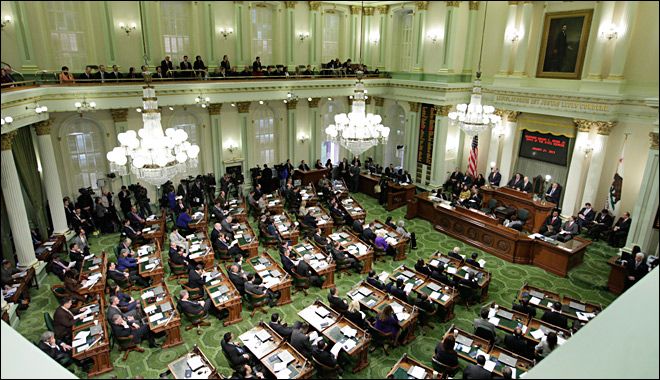 Women make up more than half of California's population, but only about one-fourth of the Legislature. 
And in November, that's unlikely to change too much, according to a CalWatchdog analysis.
While an October surprise, outside factor or just particularly good or bad campaigning could change the course of race that appears to be a sure thing, primary results, incumbency advantages, voting trends and partisan makeup of a district can be useful in making educated guesses.
Currently, out of 120 legislative seats, there are 30 held by women — an additional seat is vacant now, having been held by the late Republican Senator Sharon Runner, who died unexpectedly[1] earlier this month.   
There could be as many as 49 women in the Legislature next year, but it is likely that they'll hover around the same amount as this year.  
In the Senate, women could have as few as five seats and as many as 13 — realistically, the number will likely be around eight to 10 seats. In the Assembly, women will occupy at least six seats and as many as 36, but that number will likely be somewhere between 15 and 24 seats. 
What we know for sure
Republican Senators Jean Fuller, Janet Nguyen, Pat Bates and Democratic Senators Connie Leyva and Holly Mitchell are not up for re-election and will definitely be returning next year, as the Senate is on staggered four-year terms.
In the Assembly, every seat is up for re-election every two years, although five seats will definitely stay occupied by women — either because the incumbent is running unopposed (or facing a write-in challenge) or because the incumbents are facing another woman in the general election. Those five seats are held by: Democrats Cheryl Brown, Cristina Garcia and Autumn Burke and Republicans Catharine Baker and Young Kim. 
Because of either term limits or the seat being vacated by an incumbent running for another position, eight seats held by women will be replaced by men as no women advanced from the primary in these races. Those are the seats currently held by Republican Assemblywomen Beth Gaines, Kristin Olsen, Shannon Grove and Ling Ling Chang and one Democrat, Toni Atkins, as well as two Democratic senators, Carol Liu and Fran Pavley.
Runner's Senate seat will also be filled by a man.
There is only one definite pickup: An Assembly seat held by termed-out Democrat Luis Alejo.  
Seats where we likely know the outcome
Again, nothing is guaranteed until the final votes are tallied, but these nine seats are safe bets.
While the Assembly seat of Speaker Emeritus Toni Atkins will be filled with a man as mentioned above, the San Diego Democrat is expected to offset that loss by filling a seat being vacated by a man in the Senate. 
Because of the advantages of incumbency, district voting trends and favorable lopsided primary results, these eight female legislators will likely keep their seats: In the Senate, it's Democrats Hannah-Beth Jackson (the current chair of the Women's Caucus) and Cathleen Galgiani, and in the Assembly, it's Democrats Jacqui Irwin, Susan Talamantes Eggman, Shirley Weber and Lorena Gonzalez with Republicans Melissa Melendez and Marie Waldron.
One female incumbent in trouble 
The only incumbent woman who is on very shaky ground is Democrat Patty Lopez. Lopez finished second in the primary, down 17.2 percentage points to the man she surprisingly knocked out of office in 2014, fellow Democrat Raul Bocanegra.
Best pickup chances
In the race to replace Sen. Mark Leno, who is termed out, Jane Kim led the primary against fellow Democrat Scott Wiener 45.3 percent to 45.1 percent. It's obviously a close race, but it is a good chance for a woman to pick up a seat.
In a less competitive race, Democrat Cecilia Aguiar-Curry finished first in the primary against Republican Charlie Schaupp in a heavily Democratic district to replace Assemblyman Bill Dodd, D-Napa, who is running for Senate.
Democrat S. Monique Limón finished the primary with a formidable lead against Edward Fuller, who claims no party preference, 65.9 percent t0 34.1 percent. If elected, Limón would replace Democratic Assemblyman Das Williams. 
In the race to replace termed-out, Democratic Assemblyman Roger Hernandez — who is currently under a three-year restraining order for alleged domestic violence — Blanca Rubio appears likely to win. Rubio, a Democrat, will face Republican Cory Ellenson in a heavily-Democratic district.
Two wildcards 
Two seats where women have decent chances to pickup seats, although the odds are slightly tipped against them, are the Senate races to replace termed-out Republican Bob Huff and incumbent Democrat Jim Beall.
Republican Assemblywoman Ling Ling Chang saw an opening in the Huff race and decided to vacate her Assembly seat after only one term. However, she finished the primary with only 44 percent, with two Democrats splitting the 56 percent majority. 
Beall is being challenged by Assemblywoman Nora Campos, a fellow Democrat. Beall narrowly missed a majority in the primary, topping Campos by 22.5 percentage points. Campos is considered the business-friendly candidate, so she'll have to use that to draw upon Republican support to top Beall.
Toss ups
There are approximately 11 races that look as though they could go either way, with four being vacated by termed-out women. Another four are against male incumbents: Republicans Marc Steinorth, Eric Linder and Travis Allen and Democrat Miguel Santiago.  
Looking for October surprises
And there are 11 other races where women are challenging male incumbents, although these races do not appear as though they'll be too competitive. 
Endnotes:
died unexpectedly: http://calwatchdog.com/2016/07/14/sudden-death-gop-senator-no-bearing-supermajority/
Source URL: https://calwatchdog.com/2016/07/26/women-poised-modest-gains-legislative-races/
---