Ferret ban in California not gone just yet
by Matt Fleming | August 25, 2016 5:20 pm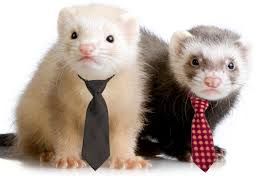 Bad news for ferret lovers: Your pet is still illegal in California.
But change may be coming.
On Thursday, the California Fish and Game Commission continued reconsideration of the ban on domestic ferrets that's been in place since 1933 until its next meeting after staff has had time to review new documents. 
A petition signed by 1,376 people prompted the commission to consider the matter — the latest move in a battle that's been going on for decades.
Pat Wright, from the group Legalize Ferrets, who is basically the Cesar Chavez of the ferret movement, submitted a required environmental review document to the commission (Wright claims to have submitted the document multiple times), and outlined his simple list of requests: That the commission permit domestic ferrets that are sterile, that have had a rabies vaccine and after the owner pays a $100 licensing fee at the time of purchase.
"We think it's a win-win situation for everybody," said Wright, who brought along a documentary crew to the hearing. "And we are kinda wondering why we're here because ferrets are a domestic animal."
A veterinarian spoke of the need to remove the ban so that illegal ferrets could get proper medical treatment. Other speakers told tales of important ferrets from their lives:
Kimberly Richard, a ferret enthusiast and the environmental chair for the Democrats of Napa Valley, talked about her childhood pet Mr. Weazermeister, who thought everyone was his best friend, especially a rabbit named "Thumper" (CalWatchdog could not confirm the spelling of Mr. Weazermeister's name).
"I just heard about this — oh my god," said Kimberly Richard, a ferret enthusiast and environmental chair for the Democrats of Napa Valley. "What state bans ferrets?"
Background
In fact, California and Hawaii are the only states with bans on domestic ferrets. Wright's petition argued that the Department of Fish and Game has not identified any problems with feral ferrets in other states.
The California Department of Fish and Wildlife is concerned that ferrets, and a thousand other animals like alligators, African lions and monkeys, would get wild, become feral, reproduce and wreak havoc on native populations — similar to the Burmese python population in Florida's Everglades — by doing things like spreading rabies and going buckwild in chicken coops.
Previous efforts to overturn the ban have been denied because a commission ruling in 2000 has never been satisfied, according to the commission. Back then, the commission determined that any new petitioner needed to fund the preparation of an Environmental Impact Report before reconsideration.
In 2010, Wright commissioned a study[1] from a scientist at California State University, Sacramento, but the commission determined it did not satisfy its requirements. At the hearing, Wright said his group had spent $18,500 on "jumping through hoops."
Next steps
Commission staff reiterated that while the 177-page study submitted by Wright covered a broad range of issues, it was not a full environmental impact report.
The additional document Wright submitted on Thursday was an environmental impact report checklist, which staff will review between now and the next hearing to determine what further steps, if any, need to be taken. 
Endnotes:
commissioned a study: http://www.legalizeferrets.org/wp-content/uploads/2016/01/Final_Report-1.pdf
Source URL: https://calwatchdog.com/2016/08/25/ferret-ban-california-not-gone-just-yet/
---