Largest CA community college faces dire problems
by Chris Reed | September 15, 2016 4:01 pm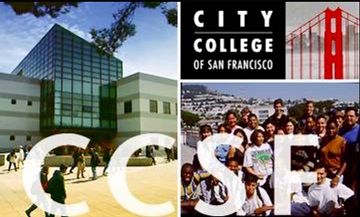 In 2012, the City College of San Francisco persuaded voters to adopt a $79 parcel tax[1] to stave off bankruptcy. Now the school — the largest [2]based on enrollment in the California Community College system — is once again coming to voters for help, seeking to increase the annual parcel tax to $99 and move back its sunset from 2021 to 2032.
Measure B[3] requires two-thirds' voter support. If adopted, it would provide $19 million a year, up from the present $15 million.
The selling points for the measure build off the idea that the community college has turned the corner from its recent problems with the Accrediting Commission for Community and Junior Colleges, which has voiced concerns since 2011 that the college has few internal financial controls, has spent money in unfocused ways and has provided inadequate student services. Voters are also told that CCSF is actively trying to shore up its funding by recruiting foreign students — especially from Asia — who pay far more in tuition, much as the University of California system did beginning 10 years ago.
But Measure B critics offer evidence that undercuts the assertion that the college's biggest problems are mostly behind it.
The accreditation commission still has not given its blessing to CCSF; a final decision on whether to revoke accreditation is expected in January. And claims that CCSF had developed much better financial controls were undercut by a December 2015 San Francisco Chronicle report[4] that detailed seemingly profligate spending by college officials.
While college trustees defended President Virginia Parras' trip to China, Taiwan and Vietnam as a smart student recruitment effort, the Chronicle found heavy spending by school officials at local restaurants with little documentation of any benefit that accrued to CCSF. Such documentation is supposed to be mandatory and seems certain to be viewed by the accreditation commission as evidence its years of admonitions have not worked.
Enrollment plunging and faculty fleeing
The Chronicle reported[5] this month that the accreditation flap had taken a harsh toll on enrollment, which has plunged from 84,000 full- and part-time students in 2012 to the present 62,000. Meanwhile, state aid meant to help stabilize the college is going away. After getting a total of $69 million last fiscal year and this fiscal year, CCSF has been told to expect no such funding in 2017-18.
But CCSF's headaches don't stop there. The high cost of housing is making it difficult for the college to attract and retain teachers and staff. The extra $4 million that the new version of parcel tax would generate annually is going to be used to address this problem.
One of the strategies that state officials have undertaken to help CCSF caught the eye of Inside Higher Education, a national journal. In January, it noted[6] that the California Community College's Board of Governors endorsed dropping the Accrediting Commission for Community and Junior Colleges as the agency handling accrediting for CCC's 113 campuses based on a critical report from a CCC task force[7].
The move prompted criticism from one accreditation veteran, noted Inside Higher Education. 
"There's no short-term solution other than CCSF getting its act together and getting accredited by [Accrediting Commission for Community and Junior Colleges], and it appears the commission is hanging tough and not changing its position," said Ralph Wolff, former president of the WASC Senior College and University Commission, the main community college accrediting oversight agency[8] in the Western U.S.
The unusually complex background to the Measure B vote may make its approval unlikely. But there's another daunting factor facing proponents: In addition to the 17 state ballot measures on the Nov. 8 ballot, San Francisco voters will be asked to consider 25 city and regional ballot measures[9]. Most election observers think the more decisions that more voters have on ballot measures, the more likely they are to vote no — or to not vote at all — on many proposals.
Endnotes:
$79 parcel tax: https://ballotpedia.org/City_College_of_San_Francisco_parcel_tax,_Proposition_A_(November_2012)
largest : http://www.campusexplorer.com/college-advice-tips/E8748B21/10-Biggest-Community-Colleges/
Measure B: http://sfgov.org/elections/file/3821
report: http://www.sfchronicle.com/education/article/City-College-of-S-F-splurges-on-6721976.php?t=df4a412b671210a92f&cmpid=twitter-premium
reported: http://www.sfgate.com/education/article/CCSF-needs-Prop-B-parcel-tax-to-shore-up-faculty-9204117.php
noted: https://www.insidehighered.com/news/2016/01/14/city-college-san-francisco-faces-new-scrutiny-finances-amid-ongoing-accreditation
CCC task force: http://www.sfgate.com/education/article/College-accreditation-group-should-be-replaced-6471367.php
oversight agency: https://www.wascsenior.org/about
25 city and regional ballot measures: http://sfgov.org/elections/local-ballot-measure-status
Source URL: https://calwatchdog.com/2016/09/15/largest-ca-community-college-faces-dire-problems/
---