Battleground 2016: Top Legislative Races
by Matt Fleming | November 7, 2016 8:45 am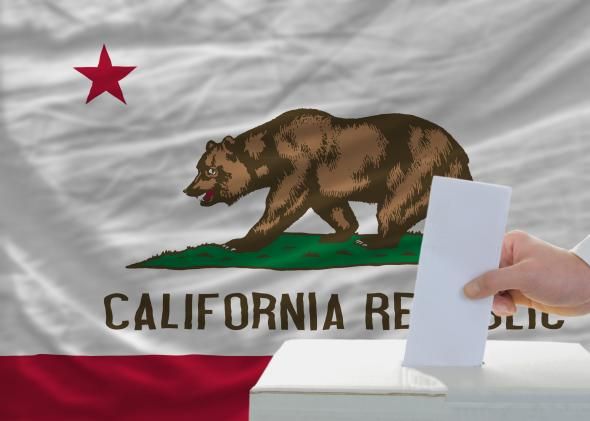 Editor's Note: This story was originally published on July 19.
Republicans in the state Legislature are thought to have a challenging election cycle this year. The outcome in November will determine whether the GOP has enough seats in the state Assembly and state Senate to maintain relevance in legislative matters.
Many factors are contributing to the angst, not the least of which is that Donald Trump as the GOP nominee is a wild card. No one knows yet how the reality T.V. star and real estate tycoon will affect down-ticket races — although Democrats are anticipating it will drag down GOP candidates[1]. 
Regardless of the top of the ticket, this year looks to be tough for Republicans — who are largely hoping to just hold seats[2] — as presidential election turnouts are generally more favorable to Democrats, when the electorate becomes more diverse[3]. 
Republicans need to keep Democrats from achieving a two-thirds majority in the Assembly and Senate to have a meaningful impact on state lawmaking. Dipping below that line would mean losing their ability to weigh in on tax increases, gubernatorial veto overrides and legislatively-referred constitutional amendments — their last remaining points of legislative leverage.
To stay above a superminority[4], Republicans can afford to lose only one seat in the Assembly while Senate Republicans can't afford to lose any.
Adding intrigue is the fact that it's not just a war between the parties. The relatively new primary system where the top two candidates advance from the primary to the general election regardless of party has pitted some Democrats against each other, largely playing out proxy wars from outside interests. Of course in some races, a few candidates are termed-out of one chamber and aren't ready to go home just yet.
Here are some of the top races to watch:
In the fight of their lives 
Catharine Baker, an East Bay Area Republican assemblywoman, led the primary 53.2 percent to 46.8 percent over Democrat Cheryl Cook-Kallio, a former Pleasanton City Council member. Baker is a the only Bay Area Republican in the legislature, so her seat is important both functionally and symbolically. 
Baker narrowly won the open seat in 2014 by about three points, and this time should be close too. Democrats in the district have a 10 percent registration advantage, with 24 percent of voters claiming no party preference. 
In one of several rematches, Republican Assemblyman David Hadley faces Democrat Al Muratsuchi, whom Hadley booted from office in 2014 by only 706 votes — or about 0.5 percentage points — in this Los Angeles south bay district.
In the June primary, Hadley received only 44.6 percent of the vote, with Muratsuchi and another Democrat splitting the majority. Democrats in the district enjoy a nine percentage point registration advantage, with 22 percent of voters claiming no party preference. Winning this seat was a major coup for the GOP in 2014, and retaining it would be as well.
Key holds
In the Antelope Valley, Republican Assemblyman Tom Lackey faces a strong challenge from the man he unseated in 2014, Democrat Steve Fox (who used to be a Republican). In 2014, Lackey destroyed Fox by 20 percentage points. But in the June primary, Lackey advanced with only 48.2 percent of the vote; three Democrats split the rest. Democrats have a six percentage point registration advantage with 19 percent of voters claiming no party preference. 
In the north Inland Empire, first-term Republican Assemblyman Marc Steinorth of Rancho Cucamonga finished second of two candidates in the primary behind Democrat Abigail Medina, a San Bernardino City Unified School District board member, trailing by three percentage points. Democrats have a one percentage point registration advantage with 22 percent of voters claiming no party preference.
And in the south Inland Empire, Republican Assemblyman Eric Linder — who is surprisingly supported by the SEIU, a formidable union — got only 45.6 percent of the vote in the primary with the rest split between two Democrats. In the general, Linder faces Democrat Sabrina Cervantes, the district director for Assemblyman Jose Medina. Democrats have a slight, two percentage point registration advantage with 21 percent of voters claiming no party preference.
Former Republican Senate Leader Bob Huff is termed out and Republican Assemblywoman Ling Ling Chang is hoping to fill Huff's seat on the other side of the rotunda. Chang faces Democrat Josh Newman — a political neophyte who runs a non-profit aimed at helping veterans find employment — in this Orange County race.
Despite superior name recognition, Chang — the only Republican in the primary — drew 44 percent, while Newman and another Democrat nearly evenly split the majority. Republicans have a one percentage point registration advantage with 24 percent of voters declining to state a party preference.
Another rematch
Republican Assemblywoman Young Kim faces the woman she knocked off in 2014, Democrat Sharon Quirk-Silva, in this Orange County district.
Last cycle, Kim won by 10 percentage points. But in June, Quirk-Silva led the primary by 8.6 percentage points. And Democrats have a four percentage point registration advantage, with 23 percent of voters claiming no party preference.  
Competitive by chance
The race to replace the late Sen. Sharon Runner — the Republican incumbent from Lancaster — is wide open. Runner passed away in July[5], but had previously decided against running[6] for re-election for health reasons (her second[7] such decision). Runner won the seat in 2015 in a special election after Steve Knight won a Congressional seat. 
Republican Assemblyman Scott Wilk of Santa Clarita came in first in the primary with 46.7 percent of the vote over Johnathon Levar Ervin, an engineer and Air Force reservist, who drew 33.7 percent of the vote. Among four candidates, the results were almost evenly split with a slight edge to the Republicans, but voter registration in the district is closely split as well. Democrats have a two percentage point registration advantage with 21 percent of voters claiming no party preference. 
Republicans best shot to pickup
What would have otherwise been considered a noncompetitive Senate election to replace termed-out Democrat Carol Liu became competitive when longtime Los Angeles County Supervisor Mike Antonovich threw his hat in the ring.
Antonovich brings strong name recognition and a vast fundraising network from his more than 40 years in elected office, but he has a tough path forward having only won 39.5 percent of the vote in the primary. The rest of the vote was split among Democratic candidates, with former Assemblyman Anthony Portantino coming in second. Democrats have a 14 percentage point registration advantage with 24 percent of voters declining to state party preference. 
Dems v. Dems and the proxy wars
While this Silicon Valley election featuring two Democrats won't affect whether or not there's a supermajority, it may help fortify a group of business-friendly moderates. Incumbent Senator Jim Beall, of the liberal environmentalist ilk, is facing the more business-friendly Nora Campos, who is termed out of the Assembly.
This race is actually one of a few proxy wars between Big Environment vs. Big Oil, which have both spent considerable money in the race. Beall was a hair away from a majority of the vote in the primary.
So far Campos has stuck to the narrative that both Beall and Senate President Pro Tem Kevin de Leon, a Beall supporter, have bullied her[8]. Campos said de Leon tried to dissuade her from running (party leaders generally dislike having to spend money and energy protecting incumbents from members of their own party). And Campos said Beall attacked her husband through a third party — as they say, it's complicated.
A moderate Democrat is under fire in the Inland Empire, as incumbent Cheryl Brown faces attorney Eloise Reyes in this competitive Assembly district. Environmentalists and unions dislike[9] Brown and have already spent big money opposing her through the primary, while Big Oil and charter schools have spent more than a half million dollars in support of Brown.
But surprisingly, word leaked[10] that Senate President Pro Tempore Kevin de Leon — a powerful environmentalist — would be endorsing Brown. It's unclear if this will have any effect on the race. 
In the primary, Brown received 44.1 percent of the vote to Reyes' 35.6 percent. The Republican challenger received 20 percent of the vote, and how that's divvied up could decide the race.
Endnotes:
drag down GOP candidates: http://calwatchdog.com/2016/05/18/democrats-launch-anti-trump-attacks-ticket-gop-candidates/
hoping to just hold seats: http://calwatchdog.com/2016/04/29/88270/
becomes more diverse: http://www.electproject.org/home/voter-turnout/demographics
superminority: http://calwatchdog.com/2016/04/29/88270/
passed away in July: http://calwatchdog.com/2016/07/14/sudden-death-gop-senator-no-bearing-supermajority/
decided against running: http://www.latimes.com/politics/essential/la-pol-sac-essential-politics-20160301-htmlstory.html#4322
second: http://theavtimes.com/2012/02/22/senator-sharon-runner-wont-seek-re-election/
have bullied her: http://calwatchdog.com/2016/06/03/state-lawmaker-demands-even-handed-responses-womens-caucus/
dislike: http://www.sacbee.com/news/politics-government/capitol-alert/article54362740.html
word leaked: http://www.latimes.com/politics/la-pol-sac-essential-politics-updates-senate-leader-kevin-de-leon-wades-into-1468370454-htmlstory.html
Source URL: https://calwatchdog.com/2016/11/07/battleground-2016-top-legislative-races/
---