Bernie Sanders' CA return revisits Democrat divides
by James Poulos | November 9, 2016 6:28 pm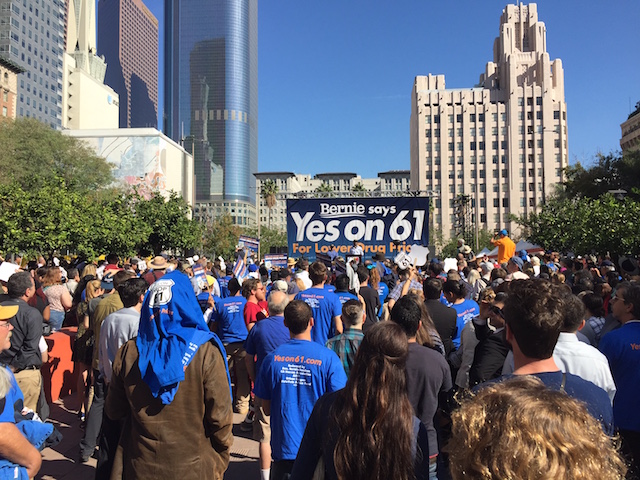 Underscoring lingering divides in a Democratic Party facing an uncertain future, Bernie Sanders returned to California in the campaign season's final days, but failed to mobilize enough support to pass Proposition 61. 
"The drug industry successfully swatted down California's Proposition 61, a ballot initiative that would have capped how much the state's public health programs pay for medicines at the same level the Department of Veterans Affairs (which receives deep discounts on treatments) shells out for them," Fortune observed[1]. Despite a full-throated push from Sanders, who was anticipated to move the needle substantially in deep blue California, Prop. 61 went down in a 46 percent to 54 percent vote.
"Prop. 61's clear-cut defeat is a bit surprising considering that polls taken earlier in the fall had shown widespread support for the initiative, which was introduced in the midst of widespread backlash to soaring drug prices," the magazine added, noting that polls had tightened up as Election Day neared.
Dueling dollars
But pharmaceutical industry giants such as Pfizer and AstraZeneca ponied up over $100 million to combat the initiative, fueling anti-61 critics who warned it was just the first step in more sweeping and hard-to-manage change. "The big funding support pharma has given the 'No' campaign reflects both the huge amount that California state agencies spend on medications annually — around $4 billion — and concerns drug companies have that other states might follow suit with drug-price control initiatives of their own in the event that Prop. 61 passes," CNBC reported[2]. "The 'No on 61′ campaign, which in addition to pharma companies includes patient advocates, doctors, veterans' groups, labor unions and other AIDS activists, warns that the measure could have negative unintended consequences that would include higher drug costs for many people, and decreased access to some medications."
Pro-61 advocates raised only $16 million, by contrast — during a span when the would-be law's popular support seemed stable and adequate to win. "The 'yes' lead has shrunk over the past month," Vice News recalled[3], "but a Hoover Institution poll released Tuesday pegged support for the initiative at 51 percent, opposition at 24 percent, and undecided at 25 percent. In interviews last week, no representative for either of the campaigns felt confident enough to predict victory."
"The Prop. 61 campaign offers a possible preview of a bigger intraparty fight for the national Democratic Party's future, a fight Bernie Sanders helped instigate this year in the presidential primary against Hillary Clinton. Then as now, voters are largely tuning out so-called elite opinion and raging against a monolithic corporate power. But instead of Wall Street, it's now Big Pharma."
Lingering hopes
Sanders personally fired back against his critics in an op-ed defending Prop. 61 at the Sacramento Bee. "It ties the prices that the state of California pays for drugs for about 6 million patients, including Medi-Cal recipients and active and retired state employees, to the prices that the Department of Veterans Affairs pays. The department pays about 20 to 26 percent less than what most government agencies pay. Those are significant savings that will make drugs more affordable and accessible to more people," he explained[4]. "The nation is watching California. When Prop. 61 passes, I predict the revolution against drug industry price-gouging will sweep across the country like a prairie fire."
Now, prospects for downward political pressure on drug prices have been dampened. But enthusiasm for Sanders' insurgent campaign against Hillary Clinton has remained strong among many California progressives and harder-to-classify voters unhappy with both established parties. At Sanders' Prop. 61 rally in Sacramento, the Bee reported, Sanders supporters unwilling to vote for Trump or Clinton covered broad demographic ground. "Introducing Sanders to the crowd of several hundred Monday, RoseAnn DeMoro, executive director of National Nurses United and the California Nurses Association, lamented his loss in the California primary, which came after the Democratic nomination was called for Clinton," the paper noted[5]. "Sanders finished with 46 percent."
Endnotes:
observed: http://fortune.com/2016/11/09/california-proposition-61-drug-election-results/
reported: http://www.cnbc.com/2016/11/07/californias-very-expensive-drug-price-battle-prop-61-fight-gets-even-nastier.html
recalled: https://news.vice.com/story/why-bernie-sanders-is-taking-on-big-pharma-in-california
explained: http://www.sacbee.com/opinion/op-ed/soapbox/article112612788.html
noted: http://www.sacbee.com/news/politics-government/election/presidential-election/article113174468.html
Source URL: https://calwatchdog.com/2016/11/09/bernie-sanders-ca-return-revisits-democrat-divides/
---