Debate flares over how much CA should tax vaping
by Chris Reed | December 2, 2016 4:11 am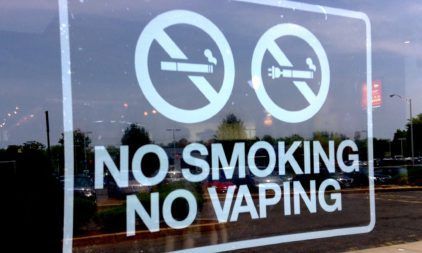 The claims that e-cigarettes are just as much of a health hazard as regular cigarettes and must be heavily taxed has touched off a fight in the public health community. A faction of public health officials has sided with e-cigarette companies and their assertion that e-cigarettes are much less dangerous than cigarettes and can in fact help people break the smoking habit.
The issue is coming to the fore in California because of voters' passage of Proposition 56 [1]last month. It will increase the state tax on a pack of cigarettes from 87 cents to $2.87 and mandates an "equivalent" increase in taxes on e-cigarettes, which allow users to heat nicotine fluid and inhale nicotine vapor without the tars they ingest when smoking regular cigarettes.
It's not clear yet what "equivalent" means. State officials are still formulating the levies. But the Associated Press reports [2]e-cigarette makers and distributors believe they will face a huge increase in state taxes that will raise the cost of vaping devices and liquids by more than 60 percent. If that happens, according to the American Vaping Association, it will be cheaper to smoke regular, more dangerous cigarettes in California than to "vape" — even though state taxes on regular cigarettes are going far higher as well.
In the United States, public health authorities, medical doctors and academics are broadly split on e-cigarettes. Some believe that e-cigarettes are so much less harmful that their use by conventional smokers should be encouraged. Some argue that there isn't nearly enough hard research with which to draw conclusions about the relative healthiness of vaping. And some argue that e-cigarettes' popularity threatens to undo the huge progress that has been made in reducing nicotine consumption in America over the last 50 years and should be heavily taxed and regulated for that reason alone.
Britain sees vaping as public health tool
These divided views aren't the norm elsewhere. In California, state health officials issued a 2015 report [3]blasting the emergence of vaping as a common habit, especially among the young. This report may be a factor in state officials' consideration of heavy taxes for e-cigarettes.
Conversely, in the United Kingdom, physicians have been recommending that vaping be used by cigarette smokers because a massive government study found it is 95 percent healthier and has been a valuable tool for individuals trying to break their conventional smoking habits. These conclusions were released in a 2015 report[4] by Public Health England.
Given that millions of Americans have died of lung cancer caused by smoking cigarettes, this would seem to make the case for vaping's utility in fighting regular smoking. But many authorities are unpersuaded. Perhaps the most prominent critic of the notion of vaping as a public health tool is Stanton Glantz, a professor of tobacco control at the University of California, San Francisco.
In a 2015 interview[5] with Rolling Stone magazine, Glantz dismissed claims about vaping's promise with a profanity. He acknowledges that e-cigarettes are healthier than regular cigarettes but sharply questions the British research. "I'll eat my shoe if that 95 percent figure turns out to be correct five years from now," he told the magazine.
Glantz says the big picture must not be ignored: "Are there people who have totally made the switch or quit completely because of these? Yes, I believe there are. Terrific. But most are what we call dual users — those who smoke both, often to smoke in places where they can no longer smoke cigarettes. If you're talking about a smoker using these to inhale more dangerous chemicals, well, that has a net negative effect on public health."
Proposition 56 takes effect on April 1. It is unclear if state officials will issue a draft proposal on how to tax e-cigarettes and seek public comment or decide rates without such input. The text of the 24-page ballot measure[6] is silent on how the rules should be crafted.
Endnotes:
Proposition 56

: https://ballotpedia.org/California_Proposition_56,_Tobacco_Tax_Increase_(2016)

reports

: http://customwire.ap.org/dynamic/stories/U/US_CALIFORNIA_TAXING_E_CIGARETTES?SITE=CASON&SECTION=STATE&TEMPLATE=DEFAULT&CTIME=2016-11-26-14-30-27

2015 report

: http://www.nbcnews.com/health/health-news/e-cig-stigma-california-declares-vaping-public-health-risk-n295766

2015 report

: https://www.gov.uk/government/publications/e-cigarettes-an-evidence-update

2015 interview

: http://www.rollingstone.com/politics/news/e-cigs-inconvenient-truth-its-much-safer-to-vape-20151221

24-page ballot measure

: https://www.oag.ca.gov/system/files/initiatives/pdfs/15-0081%20(Tobacco%20Tax%20V3).pdf?
Source URL: https://calwatchdog.com/2016/12/02/debate-flares-much-ca-tax-vaping/
---