Raft of new state laws are going – or have gone – into effect
by Steven Greenhut | December 27, 2016 3:50 am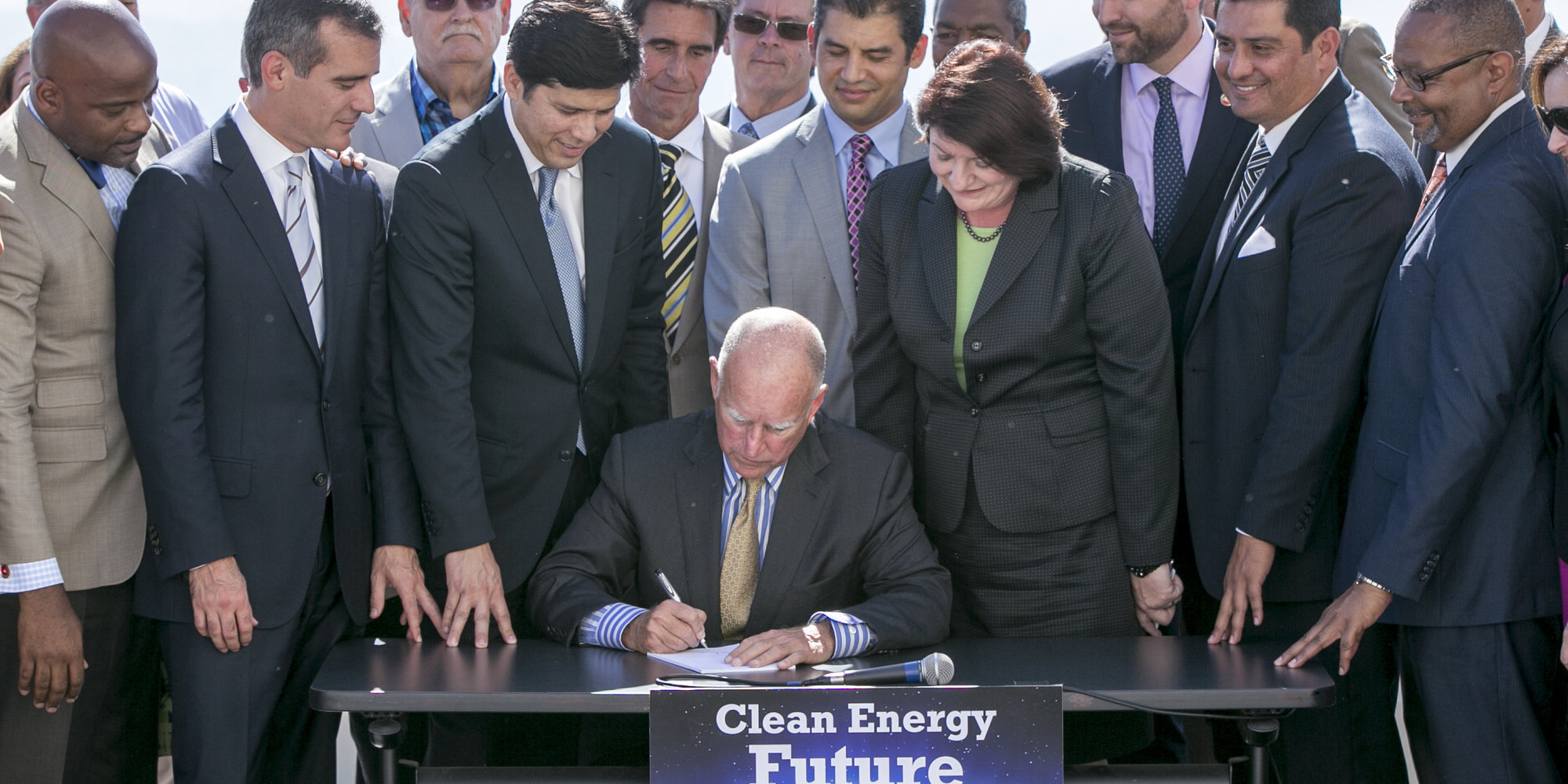 SACRAMENTO – California Gov. Jerry Brown[1] signed 898 bills into law last year. Most start on Jan. 1, but others going into effect in coming years. The majority of new laws deal with minutiae that's unlikely to affect most residents, but a number of them will have real-world consequences for broad numbers of people – on issues ranging from new driving rules to patients' access to experimental medications.
Here's a sampling of some of the significant new laws[2] from last session:
Register your ammo purchases: Californian gun owners will need to deal with a variety of new gun-control limitations after the governor signed a broad package of bills – and voters approved Lt. Gov. Gavin Newsom's gun-control initiative on Nov. 8. The most potentially far reaching effects will come from the state's approval of Proposition 63, which has various restrictions and a roll-out of implementation dates over a few years[3].
Beginning July 1, 2017[4], the state will implement a ban on high-capacity magazines and will require owners to report any lost or stolen weapons. The much-publicized requirement that ammo buyers pass background checks won't go into effect until Jan. 1, 2018.
Higher minimum wages and more unpaid leave: "The statewide minimum wage goes from $10 to $10.50 an hour for businesses with 26 or more employees — a rate that will rise to $15 by 2022," as the Mercury-News explained[5]. That wage hike comes from Senate Bill 3. "Assembly Bill 2393 gives up to 12 weeks of paid parental leave to all K-12 and community college employees, including classified workers and community college faculty," the newspaper reported.
Restrictions on police use of asset forfeiture: Senate Bill 443 was one of the last bills from last session that the governor signed, but it is widely viewed as one of the most significant changes in state law. Before the new law went into effect, police agencies had the ability to take the cash, cars and even homes from people even if they weren't convicted of any crime. The authorities needed simply to claim the property was used in the commission of a drug crime. California had fairly tough restrictions in place, but local and state police agencies would partner with federal authorities under the "equitable sharing" program and then they would operate under looser federal law.
As the Drug Policy Alliance explains[6], "Starting on January 1, 2017, California law will require a conviction prior to forfeiture in any state case where the items seized are cash under $40,000 or other property such as homes and vehicles regardless of value." If local or state agencies work with the feds, they could only share in the proceeds if an underlying conviction were obtained. The final compromise still allows law enforcement to keep proceeds of more than $40,000 in cash only – a provision which caused major law enforcement groups to drop their opposition.
Higher fees from the DMV … and more: Two new laws[7] boost the fees for DMV registrations by $10 and for an environmental license plate by the same amount. Another DMV-related law requires drivers to restrain children 2 years or under in a rear-facing car seat unless they weigh 40 pounds or more. Drivers will need to pay attention to a new law dealing with hand-held devices. "Driving a motor vehicle while holding and operating a handheld wireless telephone or a wireless electronic communications device will be prohibited, unless the device is mounted on a vehicle's windshield or is mounted/affixed to a vehicle's dashboard or center console in a manner that does not hinder the driver's view of the road," according to the agency.
Gaining the 'right to try': California became the 32nd state to pass so-called "right to try" legislation[8], which allows terminally ill people to try experimental drugs that have yet to pass the federal Food and Drug Administration's full battery of tests. Supporters argued that many people die while waiting for drugs to clear that long and cumbersome process. After Senate amendments, Assembly Bill 1668[9] includes the caveat that "a health benefit plan, except to the extent the plan provided coverage, is not liable for any outstanding debt related to the treatment or lack of insurance for the treatment."
Beer and wine at barbershops: Assembly Bill 1322[10] passed overwhelmingly in both houses of the Legislature. This bill allows beauty salons and barber shops to serve their clients limited quantities of beer or wine at no extra charge without obtaining a license or permit from the Department of Alcoholic Beverage Control," according to the Assembly analysis. The new law still allows local governments to impose restrictions on this practice.
Rescuing Fido from a hot car: Assembly Bill 797[11] reduces liability for citizens who break a car window to save an animal that is closed in a hot car – provided they first try calling the authorities and the authorities haven't responded quickly enough.
Legalizing lane-splitting: Anyone who drives on California's vast network of freeways has noticed motorcyclists' habit of "lane-splitting," as they drive between the cars that occupy the lanes. The law had required motorcyclists to ride "as nearly as practical entirely within a single lane," even though the practice has been widely accepted. Motorcyclists have long argued that this is safer than remaining in one lane and risk being hit from behind. Assembly Bill 51 "would authorize the Department of the California Highway Patrol to develop educational guidelines relating to lane splitting in a manner that would ensure the safety of the motorcyclist, drivers, and passengers, as specified," according to the state Legislative Counsel[12].
Ignore those juvenile convictions: Assembly Bill 1843 "Prohibits employers from asking an applicant for employment to disclose information concerning or related to an arrest, detention, processing, diversion, supervision, adjudication, or court disposition that occurred while the person was subject to the process and jurisdiction of juvenile court law, or seek or utilize any such information as a factor in determining any condition of employment," according to the Assembly analysis. This was a contentious issue that passed on largely partisan lines (Democrats supported; Republicans opposed) given business-community concerns about their ability to screen job applicants.
You must be 21 to smoke or vape: Earlier in the year, the governor signed a package of smoking bills that, most significantly, raises the smoking age to 21. It also raised the age for vaping to 21. That last provision was particularly controversial because some argue e-cigarettes are a safer way for smokers to break their dangerous habit[13]. Those laws went into effect in June.
Offering showers for the homeless: Assembly Bill 1995[14] would require community colleges that have shower facilities to allow enrolled homeless students to use those showers.
More bathroom choices for the transgendered: California passed a law, Assembly Bill 1772[15], that requires all businesses and public agencies with single-toilet bathrooms to make them available to people of all genders – a bill viewed more as a symbolic measure offered in the thick of the national debate over bathrooms for transgendered people.
The new Legislature will be back in full swing after the new year[16].
Steven Greenhut is Western region director for the R Street Institute. Write to him at [email protected]
Endnotes:
California Gov. Jerry Brown: https://www.gov.ca.gov/home.php
new laws: http://www.legislature.ca.gov/
various restrictions and a roll-out of implementation dates over a few years: http://bearingarms.com/erika-h/2016/11/11/california-approved-proposition-63-gun-rights-groups-ready-take-action/
Beginning July 1, 2017: http://www.latimes.com/politics/la-pol-sac-essential-politics-california-lawmakers-send-broad-package-1467318789-htmlstory.html
as the Mercury-News explained: http://www.mercurynews.com/2016/12/23/californias-new-laws-in-2017-guns-gender-neutral-bathrooms-and-booze-in-beauty-salons/
As the Drug Policy Alliance explains: http://www.drugpolicy.org/news/2016/09/california-governor-brown-signs-bill-protecting-californians-civil-asset-forfeiture-abu
Two new laws: https://www.dmv.ca.gov/portal/dmv/detail/pubs/newsrel/newsrel16/2016_36
the 32nd state to pass so-called "right to try" legislation: http://reason.com/blog/2016/09/27/california-becomes-32nd-state-to-pass-ri
Assembly Bill 1668: https://leginfo.legislature.ca.gov/faces/billTextClient.xhtml?bill_id=201520160AB1668
Assembly Bill 1322: http://www.leginfo.ca.gov/pub/15-16/bill/asm/ab_1301-1350/ab_1322_cfa_20160818_011054_asm_floor.html
Assembly Bill 797: https://leginfo.legislature.ca.gov/faces/billTextClient.xhtml?bill_id=201520160AB797
according to the state Legislative Counsel: http://www.leginfo.ca.gov/pub/15-16/bill/asm/ab_0051-0100/ab_51_bill_20160819_chaptered.htm
e-cigarettes are a safer way for smokers to break their dangerous habit: http://www.ocregister.com/articles/smoking-715870-tobacco-vaping.html
Assembly Bill 1995: https://leginfo.legislature.ca.gov/faces/billTextClient.xhtml?bill_id=201520160AB1995
Assembly Bill 1772: http://www.leginfo.ca.gov/pub/15-16/bill/asm/ab_1701-1750/ab_1732_cfa_20160404_222644_asm_comm.html
after the new year: https://caiclac.wordpress.com/2015/12/23/2016-california-legislative-calendar/
Source URL: https://calwatchdog.com/2016/12/27/raft-new-state-laws-going-gone-effect/
---