Assemblyman's column on new child-prostitution law faces bipartisan backlash
by Matt Fleming | January 4, 2017 5:00 am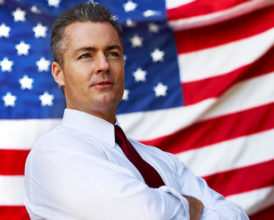 An Orange County assemblyman is under fire from his right, center and left over a column[1] published last week titled: "California Democrats legalize child prostitution."
The column set off a war of words over the difference between legalization and decriminalization, with critics panning the column as "misleading," "irresponsible" and "an unsubstantiated hot take."
But the column's author, Assemblyman Travis Allen, R-Huntington Beach, shot back on Tuesday in an interview with CalWatchdog, saying: "There is no war of words; the Democrats are lying about this."
War of words
Allen's critics have argued that California lawmakers (mostly, but not exclusively, Democrats) did not legalize child prostitution. Instead, child prostitution was decriminalized, in that minors could not be arrested and charged with prostitution or for loitering in public with the intent to commit prostitution. 
But Allen told CalWatchdog on Tuesday that decriminalization and legalization are the same thing. And in his column he argued that the new law makes it so that law enforcement can't "interfere with minors engaging in prostitution." 
Is there a difference?
At first glance, the difference between decriminalization and legalization may seem like the type of petty detail in a dispute between politicians that would frustrate the average constituent. 
But in practical terms, the difference in this instance is that while minors are immune from charges related to prostitution, customers and pimps are not. It is just as illegal as ever to purchase or sell sex with a minor, a fact noted by both The Sacramento Bee[2], which called Allen's column "misleading," and the conservative website Red State[3], which wrote Allen's editorial was "an unsubstantiated hot take." 
"Pimping is still illegal. Solicitation of sexual acts – whether from a minor or an adult – is still illegal. Statutory rape is still illegal," Red State wrote. "So how is it that law enforcement can't interfere?"
"Even so, Mitchell's bill does allow for law enforcement to 'interfere' and for the minor to be adjudicated as dependent and brought into state custody," Red State added.
Allen argued to CalWatchdog that under the new law, custody is only temporary. Allen added that legalization (or decriminalization) of child prostitution removed a tool for prosecutors, as the charges against minors were often pleaded down or dropped in exchange for testimony against pimps and others involved in the crime.
What's the point?
In late September[4], the Legislature passed Senate Bill 1322[5], which made it no longer a crime for minors to engage in prostitution. The point was to treat minors engaged in prostitution as victims of crimes instead of criminals. 
The line of logic used by the bill's sponsor, Senator Holly Mitchell, in a recent interview with KCRA[6], was that children under the age of 18 cannot legally consent to sex and therefore it's rape. The Los Angeles Democrat also called Allen's column "irresponsible."
"You cannot consent to any kind of sexual experience if you're under 18," Mitchell said. "And so how then therefore could you be convicted of prostitution?" 
So what's your solution?
When asked what more should be done to combat child prostitution, Allen said SB1322 was a step backwards. When asked again –  what specifically could be done to reduce child prostitution – Allen told CalWatchdog, "There's always more that could be done," and then repeated SB1322 was not the solution.
Whose law is it?
The Bee debunked claims made by Allen about certain opponents of the measure, as well as the claim that the law was "passed by the progressive Democrats," when in fact moderate Democrats and a few Republicans supported the measure as well (though it was just a few Republicans).
"He includes a quote from Alameda County District Attorney Nancy O'Malley stating that decriminalizing child prostitution 'opens up the door for traffickers to use these kids to commit crimes and exploit them even worse,'" The Bee wrote. "O'Malley initially opposed the bill, but ultimately signed on as one of the its highest-profile supporters."
Endnotes:
a column: http://www.washingtonexaminer.com/california-democrats-legalize-child-prostitution/article/2610540
The Sacramento Bee: http://www.sacbee.com/news/politics-government/capitol-alert/article124201384.html?utm_source=dlvr.it&utm_medium=twitter
Red State: http://www.redstate.com/jenvanlaar/2016/12/31/no-california-not-legalize-child-prostitution/
late September: http://www.latimes.com/politics/essential/la-pol-sac-essential-politics-updates-california-decriminalizes-prostitution-1474918476-htmlstory.html
Senate Bill 1322: https://leginfo.legislature.ca.gov/faces/billTextClient.xhtml?bill_id=201520160SB1322
recent interview with KCRA: http://www.kcra.com/article/why-author-of-new-ca-law-calls-editorals-comments-irresponsible/8550865
Source URL: https://calwatchdog.com/2017/01/04/assemblymans-column-new-child-prostitution-law-faces-bipartisan-backlash/
---