Republican state Sen. Nguyen silenced by Democratic lawmakers
by James Poulos | February 23, 2017 5:21 pm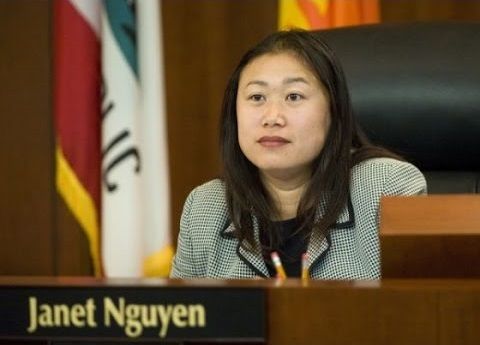 In an unusual scene playing against type for California's legislative Democrats, a party leader in the state Senate ordered sergeants to remove his Republican colleague state Sen. Janet Nguyen, R-Garden Grove.
Interrupting Nguyen's remarks on the late Tom Hayden, state Sen. Ricardo Lara, D-Bell Gardens, "gave the floor to Sen. Bill Monning, D-Carmel, who said she was out of order. Nguyen continued to speak for several minutes, even as Lara repeatedly asked her to take a seat, before eventually ordering the sergeants to remove her," the Sacramento Bee reported[1]. 
Lawmakers appeared to have expected a more placid event remembering Hayden, a storied and controversial former state senator who famously objected to the Vietnam War. "Nguyen, who was brought to the United States as a Vietnamese refugee when she was a child, said she wanted to offer 'a different historical perspective' on what Hayden and his opposition to the war had meant to her and other refugees," the Los Angeles Times observed[2].
Dan Reeves, chief of staff for Senate President Pro Tem Kevin de León, D-Los Angeles, explained the dust-up by warning that Lara was merely following parliamentary procedure. "Nguyen was told that she could not make her remarks when she did because Hayden had never impugned her, but that she would be allowed to speak on condition of the file at the end of session," as the Bee noted.
Sharp comparison
Nevertheless, Republicans did not hesitate to cast the brusque treatment of Nguyen as a more galling and unjustifiable example of the recent action taken on the floor of the U.S. Senate to cut short the remarks of Sen. Elizabeth Warren, D-Mass. "Outraged, the Senate GOP Caucus began circulating video footage and repurposing the popular hashtag #shepersisted — created after U.S. Sen. Elizabeth Warren was silenced while trying to read a letter from Coretta Scott King, Martin Luther King Jr.'s widow, on the Senate floor," according[3] to the San Jose Mercury News. 
California Republicans have worked to reverse trends over the past decade showing a growing demographic disadvantage among nonwhite residents, with Nguyen's constituency a relative bright spot. "Vietnamese voters in Orange County have been consistently Republican, and this is true for foreign-born Vietnamese who are 13-points more Republican," Capitol Weekly noted[4]. "But among U.S.-born Vietnamese, this flips to a 20-point Democratic advantage. The data also shows that racially polarized voting among these populations is strongest among first-generation voters, and dissipates as voters get into third and fourth generations where the factors of ethnicity and national heritage are more diluted."
A lingering story
The fallout from the ordeal was set to continue into the remainder of the month. The California Senate Republican Caucus has demanded an investigation, with de León adopting a cautiously defensive position. "He said the senator violated parliamentary procedure and that she ignored requests by the presiding officer to follow the rules," the Mercury News noted, promising "he would speak with Nguyen and Fuller to find out what went wrong" in the incident.
Several twists and turns in the sequence of events may have led to a swift escalation. "Nguyen stood and began her speech in Vietnamese before switching to English," the Associated Press detailed[5]. "Majority Leader Bill Monning of Carmel she was speaking out of order. Her microphone was shut off, but she continued speaking." 
Nguyen recently made Sacramento news for invoking her life experience in a different way, abstaining from a vote on the state Senate's recent resolution condemning the White House's travel ban applicable to individuals from several predominantly Muslim countries. Nguyen, the Mercury News reported[6], "said she sympathized with refugees. 'But in the end,' she said, 'the debate is about national security.'" 
Endnotes:
reported: http://www.sacbee.com/news/politics-government/capitol-alert/article134515314.html
observed: http://www.latimes.com/politics/essential/la-pol-ca-essential-politics-updates-a-state-senator-is-removed-from-the-1487881031-htmlstory.html
according: http://www.mercurynews.com/2017/02/23/gop-state-senator-a-vietnamese-refugee-removed-from-california-senate-floor-after-criticizing-late-senator/
noted: http://capitolweekly.net/california-foreign-born-voters/
detailed: http://sanfrancisco.cbslocal.com/2017/02/23/california-gop-lawmaker-is-removed-during-speech-criticizing-tom-hayden/
reported: http://www.mercurynews.com/2017/01/30/california-senate-trump-travel-ban-desecrates-our-american-values/
Source URL: https://calwatchdog.com/2017/02/23/republican-state-sen-nguyen-silenced-democratic-lawmakers/
---