Trump's sister anticipated immigration headache roiling California sheriffs
by Chris Reed | April 10, 2017 8:30 am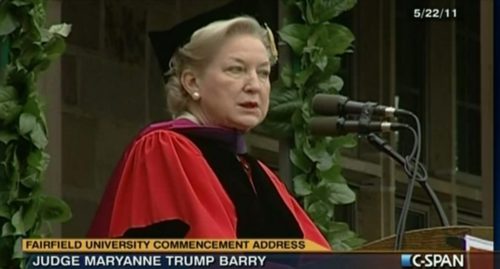 An immigration-enforcement headache anticipated by President Trump's sister — federal appellate court Judge Maryanne Trump Barry[1] — is roiling law enforcement authorities in California.
They say federal court rulings impede their ability to cooperate with demands[2] from Attorney General Jeff Sessions that they cooperate more fully with Immigration and Customs Enforcement in turning over undocumented immigrants with criminal records.
At issue is how long jails and prisons can hold undocumented immigrants for pickup by ICE agents after their sentences are completed. The present practice in California is to give agents up to 48 hours. But especially in heavily populated areas with many jails — such as the Los Angeles region — ICE agents struggle to meet this deadline in picking up criminals set to be released.
Last month, Sessions blasted local authorities for being unwilling to hold these inmates up to 96 hours — four days — after their scheduled release and said failing to do so amounted to defiance of the federal government. A list released by the Justice Department cited eight California law enforcement agencies that it said had "refused" detainer requests[3]: the Los Angeles County Sheriff's Department, the Los Angeles Police Department and local jailers in Alameda County, Madera County, Santa Clara County, Sacramento County, Santa Barbara County and the city of Anaheim.
Sheriffs say federal court ruling blocks longer jail detentions
But the California State Sheriffs' Association says that only giving ICE 48 hours to get released criminals is not a matter of defiance. It's to avoid costly lawsuits.
Association officials cited U.S. Magistrate Judge Janice M. Stewart's 2014 ruling[4] in a case from Clackamas County, Oregon, in which an undocumented immigrant accused of domestic violence, Maria Miranda-Olivares, was detained beyond the normal release time at ICE's request. Stewart cited a federal appellate court ruling from earlier in 2014 that said ICE requests were just that — requests — and were not legally binding. She ruled that Miranda-Olivares could sue Clackamas County for unlawful detention.
The circumstances of the appeals case — Galarza v. Szalczyk[5] — were somewhat different than the Oregon case. It dealt with a U.S. citizen who was detained at length by local authorities in Lehigh County, Pennsylvania, then released by ICE agents after they determined he was a citizen, as claimed.
The 3rd U.S. Circuit Court of Appeals overturned a lower court ruling that threw out Ernesto Galarza's lawsuit alleging illegal detention by Lehigh County. (Galarza had previously settled his lawsuit against ICE and its agents.) The opinion, written by Judge Julio M. Fuentes, cited a long list of precedents in which requests from ICE and its predecessor agency, the Immigration and Naturalization Service, were treated by courts and the federal agency itself as nonbinding. Fuentes' key finding:
"Under the Tenth Amendment, immigration officials may not order state and local officials to imprison suspected aliens subject to removal at the request of the federal government. Essentially, the federal government cannot command the government agencies of the states to imprison persons of interest to federal officials."
Trump's sister warned of 'enormous ramifications'
But one of the three appellate judges who heard the Galarza appeal — Trump's sister — dissented from Fuentes' ruling and lamented the fact that the Obama administration had not filed an amicus brief:
"I am deeply concerned that the United States has not been heard on the seminal issue in this appeal, an issue that goes to the heart of the enforcement of our nation's immigration laws. And make no mistake about it. The conclusion reached by my friends in the Majority that immigration detainers issued pursuant to 8 C.F.R. § 287.7 do not impose any obligation on state and local law enforcement agencies to detain suspected aliens subject to removal, but are merely requests that they do so, has enormous implications and will have, I predict, enormous ramifications," Barry wrote.
Sacramento County Sheriff Scott Jones told[6] the Los Angeles Times that state sheriffs had urged the Obama administration without success to appeal the Oregon ruling. Jones and other sheriffs interviewed by the Times said they had explained the bind they were in to Trump administration officials. But that didn't deter Sessions from his criticism.
Endnotes:
Judge Maryanne Trump Barry

: https://www.fjc.gov/history/judge/barry-maryanne-trump

demands

: https://www.nytimes.com/2017/03/20/us/politics/ice-report-undocumented-immigrants.html

requests

: http://www.latimes.com/local/lanow/la-me-ln-ice-detainer-request-list-20170320-story.html

ruling

: http://www.oregonlive.com/pacific-northwest-news/index.ssf/2014/04/federal_ruling_sparks_halt_on.html

Galarza v. Szalczyk

: http://www2.ca3.uscourts.gov/opinarch/123991p.pdf

told

: http://www.latimes.com/politics/la-pol-sac-california-sessions-response-20170327-story.html
Source URL: https://calwatchdog.com/2017/04/10/trumps-sister-anticipated-immigration-headache-roiling-california-sheriffs/
---