GOP lawmakers bet bullet train bad news will continue
by Chris Reed | July 24, 2017 12:43 pm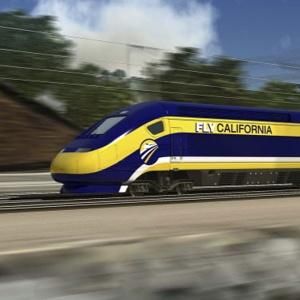 Will news about the California bullet train's cost overruns and missed construction deadlines[1] remain the norm for years to come? Or will the state's $64 billion project find a groove and make considerable progress in coming years?
These are the key questions prompted by a concession that some Republican state lawmakers gained in return for helping Gov. Jerry Brown keep alive[2] the state's greenhouse-gas emissions cap-and-trade program until 2030. The provision could eventually end the state's high-speed rail project, leaving a massive white elephant in the agricultural fields of the Central Valley. Or the concession could end up yielding a second vote validating a project first approved by state voters in 2008[3].
The concession – secured by Assembly Republican leader Chad Mayes of Yucca Valley – places a constitutional amendment drafted by Mayes before state voters in June 2018. If passed, it would lead to a one-time up-and-down vote in the Legislature in 2024 on whether to continue allowing the use of cap-and-trade revenue to fund the project. But the threshold wouldn't be a simple majority. A two-thirds vote would be required to allow continued use of the funds – presumably giving GOP lawmakers a prime chance to pull the plug.
So far, the funding has been substantial in one sense but marginal in the big picture of trying to pay for a $64 billion project. After the fifth year of cap-and-trade distributions, about $1 billion has gone to the California High-Speed Rail Authority, with another $500 million expected this fiscal year. But it is considered crucial because it is the only new funding source Brown has found for the project, which has been unable to gain outside investors because of rules banning public subsidies for bullet-train operations.
Rail authority chair Dan Richard says he isn't worried about a public veto in seven years: "By 2024, we're going to be deep into construction. We're going to be on the verge of opening the first service. We'll be seeing Google and others making massive investments in areas around high-speed-rail stations. The case will be there for the importance of continued funding," he told the San Francisco Chronicle.
The authority's 2016 business plan said the state expected to have $21 billion in hand from state bonds, federal grants and cap-and-trade funds to build a segment from San Jose heading south.
Feds expect cost overrun of 48% or more on first segment
But Mayes and other GOP lawmakers are betting that from here until 2024, the bad news about the project will never stop.
Lawyers for the Central Valley farmers and the government and civic officials they represent in lawsuits against the state government like to point out that – apart from court victories allowing the project to continue to spend public monies[4] – there has been no substantial encouraging news about the project in years.
In January, the Los Angeles Times reported [5]that it had obtained a confidential Federal Railroad Administration risk analysis that predicted a cost overrun of 48 percent or more on the initial 118-mile segment in the Central Valley. What the Brown administration has been saying would cost $6.4 billion is instead likely to be $9.5 billion to $10 billion, federal officials warned.
The idea that voters will be pleased with what they see in 2024 could be difficult to square with what rail authority officials told a visiting congressional delegation[6] in August 2016: that construction is expected to stop in the middle of an almond orchard 30 miles northwest of Bakersfield when the money runs out.
This is contrary to promises made to voters in 2008 to get them to provide $9.95 billion[7] in bond seed money for the project. They were guaranteed no construction would begin until the state could guarantee its initial segment would have financial viability without any more train tracks being laid.
Endnotes:
missed construction deadlines

: http://www.latimes.com/local/california/la-me-bullet-cost-overruns-20170106-story.html

keep alive

: http://www.latimes.com/politics/la-pol-ca-california-climate-change-vote-republicans-20170717-story.html

state voters in 2008

: https://ballotpedia.org/California_Proposition_1A,_High-Speed_Rail_Act_(2008)

continue to spend public monies

: http://www.latimes.com/local/california/la-me-bullet-train-ruling-20170425-story.html

reported

: http://www.latimes.com/local/california/la-me-bullet-cost-overruns-20170106-story.html

visiting congressional delegation

: http://www.latimes.com/local/california/la-me-bullet-hearing-20160829-snap-story.html

provide $9.95 billion

: https://ballotpedia.org/California_Proposition_1A,_High-Speed_Rail_Act_(2008)
Source URL: https://calwatchdog.com/2017/07/24/gop-lawmakers-bet-bullet-train-bad-news-will-continue/
---