Officials wrestle with ways to boost California's voter turnout
by Steven Greenhut | October 4, 2017 8:17 am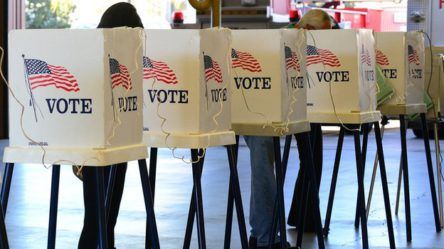 SACRAMENTO – Does California have a voter turnout problem[1]?
The state's voter-turnout rates hit the skids[2] in the 2014 election cycles, with only 25 percent of registered voters casting a ballot in the June primary and only 42 percent voting in the November general election. State officials viewed the situation as something of a crisis and proposed a variety of reforms to encourage greater participation.
But voter turnout rebounded[3] in the 2016 general election, with 14.6 million people voting during the Donald Trump v. Hillary Clinton race. The raw numbers were record-setting, although the percentage of voters (75 percent of those registered, and 59 percent of those eligible) was lower than in the 2008 presidential election, during Barack Obama's race against John McCain.
There's little question that a high-profile national election[4] drives far more interest and participation than midterm contests, but state election officials still wonder about ways to encourage more Californians to head to the polls – or drop a ballot in the mail – during lower-profile elections and especially for local races.
There's much debate over whether a new elections-related law will have a significant effect on the number of Californians who turn out to vote. Gov. Jerry Brown recently signed the "Prime Time Primary Act,"[5] which moves all of California's primary elections from June to March.
Supporters were concerned that the June date rendered the state's massive 55 electoral votes largely meaningless because the parties typically know the likely presidential candidate by then. Moving the primary to March – provided other states don't play leapfrog and move up their dates, also – will make California more of a national player. But it's uncertain what it might do to voting rates.
"The only other time that a midterm California primary was earlier than June was 2002, when it was in early March," wrote elections expert Richard Winger in Ballot Access News[6]. "The 2002 California primary had the lowest turnout of any California primary in history, up until that point. Only 34.6 percent of the registered voters cast a ballot."
The 2014 midterm voting rates were even lower, as noted above. Winger noted[7] that was the first time a midterm primary election was held after California voters approved the "Top Two" primary system in which the primary includes candidates from all parties on one ballot – and then the top-two vote-getters head to the general regardless of their party affiliation.
Supporters of the new system[8] argue that it encourages voter participation because it encourages candidates to reach out beyond their respective parties' base voters and make an appeal to all voters from all affiliations. But critics of "top two," including Winger, argue that it suppresses turnout because it keeps smaller parties off the general-election ballot. "Because top-two doesn't affect presidential primaries or presidential elections, the best evidence that top-two has hurt turnout is the midterm year of 2014," Winger told me. "Whereas in November 2010, California voters had six parties to choose from for all the statewide offices, in Nov. 2014 all California voters had to vote for a Rep or a Dem or they couldn't vote at all. That really hurt turnout."
California lawmakers have passed a variety of other changes affecting voting and registration including laws that "include pre-registration for 16-year-olds, conditional same day voter registration at certain locations, a new Motor Voter program to automate voter registration for individuals when obtaining or renewing identification cards or driver's licenses with the DMV and a new option for counties to conduct all-mailed ballot elections and use vote centers and ballot drop-off locations prior to election day rather than operate polling places only on election day," according to the Little Hoover Commission[9].
Little Hoover, the state's independent watchdog agency[10], held a hearing Sept. 28 as part of its ongoing study of statewide voter participation trends and the effect of these recently enacted election reforms. That hearing focused specifically on Los Angeles County, which has more registered voters (5.2 million) than any other jurisdiction in the country. Most testimony centered on the need for "process" changes that make it easier for eligible voters to register and cast a ballot.
"Unfortunately, the lowest voter turnout that we often experience comes during local and municipal elections, which are typically conducted during the odd years," explained Dean Logan, Los Angeles County's registrar-recorder and county clerk[11]. "While the importance of local elections is beyond debate, voter participation in these elections has not followed suit."
He argued that the 2015 passage of Senate Bill 415, the California Voter Participation Act, would eventually help boost these numbers. The measure "prohibits cities, school districts and other special districts from holding elections in odd years if those elections showed worse voter turnout than statewide elections in the past," according to the San Gabriel Valley Tribune[12]. The goal is to keep these districts from holding elections when few people are paying attention.
Kathay Feng, executive director of California Common Cause, argued[13] in her testimony that problems at polling places – e.g., poorly accessible locations with insufficient parking, poorly functioning ballot readers, an inadequate number of bilingual poll workers, etc. – contributes to the problem. She pointed to a Common Cause study concluding that "California's declining voter turnout is cause for concern, warranting significant and immediate action."
The report touted election reforms in Colorado, which include same-day registration along with a vote-by-mail system (every registered voter automatically is mailed a ballot) with plenty of drop boxes and vote centers. Brown last year signed SB450[14], which beginning in 2018 will require that all registered voters be sent a ballot 28 days before an election, so Californians will soon see whether such an approach does much to boost voter participation.
Some election observers, however, argue the problem is more fundamental than the process by which ballots are distributed and collected. For instance, some election experts blame the state's poor level of representation[15] for low turnout rates. California has, by far, the largest number of voters for each elected politician, meaning they have far less ability to influence an election or a policy decision.
Others blame the state's dominance by one party, which means that fewer statewide elections have any significant policy ramifications. Most legislative districts have been carved up to so heavily favor one party or the other that there's little question which party will hold the seat. Still others note that political races and initiatives are dominated by special interests, which breeds cynicism. A 2015 public-opinion survey[16] from the nonpartisan Public Policy Institute of California concluded that "Low trust in government is the top reason for not registering."
A comprehensive look at California's voter-turnout situation might also address this question: Are many Californians skipping the vote not because of impediments to receiving and casting a ballot – but because they don't think their vote really matters?
Steven Greenhut is Western region director at the R Street Institute. Write to him at [email protected].
Endnotes:
voter turnout problem: http://www.scpr.org/news/2016/01/29/57090/why-don-t-more-californians-vote/
hit the skids: http://www.ppic.org/publication/voter-participation-in-california/
rebounded: http://www.capradio.org/articles/2016/12/16/record-high-california-voter-turnoutsort-of/
national election: http://thehill.com/homenews/state-watch/324206-new-report-finds-that-voter-turnout-in-2016-topped-2012
"Prime Time Primary Act,": http://www.sos.ca.gov/administration/news-releases-and-advisories/2017-news-releases-and-advisories/governor-brown-signs-prime-time-primary-act-move-californias-primary/
Ballot Access News: http://ballot-access.org/2017/09/16/california-legislature-passes-bill-moving-primaries-to-march/
Winger noted: https://ivn.us/2017/09/27/california-moves-primary-elections-june-march/
the new system: https://ballotpedia.org/Top-two_primary
according to the Little Hoover Commission: http://www.lhc.ca.gov/report/voter-participation
independent watchdog agency: http://www.scpr.org/news/2016/01/29/57090/why-don-t-more-californians-vote/
explained Dean Logan, Los Angeles County's registrar-recorder and county clerk: http://www.lhc.ca.gov/sites/lhc.ca.gov/files/CurrentStudies/VoterParticipation/WrittenTestimony/LoganSep2017.pdf
San Gabriel Valley Tribune: http://www.sgvtribune.com/2016/10/31/a-bill-aimed-at-increasing-voter-participation-in-la-county-is-creating-a-lot-of-confusion-frustration/
argued: http://www.lhc.ca.gov/sites/lhc.ca.gov/files/CurrentStudies/VoterParticipation/WrittenTestimony/FengSep2017.pdf
SB450: http://www.sos.ca.gov/administration/news-releases-and-advisories/2016-news-releases-and-advisories/governor-brown-signs-landmark-election-reform-bill/
representation: http://www.ocregister.com/2011/04/16/steven-greenhut-how-to-dilute-the-power-of-politicians/
survey: http://www.ppic.org/publication/voter-participation-in-california/
Source URL: https://calwatchdog.com/2017/10/04/officials-wrestle-ways-boost-californias-voter-turnout/
---