Tom Steyer impeachment push sets him up for Feinstein challenge
by Chris Reed | November 10, 2017 8:09 am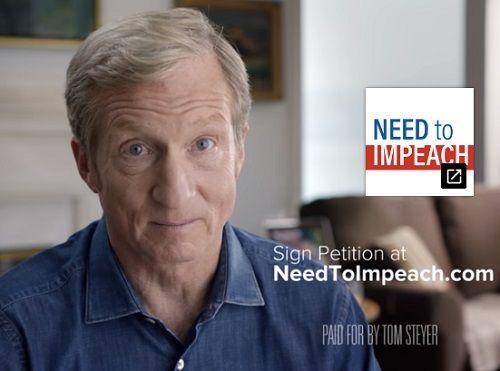 Veteran California Sen. Dianne Feinstein's bid for re-election could prompt a challenge from a second fellow Democrat – San Francisco hedge fund billionaire turned activist Tom Steyer – who also believes she's insufficiently opposed to President Donald Trump.
California Senate President Kevin de León, D-Los Angeles, has campaigned across the state in the month since announcing he would challenge[1] Feinstein, who at 84 is the oldest U.S. senator and who has been blasted by progressives for saying in August that it was possible Trump might end up being a "good president."[2]
On Thursday, de León, who is 50, won the endorsement [3]of four Democratic supervisors in Feinstein's home town of San Francisco – Jane Kim, Hillary Ronen, Aaron Peskin and Norman Yee.
That came four days after the Sacramento Bee posted a scathing piece[4] by columnist Marcos Bretón that declared that white San Francisco Democrats acted as gatekeepers blocking the ascension of talented Latinos like de León.
"For all the self-congratulatory proclamations of California as a progressive haven, the state is not as cool as it thinks it is," Bretón wrote. "The traditional paths to power in California have been closely guarded by a Bay Area pecking order heretofore off-limits to Latino candidates."
National TV ad sends name recognition soaring
But Steyer is coming off an even better month than de León – thanks to an unprecedented political maneuver that's sent his name recognition soaring and prompted excitement from progressives.
Steyer paid for a $10 million national ad buy for a commercial in which he personally urges Americans to support his effort to impeach Trump.
"Donald Trump has brought us to the brink of nuclear war, obstructed justice, and taken money from foreign governments. We need to impeach this dangerous president," he somberly intones in the ad.
Steyer, who is 60, told Politico[5] on Thursday that more than 1.9 million Americans had signed his online petition calling for the president's ouster and that he was so heartened by the response that he would spend another $10 million to air the ads.
While Steyer has also shown interest in running for governor next year or even president in 2020, leading a push for Trump's impeachment seems an ideal start for a run against an incumbent Democratic senator accused of being soft on Trump.
Footage of the August event in San Francisco in which Feinstein made her remarks would make for potent primary attack ads in a state in which Democratic delegates at a May party convention gleefully chanted[6] "F— Trump."
That intense sentiment is hard to square with Feinstein's remarks to a crowd at the Commonwealth Club in San Francisco: "Look, this man is going to be president, most likely for the rest of this term. I just hope he has the ability to learn, and to change. And if he does, he can be a good president. And that's my hope."
Steyer's impeachment push won him national attention even before his ad campaign began. An Oct. 11 New York Times story[7] noted how the prolific Democratic fund-raiser had sent a letter to every congressional Democrat's office and to the party's Senate and House campaign committees urging them to make a pledge to impeach Trump central to their 2018 campaigns.
The story noted that while impeachment was very unlikely because of Republican control of Congress and the view of many Democratic leaders that it was an energy-sapping distraction[8], polling showed 70 percent of Democrats nationally backed impeachment.
The Times account also noted Steyer's unsubtle dig at Feinstein in his letter: "It is clear for all to see that there is zero reason to believe 'he can be a good president,'" as Feinstein said in August.
Endnotes:
would challenge

: https://www.kevindeleon.com/

"good president."

: https://www.politico.com/story/2017/08/30/dianne-feinstein-trump-presidency-242180

endorsement

: http://www.sfchronicle.com/politics/article/4-SF-supervisors-back-de-Leon-against-Feinstein-12346217.php

scathing piece

: http://www.sacbee.com/news/local/news-columns-blogs/marcos-breton/article182660766.html

told Politico

: https://www.politico.com/story/2017/11/09/tom-steyer-trump-impeachment-ads-244746

gleefully chanted

: https://www.liveleak.com/view?i=190_1495393976

New York Times story

: https://www.nytimes.com/2017/10/11/us/tom-steyer-trump-impeachment.html

distraction

: https://www.politico.com/story/2017/11/01/trump-impeachment-talk-pelosi-244336
Source URL: https://calwatchdog.com/2017/11/10/tom-steyer-impeachment-push-sets-feinstein-challenge/
---