Roll Call: 5 California House incumbents at risk of election defeat
by Chris Reed | November 28, 2017 8:22 am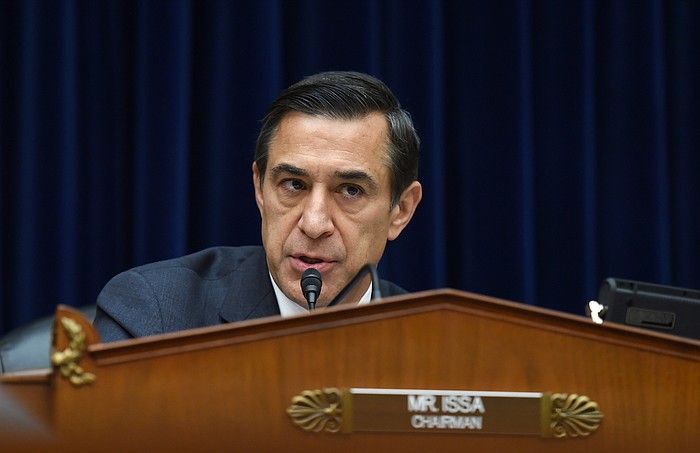 The latest update of Roll Call's Inside Election[1] analysis says five California House incumbents face difficult re-election bids, and they're all Republicans. This reflects national polls[2] that suggest Democrats may regain control of the House in 2018 because of the unpopularity of President Donald Trump. Tens of millions of dollars in super PAC funds are expected to go to these Republicans' challengers.
Rep. Darrell Issa, R-Vista, is rated as a toss-up to win a 10th term. His 49th District covers north and northwest San Diego County and south Orange County. Last election, Issa defeated lawyer and retired Marine Col. Doug Applegate by 1,621 votes – the smallest margin of victory of any House race in 2016.
Applegate is running again [3]and is joined by at least three fellow Democrats: San Juan Capistrano environmental lawyer Mike Levin[4], Rancho Santa Fe businessman Paul Kerr[5] and Del Mar native Sara Jacobs[6], a former official in the Obama State Department and the granddaughter of Qualcomm founder Irwin Jacobs. Levin has a solid lead[7] in fundraising, according to the most recent reports.
Issa has sought to distance himself from Trump and to present himself as more of a moderate, but his Vista office has been the target of dozens of protests[8] over the past year.
Rep. Dana Rohrabacher, R-Huntington Beach, is rated as being in a "tilt GOP" race – defined by Roll Call as an essentially even race in which Rohrabacher may have a very small edge to win his 16th term in the House. Rohrabacher's 48th District covers most of coastal Orange County and some inland communities.
Rohrabacher won 58 percent to 42 percent in 2016 over Democrat Suzanne Savary, a retired USC professor and business owner. But he's since had a rough year in the national media over his unusual enthusiasm for Russia and friendships with Russian officials. A Nov. 21 New York Times story noted that "the Kremlin likes him so much it gave him a code name[9]."
Several Democrats are expected to challenge Rohrabacher in 2018. The one who appears to have generated the most excitement [10]among national party officials is Hans Keirstead[11], a Laguna Beach resident who is a stem cell pioneer and entrepreneur. But Keirstead trails Laguna Beach businessman Harley Rouda in fundraising, according to[12] the most recent reports.
Multiple Democrats line up to challenge each incumbent
Three other California House GOP incumbents are rated as having 2018 "lean" in their direction – meaning that while a very close race is likely, they appear to have a slight advantage.
Rep. Ed Royce, R-Fullerton, is seeking a 14th term. His 39th District is centered in central northeast Orange County, with some communities in south Los Angeles County and a sliver of San Bernardino County. In 2016, he won by 14 percent over Democrat Brett Murdock, a former Brea mayor.
He's also likely to face several Democratic challengers. The list includes former Obama administration official Sam Jammal, philanthropist Gil Cisneros, pediatrician Mai Khan and Villa Park health insurance executive Andy Thorburn, who has a huge lead[13] in fundraising because he loaned his campaign[14] $2 million.
Rep. Steve Knight, R-Palmdale, is seeking a third term. His 25th District covers northern Los Angeles County and a chunk of Ventura County. In 2016, he won by 6 percent over Democratic attorney Bryan Caforio, who is running again[15]. There are several other Democrats running, but it is Caforio and anti-homelessness activist Katie Hill who have gotten the most financial support. Caforio raised more funds[16] than Knight over a recent three-month stretch, and Hill raised nearly as much.
Rep. Jeff Denham, R-Turlock, is seeking his fifth term. In 2016, he won his seat in the 10th District in the northern San Joaquin Valley by 2.4 percent over farmer Michael Eggman. At least eight Democrats[17], including former House candidate TJ Cox, are running against Denham. Josh Harder[18], a venture capitalist, has a huge early lead[19] in fundraising, with Cox a distant second.
Denham has already been targeted with harsh TV ads[20] paid for by a super PAC linking him to bankers associated with the Great Recession, which hit the Central Valley particularly hard.
Endnotes:
Inside Election

: http://media.cq.com/electionguide/house/CA/

national polls

: https://www.realclearpolitics.com/epolls/other/2018_generic_congressional_vote-6185.html

running again

: http://www.applegateforcongress.com/

Mike Levin

: http://www.sandiegouniontribune.com/news/politics/sd-me-levin-runs-20170308-story.html

Paul Kerr

: http://www.latimes.com/politics/essential/la-pol-ca-essential-politics-updates-darrell-issa-challenger-paul-1499807312-htmlstory.html

Sara Jacobs

: https://timesofsandiego.com/politics/2017/11/16/sara-jacobs-qualcomm-founder-kin-is-4th-democrat-to-challenge-issa-in-2018/

solid lead

: https://www.opensecrets.org/races/summary?id=CA49

dozens of protests

: http://www.sandiegouniontribune.com/communities/north-county/sd-no-weekly-demonstrations-20170830-story.html

code name

: https://www.nytimes.com/2017/11/21/us/politics/dana-rohrabacher-putin-trump-kremlin-under-fire.html

excitement

: https://www.washingtonpost.com/news/speaking-of-science/wp/2017/06/20/he-broke-ground-in-stem-cell-research-now-hes-running-for-congress/?utm_term=.e59aadb31f49

Hans Keirstead

: https://hansforca.com/home/

according to

: https://www.opensecrets.org/races/summary?id=CA48

huge lead

: https://www.opensecrets.org/races/summary?id=CA39

loaned his campaign

: http://www.latimes.com/politics/essential/la-pol-ca-essential-politics-updates-new-challenger-for-rep-ed-royce-kicks-1501622135-htmlstory.html

running again

: http://www.latimes.com/politics/essential/la-pol-ca-essential-politics-updates-another-democratic-challenger-for-rep-1511216793-htmlstory.html

raised more funds

: http://www.latimes.com/politics/essential/la-pol-ca-essential-politics-updates-two-democratic-challengers-raise-as-1508172151-htmlstory.html

eight Democrats

: https://ballotpedia.org/California%27s_10th_Congressional_District_election,_2018

Josh Harder

: https://www.cnbc.com/2017/06/11/vc-josh-harder-is-running-for-congress-in-californias-10th-district.html

huge early lead

: https://www.opensecrets.org/races/summary?id=CA10

harsh TV ads

: http://www.latimes.com/politics/essential/la-pol-ca-essential-politics-updates-former-congresswoman-s-pac-is-running-1502415514-htmlstory.html
Source URL: https://calwatchdog.com/2017/11/28/roll-call-5-california-house-incumbents-risk-election-defeat/
---