With brutal fire season expected, fight over how to respond has never stopped
by Chris Reed | April 10, 2018 8:31 am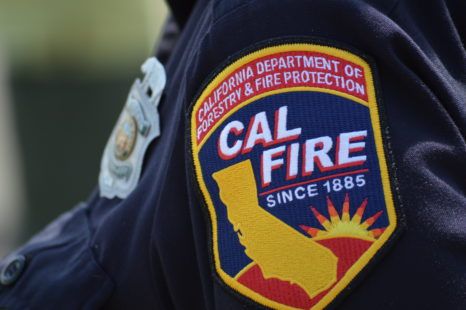 California's perilous experiences with massive wildfires reached an all-time peak in 2017, as the state suffered through its worst blaze in recorded history – the Thomas Fire[1] – and five of its 17[2] worst fires ever. State officials estimated that about 9,000 wildfires from northern San Diego County to the Oregon border killed at least 46 people and burned about 11,000 structures.
With drought conditions returning[3] in much of the state – and with millions of dead trees in forests ready to serve as an accelerant for new wildfires – 2018 is shaping up as another deadly, dangerous year for the Golden State. But it's also shaping up as another year of constant second-guessing over state and federal efforts that critics say focus too much on fire suppression instead of fire prevention.
Cal Fire and the U.S. Forest Service – responsible for dealing with fires in more than half of California's total land mass – have historically devoted more of their resources to being able to mobilize quickly to respond to fires than to acting beforehand to limit the likelihood, scope and intensity of the blazes. This is driven, critics say,[4] by the antipathy[5] of environmentalists to forest thinning efforts by logging companies, and by the perception that suppression is a more glamorous and eye-catching approach than encouraging property owners to clear dead trees and brush and to maintain defensible spaces around structures.
Cal Fire officials say they are aware of the value of forest thinning – including using "controlled burns" – and have long encouraged property owners to protect themselves by removing potential fire fuel.
But fire ecology experts say the current approach in the Golden State isn't up to the challenge posed by years of dry, hot conditions in the 21st century with little if any historical precedent in the modern era.
"We will need some very new approaches to deal with both the increasing hazard of fire and our increasing exposure to it," Max Moritz, a professor at UC Berkeley's College of Natural Resources, told[6] The San Diego Union-Tribune last year. "The situation we have created is dangerous, and without a major shift in perspective it will only get worse."
Has state's official fire strategy been ignored?
But there isn't just a gap between what experts say should be done and how state and national fire agencies use their resources. With Cal Fire, an argument can be made that there has been a lack of follow-through on a key internal mission statement.
In 2010, the state Board of Forestry and Fire Protection approved a new Strategic Fire Plan[7] for California that the Office of the State Fire Marshal's website billed as reflecting significant new changes from the previous plan put forth in 1995. It embraced a basic approach that put a heavy emphasis on prevention.
"The California Fire Plan is the state's road map for reducing the risk of wildfire. The Fire Plan is a cooperative effort between the State Board of Forestry and Fire Protection and the California Department of Forestry and Fire Protection," the website explained. "By placing the emphasis on what needs to be done long before a fire starts, the Fire Plan looks to reduce fire fighting costs and property losses, increase firefighter safety and to contribute to ecosystem health."
The intent of the plan was on display in successful efforts to persuade the state Legislature in 2011 to enact a $117 fee assessed on more than 800,000 rural property owners to pay for fire prevention efforts. State fire officials depicted the fee as crucial to efforts to minimize blazes on nearly 23 million acres of state land deemed to be in high fire risk regions.
But in October 2015 – after a series of destructive wildfires in Northern California – the Sacramento Bee reported that state officials had sat on $43 million[8] in unspent funds generated by the fee despite warnings going into that fall fire season of extreme risks in many rural areas.
State officials said they were being prudent. But the Bee compared the fire prevention special fund with other designated state accounts and found it had set aside about more than half of annual receipts, more than double the average of 25 percent in other similar specialized funds.
The fire prevention fee was suspended[9] by the Legislature last summer at the behest of a handful of Republican lawmakers who voted with Democrats to extend the state's cap-and-trade program. Going forward, revenue from cap-and-trade auctions is supposed to fund fire prevention efforts on state lands previously funded by the fee.
Endnotes:
the Thomas Fire

: https://www.washingtonpost.com/news/grade-point/wp/2017/12/15/it-was-a-view-of-hell-the-wildfire-raging-in-california-was-named-after-their-small-college-it-started-that-close/?noredirect=on&utm_term=.d8a4ade1644d

five of its 17

: https://www.washingtonpost.com/graphics/2017/national/california-wildfires-comparison/

returning

: https://qz.com/1198543/californias-drought-may-be-returning/

critics say,

: https://www.sfchronicle.com/opinion/openforum/article/Cal-Fire-must-prioritize-prevention-12321370.php

antipathy

: http://thehill.com/blogs/pundits-blog/energy-environment/308478-who-is-to-blame-for-disastrous-fires-throughout-the-usa

told

: http://www.sandiegouniontribune.com/news/environment/sd-me-wildfire-prevention-20170707-story.html

new Strategic Fire Plan

: http://osfm.fire.ca.gov/fireplan/fireplanning

sat on $43 million

: http://www.sacbee.com/news/investigations/the-public-eye/article37612905.html

suspended

: http://www.latimes.com/politics/la-pol-ca-fire-fee-suspended-20170723-story.html
Source URL: https://calwatchdog.com/2018/04/10/with-brutal-fire-season-expected-fight-over-how-to-respond-has-never-stopped/
---