Push to rebrand GOP undercut by evidence of potent anti-tax focus
by Chris Reed | June 21, 2018 8:16 am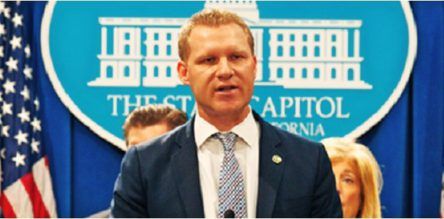 A group of moderate California Republicans that wants the party to rebrand itself as both pro-business and pro-environment and show a willingness to work with Democrats on some issues is back[1] in the news this week. Led by Assemblyman Chad Mayes (pictured), R-Yucca Valley, and supported by former Republican Gov. Arnold Schwarzenegger, the New Way California group announced the launching of a website[2] devoted to transforming the state GOP.
"There isn't an overnight fix," former Assembly GOP Leader Kristin Olsen of Modesto, a New Way board member, told the Sacramento Bee. "This is a slow journey that requires us to get out into communities."
New Way officials cited the recent news that the GOP had fallen to third[3] in state political registration behind Democrats and decline-to-state voters as evidence of the need for a new approach.
But Mayes, Olsen and their allies may have an even more uphill challenge than they think. A prototypical "New Way California" deal that Mayes cut last year when he was Assembly GOP leader arguably hasn't yielded any dividends. He helped Democratic Gov. Jerry Brown round up eight Republican state lawmakers so an extension of the state's cap-and-trade program until 2030 could receive the two-thirds support it needed – in keeping with Mayes' thesis about the party needing to alter its direction.
But Mayes' move triggered a firestorm among Republican activists who cited a state Legislative Analyst's Office letter from March 2017 forecasting that cap-and-trade could lead to a 63-cents-per-gallon[4] increase in gas prices by 2021. He was deposed as Assembly GOP leader within weeks after cutting the deal with Brown.
Meanwhile, the big concession Mayes secured in return for lining up Republican votes for cap-and-trade flopped with voters. That concession: the Legislature's vote to place what would become Proposition 70[5] on the June 5 primary election ballot. The complex measure could have given state GOP lawmakers a chance to kill new funding for the embattled state bullet-train project in 2024 by requiring that the use of cap-and-trade pollution emission fees be approved with two-thirds votes of both the Assembly and the Senate.
Gov. Brown joined the state Chamber of Commerce in backing the ballot measure. But after it was savaged by other Democrats as a stealth effort to protect polluters, Proposition 70 lost 65 percent to 35 percent.
Recall showed anger over approval of higher fuel taxes
Further undercutting Mayes' push for a rebranded GOP was another June 5 development: the recall[6] of state Sen. Josh Newman, D-Fullerton, by a 59 percent to 41 percent landslide. The recall effort was triggered by Newman's vote last year for a 10-year, $52 billion increase in vehicle fuel taxes and fees to fund road and transit projects and improvements.
This is widely seen by political analysts as evidence that the California Republicans' most traditional policy position – a sharp opposition to higher taxes – continues to be potent.
This is also evident in the ease with which a Republican-led effort to repeal the tax hikes gathered enough signatures[7] to make the November ballot.
Some Democrats depict the campaign as benefitting from a coincidental rise in gasoline prices during signature gathering in the winter and spring. But Republicans point to a recent poll showing[8] a majority of state voters are ready to scrap the tax hike and say Californians are as inclined as ever to oppose higher taxes that affect everyone – as opposed to Proposition 55[9], the successful 2016 ballot measure that renewed[10] "temporary" income tax hikes on the very wealthy.
Endnotes:
back

: http://www.sacbee.com/news/politics-government/capitol-alert/article213423124.html

website

: https://www.newwayca.org/

third

: https://www.sfchronicle.com/politics/article/Republicans-are-now-a-third-party-in-12961604.php

63-cents-per-gallon

: https://cssrc.us/issue/cap-and-trade

Proposition 70

: https://ballotpedia.org/California_Proposition_70,_Vote_Requirement_to_Use_Cap-and-Trade_Revenue_Amendment_(June_2018)

recall

: https://ballotpedia.org/Josh_Newman_recall,_California_State_Senate_(2018)

signatures

: https://www.mercurynews.com/2018/04/30/gas-tax-repeal-heading-for-the-november-ballot-campaign-says/

showing

: http://www.latimes.com/politics/la-pol-ca-usc-poll-gas-tax-20180524-story.html

Proposition 55

: https://ballotpedia.org/California_Proposition_55,_Extension_of_the_Proposition_30_Income_Tax_Increase_(2016)

renewed

: https://www.mercurynews.com/2016/10/08/proposition-55-should-california-extend-temporary-income-taxes-on-top-earners/
Source URL: https://calwatchdog.com/2018/06/21/push-to-rebrand-gop-undercut-by-evidence-of-potent-anti-tax-focus/
---