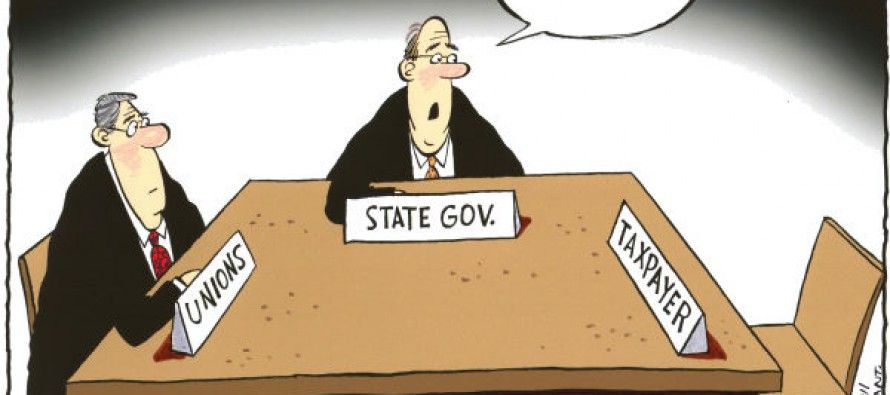 Monday marks the start of a new school year for Rebecca Friedrichs, a kindergarten teacher at Holder School in Buena Park, a Southern California city of 82,000.
The 25-year veteran of the Savannah School District is to be forgiven if she is wary of the reception she will receive from her public school colleagues.
Not just because she resigned her membership last year in the California Teachers Association, the union that represents most of the state's public school teachers.
But also because she is the lead plaintiff in a federal lawsuit, Friedrichs vs. California Teachers Association, that challenges the state's so-called "agency shop" arrangement, which  forces her to pay dues for the collective bargaining the teachers' union performs not only behalf of members, but also non-members — whether they like it or not. It is being heard in the District Court of the Central District of California, Southern Division.
Freidrichs would prefer not to pay the CTA $1,000 or so a year for its representation. But what really galls the teacher is the $350 or so of her compulsory union dues that go to support the CTA's political activities, with which she disagrees.
Indeed, the kindergarten teacher supports school vouchers, which the teachers' union has used her compulsory dues (and the dues of political dissenters among its rank-and-file) to defeat.
Similarly, she opposes measures — like Proposition 30, the $7 billion tax-increase initiative — for which CTA spent millions in union dues last year to win passage – that confer higher salaries and more generous bemefits upon teachers at the expense of everyday taxpayers.
"I think that is wrong," said Friedrichs.
So do nine other teachers, representing public school districts throughout the state, who have joined Friedrichs in the federal lawsuit against not only the CTA, but also the National Education Association (which receives a portion of their union dues) and 10 local teachers' unions. The CTA is a division of the NEA.
Center for Individual Rights
The lawsuit by Friedrichs and her fellow teachers was filed by the Center for Individual Rights, a non-profit public interest firm that specializes in civil rights, free speech and other cases affecting individual rights. CIS is working alongside the law firm Jones Day, with partner Michael A. Carvin serving as lead counsel for the plaintiffs.
Carvin argues, "Forcing educators to financially support causes that run contrary to their political and policy beliefs violates their First Amendment rights to free expression and association."
Not surprisingly, the powerful CTA disagrees. "No one is forced to join a union or to spend money on politics," said Frank Wells, a spokesman for the teachers' union. If Freidrichs or any other dissenting teacher doesn't want their compulsory dues supporting the union's political activity, he said, they can simply "opt out."
CIS maintains that opting-out is not nearly as simple as Wells suggests. It is an "often intimidating and time consuming" process politically-dissenting teachers must endure each and every year.
The public interest firm believes that Friedrichs vs. California Teachers Association eventually will find its way to the U.S. Supreme Court and Carvin, lead counsel for Friedrichs and her fellow teachers, thinks there is a very good possibility the justices will rule in the plaintiffs' favor.
His optimism is based on the majority opinion of Justice Samuel Alito in the high court's ruling last year in Knox vs. Employees Intl. Union, which held that the Service Employees International Union violated the First Amendment rights of its non-union members by forcing them to pay a 25 percent increase in union dues without their consent to help fight ballot initiatives in the state.
Wells, the CTA spokesman, suggested that the Supreme Court has previously allowed unions to offer the opt-out option to politically dissenting non-members like Friedrichs and her fellow teachers
But in Knox, the justices appeared of a different mind. "[B]y allowing unions to collect any fees from nonmembers and by permitting unions to use opt-out rather than opt-in schemes when annual dues are billed," wrote Justice Alito, "our cases have substantially impinged upon the First Amendment rights of nonmembers."
---
---
Related Articles
A series of clashes marked the two special legislative sessions tacked on this summer to address some of California's more stubborn
There are two types of states in the United States. Some are hiking taxes and others are cutting taxes. Economist
CalWatchdog.com Editor-in-Chief Brian Calle recently interviewed Wisconsin Gov. Scott Walker. This is Part 5, on winning the millennial vote. Walker is