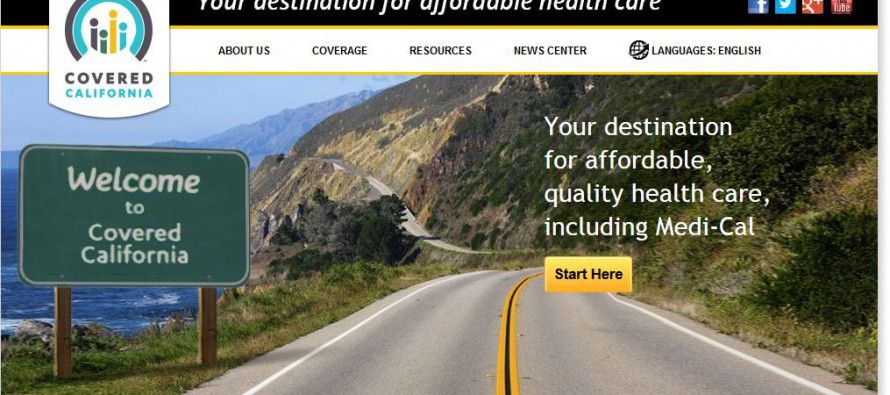 "To those who've worried, suffered in silence, hoped, and lived in a state of fear: Welcome to a new state of health. Welcome to Covered California, the place to find quality, affordable coverage, financial help for those who need it, and no one can be denied because of a previous condition."
So advertises a new television commercial for the state's health insurance exchange, which formally launched on October 1. But while the debut of Covered California hasn't been as disastrous as the Obama administration's rollout of HeathCare.gov, the federally-run Obamacare health exchange, it has not been without failings of its own.
Indeed, on launch day, Covered California's website stalled, with technical issues not unlike the "glitches" — to use President Obama's description — that that have afflicted the federal government's health insurance portal from the start.
Revisiting the Covered California website the day after its launch, the Sacramento Bee found that its technical issues remained unresolved.
"A click on the 'start' button leads to a page that takes several minutes to load," the Bee reported. "When the page does load, it's formatting appears to be faulty, and clicking through to the next step brings additional delays." So a Bee reporter phoned Covered California's customer support line, only to be greeted by a recording advising that the wait for service would be longer than 30 minutes.
Three weeks later, CoveredCa.com — the online "marketplace" where those worried, suffering in silence, and hoping for health insurance are supposed to be able to shop for a health plan that offers the benefits desire at the price they can afford — is still plagued with bugs.
Last weekend, the site was taken offline, Covered California officials said, to perform certain unspecified maintenance. And, just this past Wednesday, the website crashed on its own. Callers to Covered California customer support — those who managed to get through — were warned that the outage could last all day and all night.
Meanwhile, there are other major problems with the Covered California web site that deprive those shopping for health insurance of important information they need to make informed decisions.
Insurers
Indeed, this past Monday, three of the state's major insurers — Kaiser Permanente, Sharp Health Plan in San Diego and Western Health Advantage in Sacramento — sent a letter to the board that oversees Covered California criticizing its decision to delay posting quality ratings for health plans participating in the state health exchange.
"We strongly urge that the display of health plan quality ratings go forward as originally planned, " the insurers protested, "in the interest of both transparency to consumers and fair competition among Covered California's plan partners."
Covered California officials have faced similar complaints after pulling its online directory of doctors, which was rife with errors. The California Medical Association pointed out several errors, including the mislabeling of obstetricians as ophthalmologists and misidentifying doctors fluent in such languages as Russian or Farsi.
The directory of doctors is critical because many insurers, looking for ways to cut costs associated with participating in Covered California, have reduced their roster of physicians (and hospitals) available to consumers who enroll through the state health exchange.
That may not matter to most of those who obtain insurance through Covered California, who will accept any doctor and any hospital. But it does matter to those with more discriminating preferences in their health care.
---
---
Related Articles
Political pundits and strategists finally are taking seriously that, despite topping polls, Condoleezza Rice is not running for the U.S. Senate. The decision
Key Democrats in California's Congressional delegation broke with President Obama on refugee policy, handing Congressional Republicans a veto-proof majority vote against him. "An
A separatist Muslim rebel group in the Philippines, and the alleged supplier of weapons to State Senator Leland Yee, has signed