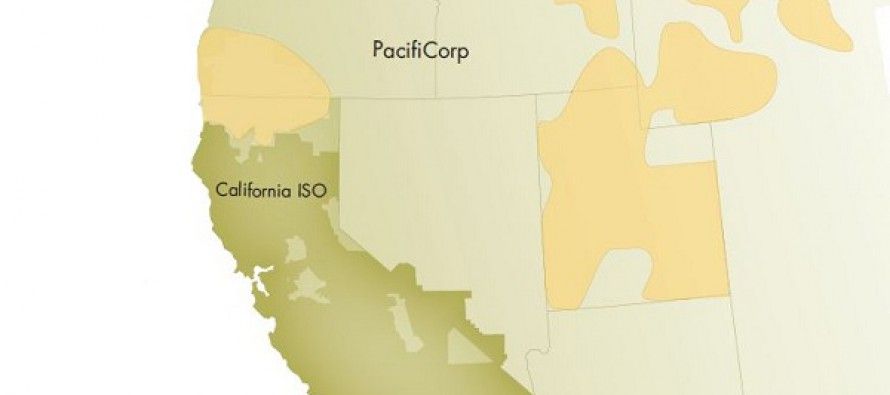 This is the first of two articles. Part 2 is here.
California is trying to create what officially is called an "energy imbalance market" to cut off an emerging daily two-hour energy-pricing crisis. The crisis isn't so much a technical problem of how to ramp up the grid fast enough, as how to cut down a sudden increase in electricity prices during the sunset hours of each day.
An energy imbalance is the difference between live demand and prearranged, scheduled resources.  To deal with that, the grid operator schedules power deliveries across regional balancing authorities to rebalance the system. California is part of the Western Interconnection Coordinating Council, which includes 33 control areas shown in the graph nearby.
In response, California's electric grid operator, the California Independent System Operator, is negotiating with the Warren Buffett-owned PacifiCorp electric power company to provide cheap hydropower to rescue California's attempt to shift to 51 percent green power by 2020 or sooner. 

On p. 10, the ISO's 2014-2016 Strategic Plan reads:
"Two years ago, the ISO identified the need for more regulated collaboration as a key strategy to help manage resources and our infrastructure effectively and cost-effectively. We are now offering to provide our existing real-time energy imbalance market, which has been in effect since 2009, as a service to other balancing authorities. The ISO is currently working with stakeholders to develop policies that will provide this service to PacifiCorp, with the potential to expand the operation to other utilities. The energy imbalance market automates optimal generation dispatch, on a five-minute basis. When the system goes into operation in 2014, the ISO and PacifiCorp are confident of being able to demonstrate that the energy imbalance market reduces costs and emissions" (boldface added).

However, an "energy imbalance market" was never envisioned in the ISO's Five Year Strategic Plan 2009-2013.
And the California Energy Commission addressed an energy imbalance market in its Integrated Energy Policy Report of 2012, but not in its 2010 report. California's energy imbalance market is a hastily improvised plan to cut off an emerging crisis.The Federal Energy Regulatory Commission has approved California's implementation of an energy Imbalance market by October 2014.

In today's California energy market, the grid operator already runs an intra-state rebalancing market to balance loads and resources within its borders.

CA 'duck chart' problem can't be ducked

An emerging problem with California's new green power grid is how to ramp up enough conventional power each day between two events: 1) when solar power is sunsetting (going dark); and 2) when the mostly nighttime wind power isn't spinning enough yet to take over.

In California, this ramping problem is called the "duck chart" problem," seen in the nearby chart, (click to enlarge) where the lines like a duck with a tail, protruding belly and beak. The "neck" area is sunset every day when conventional energy "ramps up" to replace solar power. As shown on the chart, this ramping problem becomes more pronounced from about 4:15 pm to 6:15 pm each day (between 16:15 and 18:15 pm on military time or 24 hour calculated day).

The "duck chart" shows there is a demand in California to ramp up 13,500 megawatts of conventional power in a narrow two-hour window of time at sunset each day to replace solar power going offline.That would be enough power for about 6,750,000 homes per hour.

Warren Buffet to the Rescue

An imbalancing market would be a real time backup energy market that could dispatch power within five minutes' notice.  But the primary purpose of a regional balancing market would not be to assure the delivery of ramp-up power, but rather to balance out the high prices that would result during the peak sunset hours of the day. Even green power advocates admit there is plenty of backup power available to be imported from other states. Each electric utility also has "demand management" plans in place to shift power usage to non-sunset hours to duck the "duck chart" problem.

An energy imbalance market would mainly have to rely on cheap hydropower in the Western United States to offset high green power prices and high "peaker" power prices during the sunset hours of the day. 
Ironically, California refused to classify hydropower as "renewable energy" under the AB 32, the California Global Warming Solutions Act because it didn't want such cheaper, clean power to drive green energy out of its protected position in the market.Now, cheap hydropower, much of it provided by Warren Buffett's PacifiCorp, will have to come to the rescue of the green power grid.

---
---
Related Articles
On Jan. 1 California's fracking law drills in – just as the price of oil has dropped to its lowest
Proponents of a ballot initiative that would divert high-speed rail funds to water storage projects announced on Friday that the
MARCH 28, 2011 By DAVE ROBERTS Jeff Adachi, San Francisco's elected public defender, is a modern-day Don Quixote tilting at