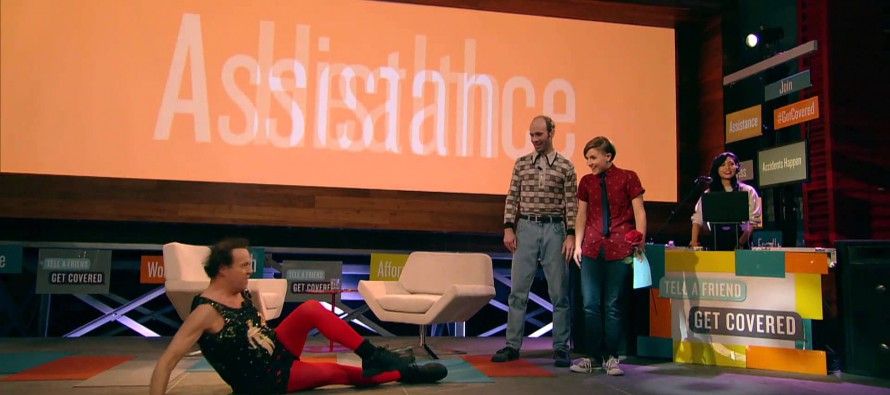 A California state senator is seeking to audit the state's Obamacare exchange after a CalWatchdog.com story revealed that $1.37 million was spent on a campaign featuring an eight-hour web stream starring a gyrating Richard Simmons.
The Jan. 16 event — now immortalized on YouTube — showed celebrity fitness trainer Simmons writhing on the ground to an MC's chant of "Get Covered, hashtag, uh-huh," a reference to Covered California, the state exchange. At one point, he snuggles up to a contortionist following a dance-off. The full YouTube is at the end of this article.
Covered California faces a $78 million deficit during the next fiscal year due to cutbacks in federal funding. State Sen. Ted Gaines, R-El Dorado Hills, learned of the $1.37 million campaign cost from the CalWatchdog.com article. He had previously sought to obtain the information from Covered California Director Peter Lee, but received no response.
"What a waste of money — oh, my gosh," Gaines said in an interview. "I looked at the video and was blown away that they would spend money on that. And for them to think that people would want to sign up for health insurance from seeing it? Give me a break."
Gaines formally requested the audit Jan. 30 in a letter addressed to the chairman of the Joint Legislative Audit Committee. It was the same committee that recently discovered the exchange's budget shortfall. The exchange was audited about a year ago. But the audit didn't reveal the deficit or analyze funds spent on public outreach, so another audit should be conducted, said Gaines' spokeswoman, Betsey Hodges.
"Covered California recently spent $1.3 million on a widely mocked infomercial featuring Richard Simmons," Gaines wrote. "I fear that this is evidence that the Exchange shows little regard for the precarious fiscal condition it faces."
Rate increase
Gaines, who is vice chairman of the Senate Standing Committee on Insurance, said Covered California didn't appear to have a plan to fill in the deficit, and he fears that policy holders will be stuck with a massive rate increase.
"It is stunning to me that a Department this new and this small could be facing a deficit this big without a plan to cover it," Gaines wrote. "In light of this deficit [and] the seemingly ill-advised informercial … an examination of the Exchange's finances is in order."
Covered California responded by saying it received a good rating from its last audit.
"We live up to any federal and state audit requirements," said Covered California spokeswoman Anne Gonzales. "We are committed to being transparent, and we welcome any opportunity to explain our financial picture to the public, including lawmakers."
Several steps have to occur before an audit. The Bureau of State Audits will determine a cost based on the scope of the work. Covered California Director Peter Lee and the general public will have a chance to respond to the proposal. And the committee will decide whether to move forward, table the request, or transfer it to another agency.
A hearing is scheduled for Feb. 11.
Covered California's budget is $399.7 million, of which $102.6 million is spent on outreach, a legislative report showed. So far, about half a million people have enrolled.
Contact Tori Richards at [email protected] and on twitter @newswriter2. This was cross-posted from Watchdog.org
The full, six-hour video is below:
---
---
Related Articles
Flanked by U.S. Interior Secretary Sally Jewell, Gov. Jerry Brown recently announced a combined $50 million in drought relief funds, much
AUGUST 18, 2010 By KATY GRIMES Editors Note: This is a revised version of a story published Tuesday and later
AUGUST 13, 2010 Earlier this week I beat up on the California High Speed Rail Authority for failing to provide