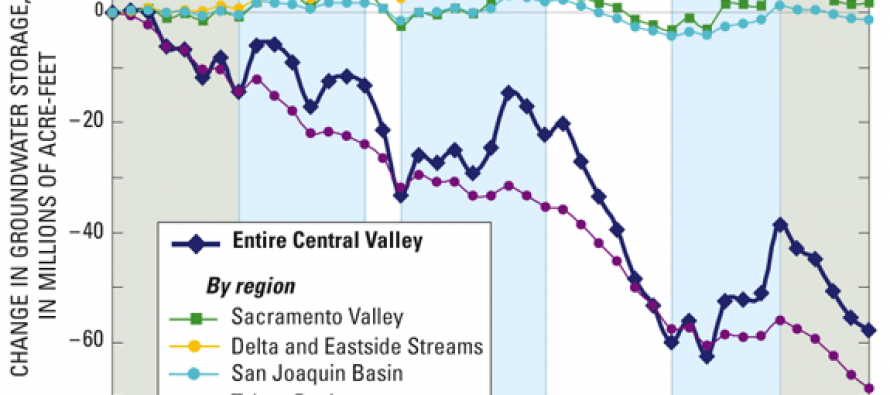 Gov. Jerry Brown, state Sen. Fran Pavley, D-Agoura Hills, and other legislators are pushing for groundwater regulation during the drought.
Since October 4, 2013, the California Water Resources Control Board has been floating a discussion draft of a Groundwater Workplan Concept Paper. The draft calls for the enforcement of groundwater quality and well design, the creation of an inter-agency task force to crack down on groundwater overdraft and ordering those responsible for nitrate contamination to provide replacement water.
Yet the historical data show that the major groundwater basins in California always have replenished after droughts, with the exception of the Tulare Basin.
1863-64: Orange County Water Basin
An example from the Civil War Era comes from arid Southern California. "Exceptional Years: A History of California Floods and Droughts," by J.M. Guinn, came out in 1890. He wrote that "the great drought of 1863-64 put an end to cattle raising as the distinctive industry of Southern California."
The only people that weathered that drought were the "Anaheim colonists" whose vineyards were kept green by groundwater. But by 1867-68, just a couple of years later, ironically the Los Angeles Basin suffered more loss of life and property from flood than drought.
Guinn recorded, "[A]lthough causing temporary damage, [the floods] fill up the springs and mountain lakes and reservoirs that feed our creeks and rivers, and supply water for irrigation during the dry season."
And instead of depleting over the years, the Orange County Water Basin grew by 225,000 acre-feet in production from 1962 to 2007. (See nearby chart.) The Basin currently enjoys an annual safe yield of 70,500 acre-feet of water and a total storage capacity of 66 million acre-feet.
The major cited source of the growth in productivity of the Orange County Water Basin is rainfall that recharged settlement basins and imported water from the Colorado River and the Sacramento Delta, mainly from home landscaping irrigation.  Imported water was recaptured and reused instead of allowed to flush to the sea; or, in the case of heavy rain, cause ruinous flooding.
1976-77 drought
The 1976-1977 drought, during Brown's first stint as governor, was in some respects worse than the current drought. According to a recent article by Adam Kotkin and Dru Marion, rainfall was 65 percent of average, reservoirs were empty and snowpack was sparse by 1977. Of 58 counties, 47 officially declared a drought emergency.
By contrast, in January this year the federal government declared only 27 counties as natural disaster areas due to drought. Just 17 water districts mostly in rural areas that are threatened with no water by summer this year.
And Lake Castaic serving Los Angeles is actually 84 percent full going into the summer of 2014.
And as shown in the nearby chart, in 1977 the Sacramento Valley, Delta and Eastside Streams and the San Joaquin Basin hardly suffered much groundwater depletion.
However, the Tulare Basin suffered drastic depletion, but recovered by about 1984. The Tulare Basin also is an exception and has been suffering from long-term depletion, which is projected to totally deplete the basin in 380 years.
Non-crisis
As these examples show, whether by natural recharge or man-made recharge, most groundwater basins have recovered from prolonged droughts and regulation would not have been necessary. There is little reason to think things will be different with the current drought.
Especially during an election year, it's no surprise that politicians want to appear to voters to be solving crises. Gov. Brown and state legislators were mentioned above.
As CalWatchdog.com has been reporting, President Obama choppered into the state to advance his solutions to the drought. California's two Democratic U.S. senators, Dianne Feinstein and Barbara Boxer, also have offered solutions.
And Republican House Speaker John Boehner  sought a piece of the drought action.
But the best "solution" might be a phrase from Poli Sci 101: benign neglect. If we just wait, as California's long history shows, the drought probably will just solve itself.
---
---
Related Articles
California's two U.S. Senators have thrown their weight behind new legislation meant to get California veterans off the streets. Federal
While the Legislature's hiring of former U.S. Attorney General Eric Holder made headlines on Thursday, the move may violate the state
Katy Grimes: With the Legislature's ongoing guaranteed votes to allow California's High Speed Rail Authority project to continue without financial