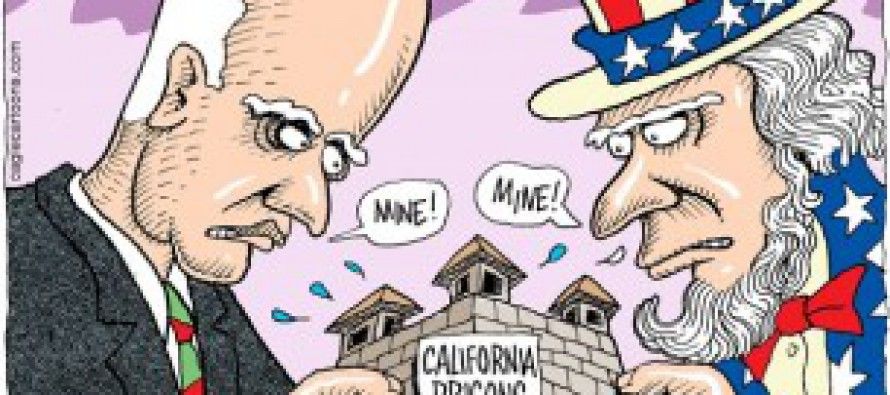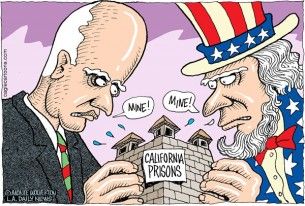 A panel of three federal judges recently granted California two additional years to bring the state's prison system into compliance with legally mandated limits on incarceration numbers.
Explained the San Jose Mercury News, "At the same time, the judges set strict guidelines for how the state must comply with the court orders, including limits on the number of inmates that can be shipped to out-of-state prisons."
That means more medical and health care, too, and the costs to match. Combined with the prison release program that's already well under way, the new rules add up to a burden that California taxpayers just can't shake off — despite claims that keeping more Californians in jail is too big a drain on state budgets.
Last summer, wrote columnist George Skelton, Gov. Jerry Brown hoped to appease the courts' demands by shipping prisoners to private and local jails, including some out of state. The plan, known as "realignment," would set taxpayers back over a billion dollars in three years.
At the time, Senate President Pro Tem Darrell Steinberg, D-Sacramento, called the governor's scheme "a waste of money." Steinberg then began working for the same sort of outcome the judges imposed.
More expensive
This year, California's compliance with judicial dictates has delivered a prison system that's only getting more expensive — despite shedding inmates. In City Journal, Heather Mac Donald tallied the costs: "California has added well over $1 billion in new prison health-care facilities," although "the prison population has dropped by more inmates than are housed in all but a few states."
Excluding experts' fees, over a decade of legal bills stemming from California's prison cases have stuck taxpayers with a tab of some $38 million. Alone, the fees raked in by the special master appointed to supervise mental health treatment add up to $48 million.
These kinds of figures are set to grow even higher. Mac Donald wrote, "California now spends $17,924 per prisoner on medical treatment — six times what Texas spends, four times what the federal government spends in its prisons, and three times New York's rate. Health care makes up one-third of California's prison budget."
Yet Steinberg called February's ruling "an opportunity to redirect hundreds of millions of precious dollars from a strategy that didn't get us anywhere to one holding out real hope that tens of thousands of people with mental health and substance abuse issues, with no housing or job skills, can become productive members of society."
That kind of talk creates the illusion that moving taxpayer dollars around will actually decrease the long-term volume of Californians flowing into "the system," not just flowing out.
Skelton pointed out that California's recidivism rate, at 70 percent, is double the national average. He attributed the imbalance to "California's old stack-'em-like-cordwood mentality."
But just last year, according to a study by the Pew Center on the States, 58 percent of California prisoners still were returned to prison within three years of release.
To be sure, as Mac Donald indicated, a "reform" that all but eliminated punishment for parole violations helped drop the prisoner count by 24,000 in two years, down to 120,000. She reported that the number now is "at the lowest level in 17 years and well below the 150,000-person 'operational' capacity of the prison system."
Yet even as municipal jails face the brunt of prisoner transfers, cities and counties now confront the additional prospect of having to arrest, try, convict and jail recidivists all on their own.
Pressure on Brown
Democrats and progressives nationwide view California as especially negligent, or worse, toward its prisoners. Brown has brushed off such criticism. California, he said, spent "billions and billions of money that's not going to child care, that's not going to schools, that's not going to higher ed. It's going to gold plate, at this point, our prisons." Back then, he declared the "prison emergency" to be "over." 
But now, Brown's January budget proposal for fiscal 2014-15, which begins on July 1, calls on California to sell $500 million of additional bonds to fund county jail construction. That's a response to concerns that realignment would push big new costs onto municipalities and counties.
Brown's proposal, however, doesn't guarantee future state funding for subsequent county jails. As a result, Brown faces dissatisfaction from both sides of the aisle.
Brown releases the May Revision to his budget in two weeks. A key thing to look for will be if he changes any of the spending assumptions for prisons.
Republicans are opposed to more government spending. Democrats hope to reduce the state's incarceration footprint. It remains to be seen how taxpayers will respond.
---
---
Related Articles
California's battle between Democrats vying to replace Sen. Barbara Boxer took on national proportions at the state party's annual convention,
Gov. Jerry Brown's administration has decided to scrap a key environmental commitment and forge ahead with a controversial, costly plan to
MAY 25, 2010 By KATY GRIMES Cities all over California are attempting to "increase revenue" to make up massive budget