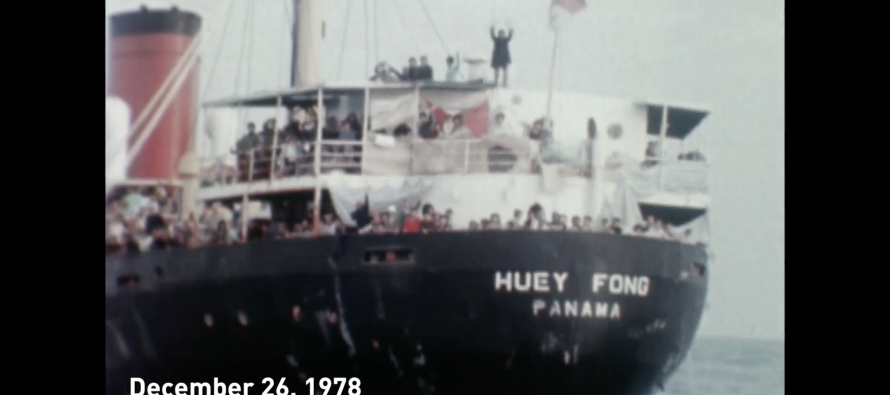 When David Tran fled Vietnam in 1978, he left his possessions behind and boarded the dilapidated freighter Huey Fong bound for Hong Kong. His fare was approximately $11,500 in today's dollars, money that was split between the Vietnamese government and the ship's operators.
An international incident ensued as Hong Kong refused to let the freighter dock for a month and it had nowhere else to call home. After intervention by both the United Nations and the United States, Tran eventually ended up in Los Angeles with less than $100 and two big things in his favor: an extreme work ethic and a brilliant mind.
Fast forward to 2014 and Tran is now a hot sauce mogul, owner of Huy Fong Foods in honor of the freighter that brought him here. His Sriracha Hot Chili Sauce and two other flavors bring in more than $60 million a year. The bright red Sriracha in the clear plastic bottle with a rooster logo has become famous around the world and even has received such lofty praise as Bon Appetit Magazine's ingredient of the year and is used by the restaurant chains P.F. Chang's and Applebee's.
Tran built his empire from humble beginnings: using a recipe he devised himself and mixed in a bucket, delivering to Chinatown restaurants in his van, the Los Angeles Times reported last year.
But now he finds himself facing an oppressive government for the second time in his life as the Los Angeles suburb of Irwindale has filed a lawsuit to shut down Tran's 600,000-square-foot manufacturing facility over claims that fumes from the chili peppers cause harm to nearby residents.
"Today, I feel almost the same" as living in Vietnam, Tran told NPR this week. "Even now, we live in USA, and my feeling, the government, not a big difference."
The perceived ill treatment has sparked a bidding war among politicians from other jurisdictions who see the company's economic value and are hoping to lure Tran away from the $50 million factory he constructed just four years ago.
The most recent suitors are Texas state Rep. Jason Villalba and state Sen. Carlos Uresti, who led a Lone Star State contingent on Monday that promised tax incentives and a friendly community, grateful for the jobs and commerce. With the Texas flag flying outside, the politicians toured the facility for an hour and elicited an agreement that Tran would consider expanding there.
"Discussions centering on expansion into Texas, not solely relo," Villalba tweeted.
Even Texas Gov. Rick Perry got into the action by tweeting: "@huyfongfoods The Texas business climate is hot. We want you to make it even hotter. Come to Texas!"
California recently learned that it lost Toyota's headquarters to Texas, a place with no state income tax and a lower cost of living. But the one thing that makes Sriracha a success is its rare red jalapeno pepper, a vegetable that is grown in Southern California and crushed into sauce within six hours of harvesting. Over the years, Tran has developed his own hybrid plant.
So Tran will send farmers to Texas for soil samples to determine whether his brand of jalapeno can be grown there and he also is in discussion with Texas Department of Agriculture, tweeted Dallas-Fort Worth TV reporter David Whitely, who was at the event.
"This is a good place," Tran told reporters on Monday. "I moved in. I will stay here."
However, given the uncertainty of the business climate in Irwindale, a move to another area of California, or to another state, cannot be ruled out completely.
Irwindale City Manager John Davidson could not be reached for comment.
Fighting City Hall
Irwindale is a working-class city of approximately 10 square miles and just 800 households. But 40,000 more come here every day to work in manufacturing jobs that include 17 pits where sand and gravel are mined, a Miller-Coors brewery, Southern California Edison, Breeder's Choice Pet Food and Ready Pac Produce.
In 2010, Irwindale added Huy Fong Foods, which had outgrown its facility in the nearby city of Rosemead. To sweeten the package, the city sold the company a plot of land for a $15 million 10-year interest-only loan with a balloon payment at the end. The interest equaled $250,000 a year.
But the honeymoon period was short. Two years later a council member's son became the first of several residents to complain about an odor coming from the plant.
On Oct. 30, 2013 the city sued Huy Fong Foods, asking that the company be immediately prohibited from "operating or using its chili sauce manufacturing facility because it is causing 'physical harm and discomfort to the people of Irwindale,'" according to court documents.
Residents from six households complained that the fumes are generally from late afternoon to the following morning and cause coughing, difficulty breathing, headaches, bloody noses and heartburn, court documents said.
A private smell abatement company toured the facility and looked at the filtration system, then declared that the carbon filters were inadequate for removing any hazardous odors. It was suggested that Tran buy an upgraded system that cost $600,000. Tran declined, saying his business did not have an odor problem.
So the city "reluctantly … had no choice but to move forward with code enforcement proceedings," court documents said. The smell is alleged to happen during the fall grinding season, which lasts just a few months and would cripple the business if it was shut down during that period.
Tran then began to have what he said was an "odd feeling" about his future in Irwindale. So he obtained a bank loan and paid off his city loan, leaving Irwindale coffers without its hefty subsidy. On Dec. 16, a judge issued a temporary restraining order, saying Tran could continue to operate the facility, but was prohibited from "emitting anything that either causes noxious, irritating or offensive odors."
Since then, the city has been locked in negotiations with Tran and his attorney as to whether the business should be declared a public nuisance. This paves the way for Irwindale inspectors to enter the facility and make repairs at its own behest and send the bill to Tran.
"This has taken on a life of its own," said Tran's attorney, John Tate, a partner with Davis Wright Tremaine.  Tran has "received overtures just about everywhere imaginable. My sense is he is very much keeping all his options open. It's not a done deal staying in Irwindale."
The smell is practically non-existent, nothing more than would be emitted from a kitchen, Tate said.
"I have been on the roof, sticking my head in the vent and everywhere else," Tate said. "I couldn't smell anything. And despite being offered multiple opportunities to go to plant, the city council has consistently refused to come. They do not want to do an inspection."
Meeting
A city council meeting is scheduled for tonight, but the matter is expected to be continued for two weeks. This meeting is a continuation from an April 23 meeting which saw the 70 full-time employees staging a protest over the lawsuit, an event that was coordinated by Alan Alas, a Republican congressional candidate for the district that includes Irwindale. Alas has been putting pressure on the council to abandon its lawsuit and is trying to convince Tran to stay in Irwindale.
"I don't think the council was prepared for the amount of media scrutiny and bad publicity that has been received," said Alas' spokesman Albert Gersh, who is also president of the Republican Party of Los Angeles County.
"They are in damage control, they want everyone to go away," Gersh said. "They are going to try to come up with some sort of face saving gesture. They don't want those news vans back in their parking lot. I think they saw [Tran] as easy pickings and they made strategic error in doing that."
---
---
Related Articles
JAN. 6, 2011 By WAYNE LUSVARDI Trade war! The newspaper headlines last week read, "California Low Carbon Fuel Standard Blocked
Say goodbye to California's ban on bare hands for food and drink handlers. Set to be enforced beginning July 1, the
  The California chapter of the NAACP is distributing a resolution to California lawmakers that calls for the removal of