The U.S. Environmental Protection Agency's repeated punishment of an Arkansas waste disposal firm has led the California Air Resources Board to consider invalidating 1.3 million environmental offset credits bought from the Arkansas company by California firms to offset the effects of air pollution.
On May 30, the U.S. EPA in Dallas ordered the Clean Harbors waste incineration facility in El Dorado, Ark., to pay a $39,900 penalty for manufacturing and using "16 regulated chemicals in excess of established reporting thresholds" in 2011. The EPA had previously fined Clean Harbors $581,236 for other violations of hazardous waste standards.
The day before the EPA's latest fine, the air board had already issued a notice to industrial holders and traders of renewable energy certificates from Clean Harbors that their certificates could be invalidated because the facility may been noncompliant in 2011. CARB can invalidate credits for up to eight years after implementation of a pollution reduction project.
Offset credits are tradable energy commodities that represent one ton of avoided ozone emissions. California industries can buy them to meet air pollution reduction requirements in the Golden State — even if the avoided emissions are in another state. None of the questionable credits were issued under California's cap-and-trade emissions reduction program.
Retiring refrigerators in Arkansas to comply with CA rules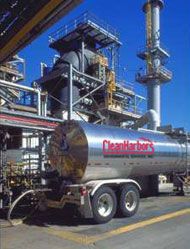 The credits in question were issued for retiring old refrigerators that contained chlorofluorocarbons (also known as CFCs or Freon) that are believed to contribute to ozone depletion in the upper atmosphere. This kind of credit is called an Ozone Depleting Substance or ODS credit.
The ODS credits sell for $5 to $10 per ton. That means the California firms' potentially invalidated credits cost from $6.5 million to $13 million. State holders of these credits include EOS Climate, Diversified Pure Chemical, Environmental Credit Corporation, Wilshire Standard Offsets and Pure Chemical Separation.
According to a chemicals and energy trade website, 87 percent of the 5.5 million ozone depletion credits issued by CARB were from the Clean Harbors facility. The 1.3 million credits now being reviewed are for the period that Clean Harbors was deemed potentially non-compliant.
In 2009, Clean Harbors was cited by the Arkansas Department of Environmental Quality for 47 violations of its operating permit.
Among the many problems: chemical clouds and leaks;  explosions and fires; mishandling of waste materials;  failure to respond to a hazardous waste emergency; failure to design, construct, maintain and operate the facility to minimize fire, explosions, releases of materials into the air, soil or water; failure to provide adequate liability insurance; and poor record-keeping.
In December 2012, neighboring residents of the Clean Harbors plant were subject to a voluntary evacuation due to a chemical fire.
Clean Harbors and client defend company's record
Clean Harbors officials downplayed the actions of regulators. "We have compliantly destroyed hundreds of thousands of kilograms or chlorofluorocarbons at our state-of-the-art hazardous waste incineration facility," a spokesperson said.
Jeff Cohen of EOS Climate, a San Francisco-based pollution credit brokerage firm that did business with Clean Harbors, also downplayed the penalties. He said the actions that led to the fines against the company had "no impact" on its ozone-reduction operations.
"I expect ARB will ultimately conclude that too and all the credits will remain valid," Cohen said.
The state air board will issue a determination on whether the credits are acceptable 30 days after officials believe they have received all necessary information on the matter.
---
---
Related Articles
After a year of controversy over his officers sending racist and homophobic text messages and killing crime suspects in questionable
In the midst of a grueling four-year drought in agriculture, state officials say some $287.5 million in borrowed cash is
Every time I write or speak on a radio show favorably about Texas compared with California, I get harsh online