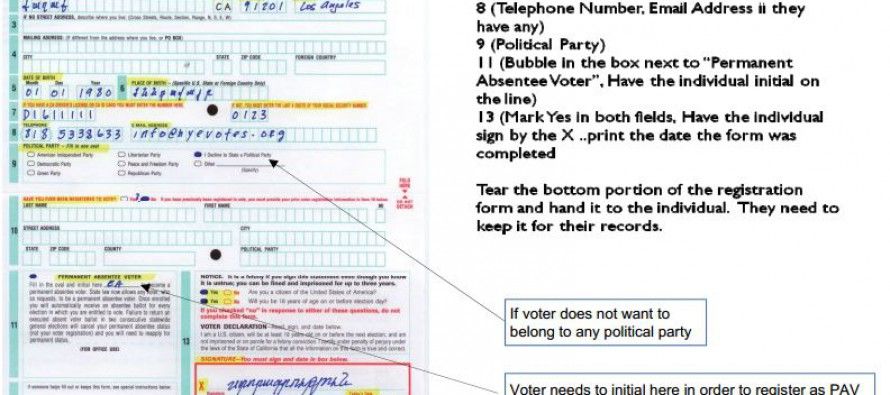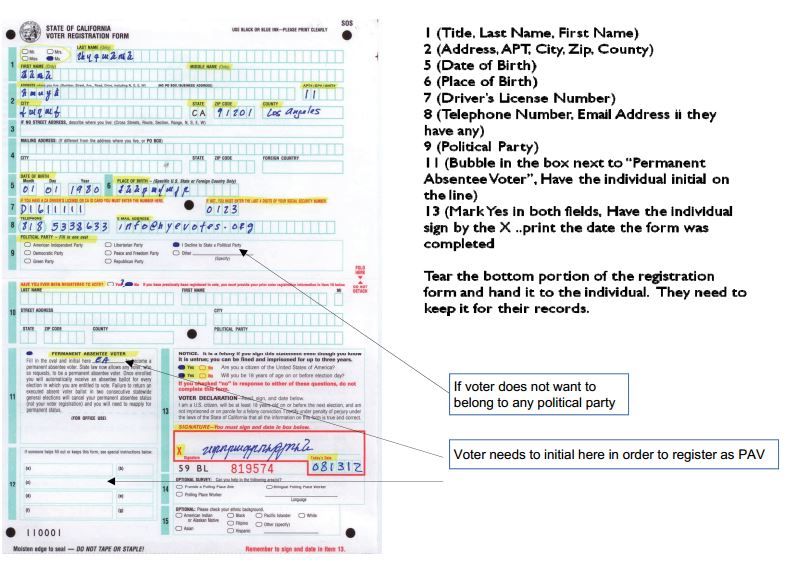 A complaint filed earlier this month with the U.S. Department of Justice alleges that thousands of Americans with disabilities have been illegally deprived of their right to vote. The perpetrator of this injustice: judges.
The complaint, which was filed by the Disability and Abuse Project, alleges that Los Angeles Superior Court judges used literacy tests to deny voting rights to thousands of people with autism spectrum disorder, cerebral palsy and other developmental disabilities. The group's analysis of 61 conservatorship cases in Los Angeles County found that 90 percent of individuals were denied voting rights. With more than 40,000 conservatorships in California, the group extrapolates that thousands of Californians could be illegally deprived of their franchise.
"What is happening in Los Angeles is the tip of the iceberg," Thomas F. Coleman, attorney and legal director for the project, said in a prepared statement. "The problem of voting rights violations of people with intellectual and developmental disabilities is not isolated to Los Angeles. Such civil rights violations are occurring elsewhere in California."
L.A. County routinely denied voting rights
As first reported by the Associated Press, the case stems from problems in the administration of limited conservatorships, "legal arrangements in which parents or guardians assume the right to make certain decisions for people who lack the ability to manage their financial and medical affairs."
The Voting Rights Act complaint alleges that courts determined voting competence based on whether an individual could complete a voter registration form without assistance. Such a practice would violate federal law, which allows individuals to receive help in completing voter registration forms. California's voter registration form (pictured above; a larger version is at the bottom of this article) even includes a section providing special instructions for those who receive assistance with the process.
"The Department of Justice has said that, under the Americans with Disabilities Act, states must offer auxiliary aids and services, including 'assistance filling out forms,' to people with disabilities when necessary to help them participate fully in state programs such as voting," said Samantha Crane, director of public policy at the Autistic Self Advocacy Network. "California is not only refusing to provide this assistance to people with disabilities, but is denying voting rights to anyone who gets help with filling out a form from someone else."
The investigation into voting rights violations began after Teresa Thompson saw her son, Stephen, lose his voting rights in a limited conservatorship case.
"Just before he turned 18, I was advised to file a petition for a limited conservatorship so that I could make financial and medical decisions for Stephen after he became an adult," Thompson said. "I had no idea that by seeking a conservatorship for him that I would cause him to lose the right to vote."
Thompson said her court-appointed attorney informed her that the concept of conservatorship was incompatible with the right to vote. That didn't sound right to Thompson, who sought the help of disability advocates at the Spectrum Institute's Disability and Abuse Project.
Disability groups demand action
Leaders of prominent disability advocacy groups said voting is one of numerous fundamental rights frequently denied to people with developmental disabilities.
"This issue is a longstanding and concerning one — many autistic people and those with other developmental disabilities are denied fundamental rights, like voting, due to guardianship," Ari Ne'eman, president of the Autistic Self Advocacy Network, told CalWatchdog.com. "We're pleased to see this issue highlighted and will be urging the Justice Department to act on the complaint."
According to a 2012 study published in the Lancet, adults with disabilities are more likely to be physically and sexually abused than adults without disabilities. "People with mental illness are about four times more likely — and people with intellectual impairments are about one-and-half times more likely — to get abused than non-disabled adults," the study found. That's reinforced by the 2012 National Survey on Abuse of People with Disabilities, which found more than 70 percent of people with disabilities claiming to be victims of abuse.
But, without voting rights, people with disabilities aren't a political force that can demand action on problems affecting 15 percent of the population. That was no different in this case. Disability advocates asked state and local officials to address the voting rights problem, but were ignored.
"We reached out to the 'powers that be' both locally and at the state level to correct this problem," said Coleman, the attorney for the project. "Nothing has changed. So we are 'making a federal case out of it.'"
Should competence tests exist?
The case could spark a broader debate about whether voter competency tests should exist at all.
Not every state imposes competency tests for voting. According to a 2008 report, "VOTE. It's Your Right: A Guide to the Voting Rights of People with Mental Disabilities," published by the Bazelon Center for Mental Health Law and National Disability Rights Network, 11 states have no disability-related restrictions on voting. As of 2008, eight states — Colorado, Idaho, Illinois, Indiana, New Hampshire, North Carolina, Pennsylvania and Vermont — had no voter competence requirements, according to the report.
Other public participation experts believe voting should require a certain level of competence. Pete Peterson, executive director of Pepperdine University's Davenport Institute for Public Engagement and Civic Participation, said that voting requires "a certain capacity for thoughtful and intentional decision-making."
"Our voting laws must balance the latest in this research, taking into account these gradations, while understanding that voting itself is an act of both a 'head and heart,' said Peterson, who is running for Secretary of State. "I look forward to following this case, and hope it does bring greater clarity to these issues."
What might be the best way to determine voter eligibility?
"If somebody can articulate in whatever way … that they want to vote, that they have an interest in voting, that's the only test that should be applied nationwide," Coleman said at a press conference earlier this month.
For more information on the Voting Rights Complaint, visit the Disability and Abuse Project's website.
---
---
Related Articles
  A year ago, Gov. Jerry Brown convinced voters to pass Proposition 30 on the November 2012 ballot. It raised
A bill that would revive redevelopment as a tool for local governments passed the state Legislature in the final days
Falling short even of some critics' expectations, California's beleaguered high-speed rail was dealt another blow to its credibility as