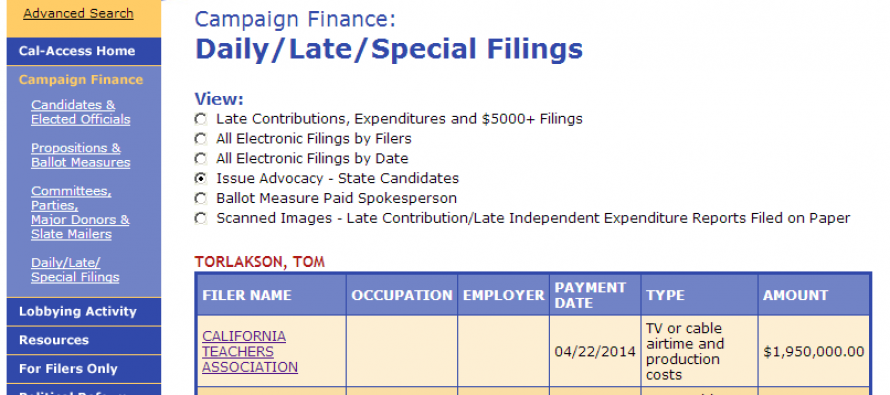 Education reformer Marshall Tuck has accomplished a rare feat for a political challenger: He's raised more money than the incumbent.
According to the most recent campaign finance disclosure reports released Monday, Tuck has raised nearly $1.6 million since he launched his campaign to fix California's failing schools. That's roughly $200,000 more than incumbent Superintendent of Public Instruction Tom Torlakson. Both are Democrats.
In addition to raising more money, Tuck has more cash on hand heading into the final month of the campaign. Tuck's $699,037 in available funds puts him with a nearly six-figure advantage over Torlakson, who reported $608,609 in cash on hand, as of Sept. 30.
Tuck's strong fundraising shows donors are responding to his reform message. He's the only statewide challenger to outraise an incumbent this year. In some cases, challengers are at a significant disadvantage.
As reported by the San Francisco Chronicle, Republican Ronald Gold, who is challenging Attorney General Kamala Harris, had $17,601 in available funds, with $80,000 in outstanding debts. Meanwhile, Harris reported $3.6 million in cash on hand for the most recent period.
Teachers union's $1.9 million 'issue' campaign just beginning
But Tuck's financial advantage is largely illusory. That's because the California Teachers Association, the most powerful special interest group in Sacramento, has declared war on Tuck. The teachers union is the biggest player in the superintendent's race, even dwarfing the candidates.
On Oct. 1, the state's richest union launched its latest "issue" advocacy praising their loyal ally Torlakson. According to state campaign finance disclosure reports, the CTA reported spending $1.94 million in issue ads benefiting Torlakson. To put that number in perspective, it's more than either of the candidates has raised for his entire campaign.
And the union is likely just getting started with its outside campaign spending. According to the Los Angeles Times, the CTA spent $2.5 million in independent expenditures during the June primary on Torlakson's behalf. Despite the union spending, Torlakson received the fewest votes of any statewide incumbent, an anemic 46.5 percent of the vote.
Vergara decision alters the race
Since the primary, things have only gotten worse for Torlakson as more voters are becoming aware of a landmark court case, Vergara v. California, which has fundamentally changed the dynamics of the superintendent's race.
In June, Los Angeles Superior Court Judge Rolf Treu found California's teacher tenure and dismissal process violates students' rights by leaving low-income and minority students with the worst teachers. Immediately, the teachers union adopted a "you're either with us or against us" policy, attacking anyone in their way, even the judge.
"The Vergara ruling makes clear that Judge Treu failed to engage the evidence presented in court by education experts and school superintendents who testified that teacher rights are not impediments to well-run schools and districts," California Federation of Teachers President Joshua Pechthalt said in a press release condemning the ruling. "Instead he issued a blanket decision to scuttle these important statutes, absent the kind of compelling evidence that should be the standard for changing state law." The CFT is the state's second teachers union.
In August, Torlakson, a staunch union defender, announced he would appeal the decision. "The people who dedicate their lives to the teaching profession deserve our admiration and support," he said in a statement. "Instead, this ruling lays the failings of our education system at their feet."
In contrast, Tuck has praised the ruling and vows to drop the state's appeal if elected.
"When I win … I'm immediately submitting to the appellate court our request to no longer be a defendant and will side with the plaintiffs in the case," Tuck told the UT San Diego.
Tuck's reform message resonating with all Californians
The teachers unions' campaign onslaught could backfire. But, much like Republican Meg Whitman proved in 2010 with her run for governor, money sometimes can backfire. Every major newspaper in the state has endorsed Tuck — all citing Torlakson's cozy relationship with the union as part of their reason.
"As for Torlakson, he seems too busy defending public schools to think about fixing them," wrote San Francisco Chronicle columnist Debra Saunders. "Torlakson actually has attacked Tuck for working on Wall Street during his first two years out of college. That's the sort of nasty salvo that made it easy for every major newspaper in California, including The Chronicle, to endorse Tuck."
On Monday, the San Gabriel Valley Tribune became the latest newspaper to back Tuck.
"Torlakson has joined in a legal appeal of the Vergara ruling, and mouths the union line that people want to streamline the hiring and firing rules are 'blaming teachers,'" the paper wrote. "Tuck applauds the Vergara decision and has called on the state Board of Education not to wait through an appeal before developing alternative rules, including longer evaluation periods before tenure is granted."
---
---
Related Articles
As expected, NFL owners meeting at a Phoenix resort have given their blessing to Raiders owner Mark Davis' plan to
Aug. 23, 2012 By Katy Grimes When the government tries to create jobs, taxpayers beware. Government-created jobs are always more
MAY 16, 2011 By KATY GRIMES Should illegal immigrants be allowed to access California's higher education system at the same